Malnutrition & Frailty
Malnutrition is common in the community and is often the first skittle to fall in a frail patient's disease progression.
Watch the video to hear Dr Rachel Pryke explaining the impact of malnutrition on wider health outcomes
Frailty can be characterised by loss of skeletal muscle function/reserves, or by 3 or more of these symptoms:1
unintentional weight loss
reduced muscle strength
reduced gait speed
self-reported exhaustion
low energy expenditure
Up to 50% of 85+ years olds are living with frailty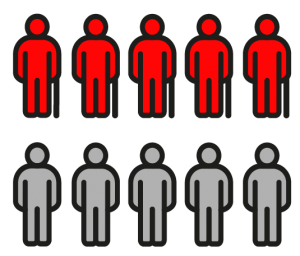 Frailty is common in older adults, and the prevalence increases with age.1 Up to half of people 85+ years are frail.2 Many older adults with chronic diseases are likely be frail, but this may be masked by their long term condition.1
The electronic frailty index (eFI) is also available on SystmOne and EMIS Web to help recognise frailty. Find out more here
Poor nutrition (malnutrition) can cause a 'skittle effect' to other health problems in frail patients. It brings with it a greater risk of adverse outcomes after a 'minor' stressor such as a fall or infection1 and is associated with higher comorbidity, polypharmacy, ADL-disability, depression and cognitive impairment.3
Frailty is not an inevitable part of ageing and nutritional intake is a modifiable factor.1 Malnutrition increases risk of frailty 4 fold3 and is a common and causal problem. Studies show 50-64% of frail elderly adults are malnourished, compared to just 2% of fit elderly people, and the prevalence of malnutrition increases with the severity of frailty.3, 4, 5
Greater prevalence of malnutrition in frail patients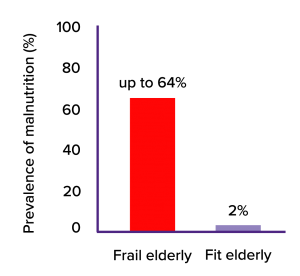 Malnutrition therefore needs to be addressed to reduce the severity of frailty and improve clinical outcomes.1
CPD module! Click here to learn more about frailty, malnutrition and how to manage it.
Your feedback is important to us. Please help us to continue to improve the Malnutrition & Frailty Hub by sharing your views in our short survey. Thank you!
Content provided by Nutricia Ltd.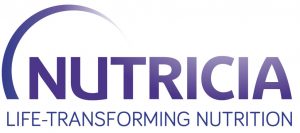 THIS SITE IS INTENDED FOR HEALTH PROFESSIONALS ONLY