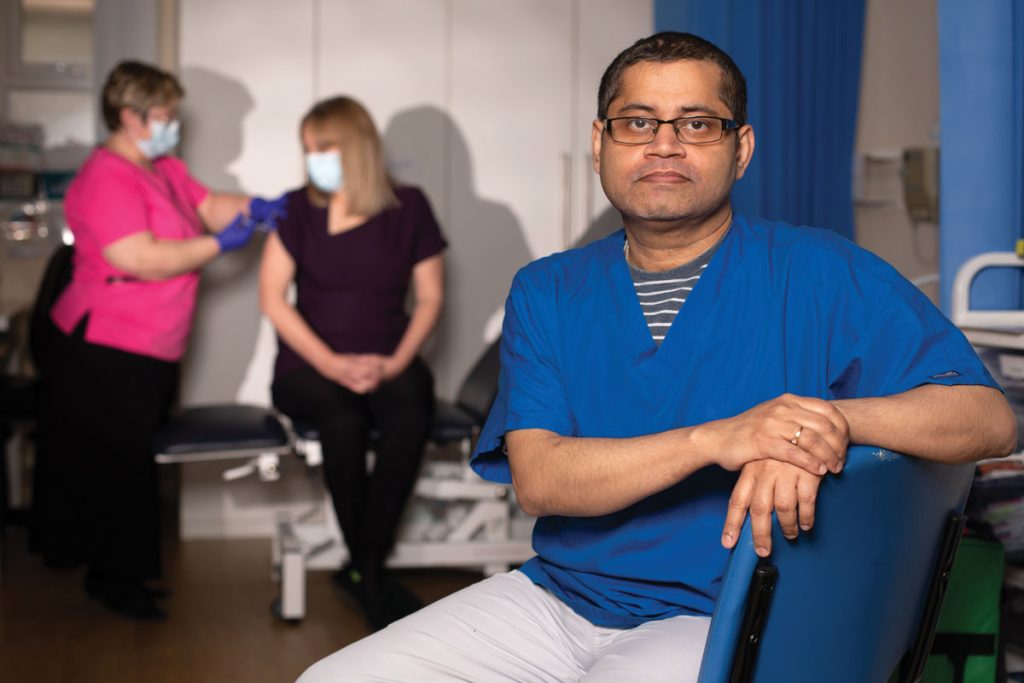 Dr Partha Ganguli, clinical director (CD) in Preston, Lancashire, describes how his 'diamond' of a PCN has been brought together by the intense pressure of Covid
Name – Dr Partha Sarathi Ganguli
Practice – Fishergate Hill Surgery, Preston
PCN – South Ribble Primary Care Network (Ribble Medical Group)
Location – Preston, Lancashire
Number of practices in PCN – Seven
Number of patients in PCN – About 38,500
PCN hires – Four pharmacists, two social prescribers (through third-party organisation), one first contact physiotherapist (through third party)
Recruiting – Still looking for a physician associate
Preston hit the headlines in early August last year as cases of Covid put the city under increased restrictions, which banned separate households from meeting. In mid September, the city, along with much of Lancashire, was placed under fresh lockdown restrictions. Combine that with November's lockdown and the current third lockdown, triggered in January, and the people of Preston have felt the full impact of this pandemic. Fortunately, before this crisis hit work had begun to create a resilient primary care service that could work together to face these unsuspected demands.
Before the primary care networks were in place, our PCN practices shared a close informal relationship. We had discussed working together but we lacked a common goal. There was also a lack of trust among us and this posed a big challenge.
Another limiting factor was time. Getting the time needed in our busy day-to-day schedule is never easy. We were not ready to integrate services in the neighbourhood.
But eventually we all started realising that the way we were going on was not sustainable and that gave us the impetus to work officially together.
However, moving on to becoming a PCN was a big step. Initially we were not sure what we could achieve. Working together in this way was new territory to us and so was the concept of individual businesses trusting each other. The different population sizes of the practices and our working patterns posed an immediate challenge. Sharing staff over seven practices was also something that had never happened before. Increased communication, a transparent way of working and trying to get all practices involved actively in decision-making was the key to developing trust.
The formation of the PCN helped us to know each other better, and gave us the opportunity to work together on different projects such as a population health project on frailty and mental health and improved management in perimenopausal women in community.
Since then, we have come a long way, especially last year when the Covid-19 pandemic compelled us to work together. We are now delivering our PCN vaccination programme, sharing our workforce, helping each other, trusting each other and becoming an integrated team while also preserving our own entities. This has undoubtedly been a very positive experience for us. We are learning from each other and now we look forward to working on new projects in the network to improve patient care and provide better service to our patients.
Finding our feet
Once the process of setting up the PCN started, the main limiting factor was the time and funding for backfill. As we are a smaller PCN the funding was limited but there was a lot of work in the setup process. We were also unsure of what we were establishing initially. I reluctantly took up the role of clinical director (CD), without knowing what I was getting into. Now, I'm passionate about the job and believe we can achieve the intended goals with hard work and collaboration.
Currently our main challenge is the Covid vaccination programme. Alongside this, the administration and my role as CD take way more time than the funding allows.
Finding time to organise regular meetings and integration between practices, community providers, councils and voluntary and faith organisations is another challenge. We have been able to improve communication and integration but there is a lot more to achieve.
As an organisation, it is always important to get time and space to integrate. But we sometimes feel the PCN is seen as the solution to all problems in the healthcare system. We are asked to take up new projects by the CCG, for example, such as diabetic care in the community as it is not working in the present model.
At times, it feels like we are spreading ourselves thinly and perhaps beyond our capacity.
Still, now there is a feeling that all primary care funding is going to be siphoned into PCNs rather than the GMS contract and this can generate mistrust. To overcome this, we have to work hard to adapt to new ways of working.
Recruiting for additional roles in the PCN is another challenge as there is a shortage of good quality applicants, but we have been fortunate enough to fill the roles in the end, although we have a significant underspend as there were lots of constraints that made the funding inflexible during our Covid vaccination work.
Before we started working as a PCN, all the communication and integrated working was informal. But now we have been able to cover each other and share staff in an organised way, so our practices have not been short staffed. For example, a singlehanded GP was not able to see patients face to face because of health issues, but another network GP stepped in to help on the days the locum was not available.
Our workforce has expanded with the creation of additional roles in the network, which helps share the workload and improve patient care.
We have undertaken a population health project to address inequality in providing patient care and improving access for the vulnerable patient group. We have focused on frailty and mental health, incontinence awareness and improved management of perimenopausal women in the community. It is easier to deliver the project as a PCN rather than as an individual practice as we are now able to share and learn from each other and aim for a positive outcome.
All this is happening alongside our Covid vaccination project, which we are currently delivering from our centralised PCN site. We are managing to cover our target population. Staff members have worked hard to make the project successful. We all agree our efforts have been a result of spontaneous team building and have paved the way for greater integrated work.
All of this calls to mind a quote I used to see on the staircase of the Royal Preston Hospital where I undertook my GP training: 'Diamonds are made under lots of pressure'.
I cannot think of a better way to explain the benefit we gained in the first phase of PCNs. This may sound a bit strange, but I feel Covid has fast-tracked the development and teamworking in the PCN. We have achieved it in a few months. Otherwise, it possibly would have taken two to three years.
The success of the vaccine delivery programme is a fine example and cannot be overemphasised.
One important point we've all learned is that changes can't be forced but need to be adapted to with mutual agreement and understanding. Quite often it may seem that a person or an organisation is not willing to change. In such scenarios it is appropriate to explore and discuss issues and adapt accordingly, keeping in mind that the outcome should be mutually beneficial for all.
Looking to the future
It is also important to inform all the team members about any changes as communication is at the heart of any successful collaboration.
We all feel that the commitment to the network will increase every year and more funding will be mobilised to PCNs in future. We need to have a system so that we are not overwhelmed with the commitments, which might lead to burnout.
I would like to think our short-term goal is to integrate as an organisation and develop further relationships between practices so that we can increase trust and collaborative working. Delivering the Covid vaccine has paved the way for this and we need to build on this further.
As a mid-term goal we are looking at working with the wider organisations in the community, council and in secondary care to integrate services further for improved patient care. We are also looking at reducing the work pressure and avoiding duplication of work in primary care services.
As a long-term goal, it may seem far-fetched but we are looking at the integration of health and social care, to work with different organisations to deliver the highest level of care to our patients. This is perhaps the aim of all PCNs. This would also put more emphasis on a preventive approach, rather than a reactive approach, to health issues.