Remote consultations have become the mainstay of general practice in recent months because of Covid-19.
In March, practices were told to move to 'total triage'. Most went beyond this, holding most consultations by phone or online, and only seeing patients face to face when absolutely necessary.
And, if it is up to the health secretary, this is going to remain the case for a good while longer. Matt Hancock stated in a speech at the end of July that 'better tech means better healthcare', and that he wanted to 'double down on the huge advances we've made in technology within NHS and social care'.
Speaking on the future of the NHS, he said that remote consultations have proved popular with doctors and that they free up clinician time.
He said: 'The feedback from this transformation has been hugely positive especially from doctors in rural areas who say how it could save long travel times both for doctors and patients.
'So from now on, all consultations should be teleconsultations unless there's a compelling clinical reason not to.'
He cited RCGP data showing the dramatic shift away from face-to-face consultations during the pandemic.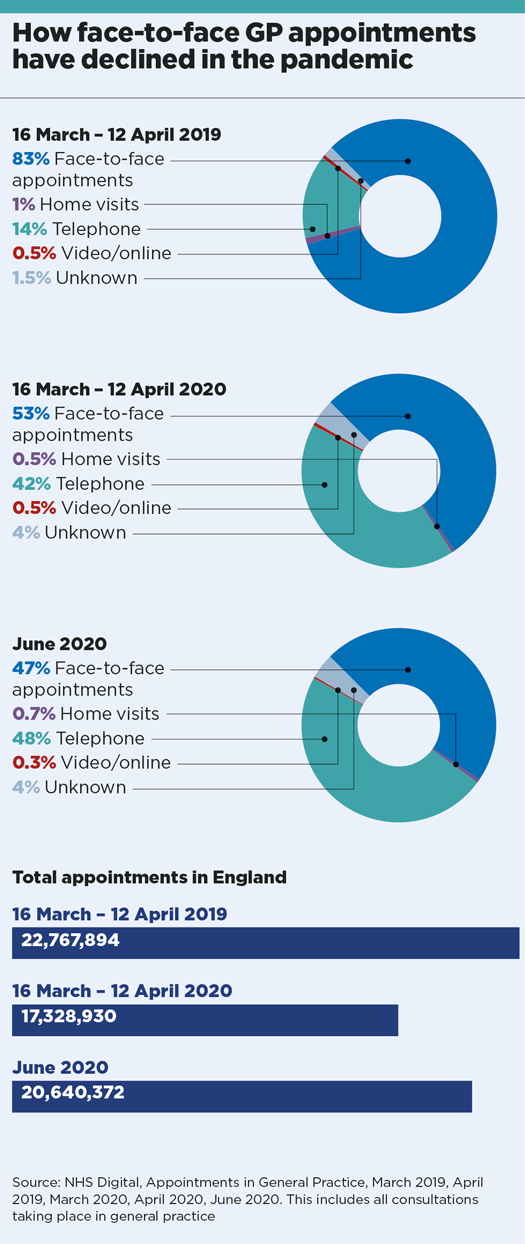 p18 face to face gp appointments 525x1244px
Changing patterns
Mr Hancock said that in the four weeks to 12 April, 71% of 'routine' GP consultations were delivered remotely, compared with about 26% face to face.
This has 'reversed' the pattern of the same period last year, when 71% of GP consultations were face to face and 25% were remote.
When total GP practice consultations are taken into account, it is a slightly different picture – though one that still shows a significant move away from face-to-face appointments.
NHS Digital data analysed by Pulse show 43% of all booked appointments in practices in England being delivered over the phone or online/video during the same period in April – compared with 15% being conducted remotely last year, and 83% taking place in person.
GPs say the move away from in-person consultations has been convenient in some cases, but that it might not be desirable for all routine consultations to be done this way as GPs could miss vital clinical information and the doctor-patient relationship might be damaged.
Doncaster LMC chief executive Dr Dean Eggitt says there is evidence to support the use of telephone consultations and that video consultations are 'easy, convenient and great for the environment in that they reduce the need for polluting travel'.
But he warns: 'I believe this model will prevail because of convenience and limited resources rather than because it is a superior tool. I worry that we will see a surge in patient harm and medical negligence claims from the use of remote consultations.'
Efficiency
In Lincolnshire, LMC medical secretary Dr Kieran Sharrock says online, video or telephone appointments can also sometimes be quicker than face-to-face appointments – if there are no technology issues – but the LMC estimates around 30% of patients will always need to be seen in person.
'The clinician-patient relationship is adversely affected by remote consulting, and many of the cues we pick up from body language, tone of voice and use of language are missed during remote consultations. We also need to physically examine and treat many patients,' adds Dr Sharrock.
Switching to remote appointments could also lead to greater pressures on A&E departments if patients feel it is their only way of getting a face-to-face appointment rather than 'call centre' treatment, says Professor Azeem Majeed, GP and professor of primary care at Imperial College London.
He says: 'Some patients and doctors won't like shifting to video and phone – which risks creating "call-centre medicine". We also need to evaluate any unintended negative consequences.'
Pulse voluntary donation scheme
Since the outbreak of this pandemic, Pulse has strived to support you, whether it be through our resources page, our 'Clinical Crises' series, holding policymakers to account with exclusives such as practices being supplied with faulty masks, or GPs being told to stop routine services in the hardest hit areas.
However, good journalism cannot be done on the cheap and, like the whole publishing industry, we have been affected by the economic slowdown. We also strongly believe the content we produce should remain free as we feel it is essential for you. Because of this, we have set up a voluntary donation scheme. There is no compulsion whatsoever to donate. But if you feel we are helping you, and you would like to support us, anything you can spare would be greatly appreciated. Read more here.