As part of a new series on Pulse, Dr Yassir Javaid, a GPwSI in cardiology and echocardiography, asks what these ECGs could signify. See bottom of the page for answers
Question 1
A 70 year old man presents to the surgery with a history of exertional breathlessness and swelling of his ankles. An ECG was done as part of his diagnostic work up. What does the ECG show?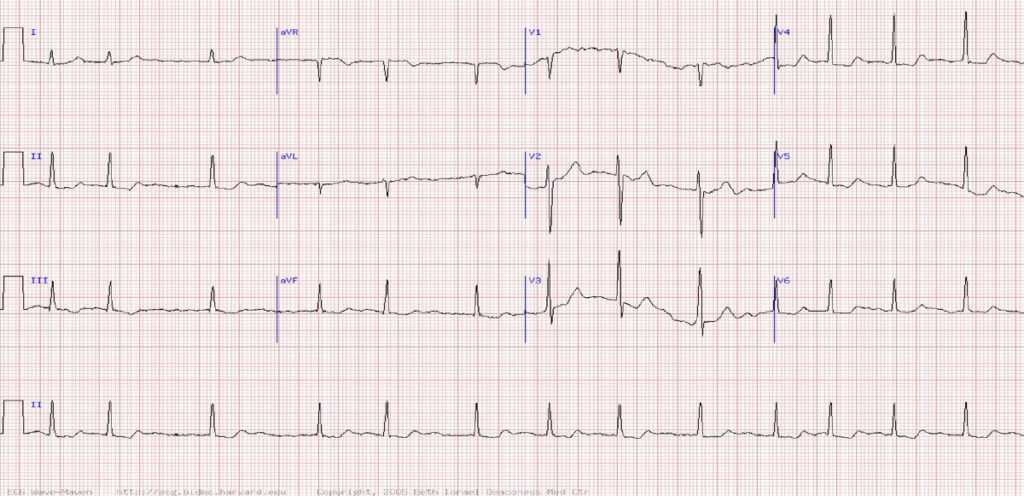 A Multifocal atrial tachycardia
B Wandering atrial pacemaker
C Atrial fibrillation
D Atrial flutter
E Sinus arrhythmia with tremor artefact
Question 2
A 21-year-old man presents to A&E with a history of sharp stabbing pains in his chest which occur at rest. All of the following statements about this ECG are true EXCEPT: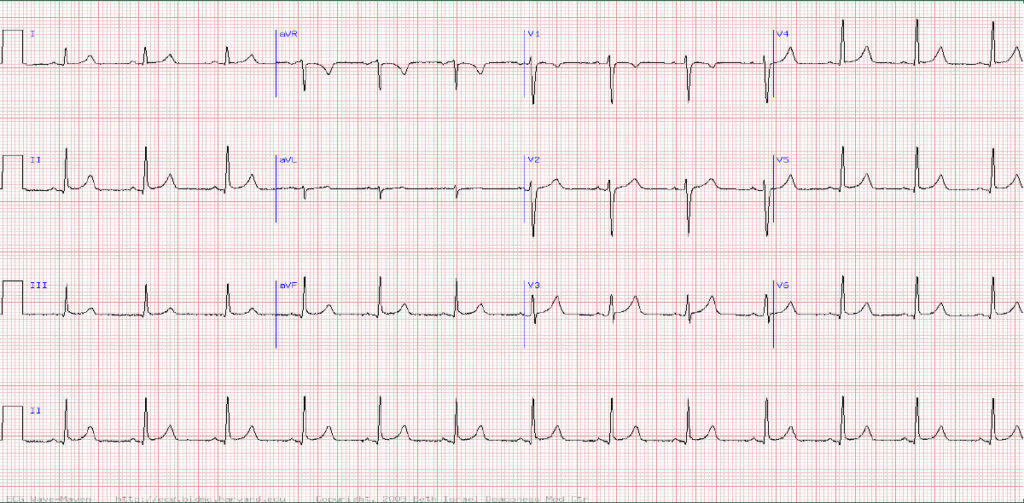 A The QRS axis is within normal limits
B The rhythm is sinus
C There is normal progression of the 'R' wave across chest leads
D There is no evidence of left ventricular hypertrophy
E There is a complete right bundle branch block
Question 3
You are reviewing a patient with suspected heart failure. There is no cardiac history but the patient does have a longstanding history of type 2 diabetes. His ECG shows sinus rhythm with what other abnormality?

A Complete right bundle branch block
B Complete left bundle branch block
C Wolff-Parkinson-White pre-excitation (right-sided bypass tract)
D Left anterior fascicular block
E Left posterior fascicular block
Answers
Question 1: Atrial fibrillation
Explanation
The ECG reveals the absence of consistent "P" waves and an irregular QRS rhythm which is consistent with a diagnosis of atrial fibrillation. The consistent waves between the QRS complexes are "T" waves.
TIP Ventricular depolarization "QRS" must always be followed by ventricular repolarization so if only 1 wave can be seen between QRS complexes must be a "T" wave
Question 2: There is a complete right bundle branch block
Explanation
The ECG reveals normal sinus rhythm where there are consistent p waves representative of regular atrial depolarization. Each p wave is followed by a QRS complex (ventricular depolarization).
The QRS complexes in the chest leads are of normal amplitude so excluding voltage criteria for LVH
The QRS complexes are narrow excluding any bundle branch block
TIP If the QRS complexes in leads I and II are both positive, the cardiac axis is normal.
Question 3: Complete left bundle branch block
Explanation
The QRS complexes are broad (> 120 ms or 3 small squares). This indicates a delay in conduction between the 2 ventricles ie a bundle branch block.
TIP To differentiate left from right bundle branch block look at lead V1. If the QRS complex is predominantly negative in V1 then its left bundle branch block. If the QRS is positive in V1 then its right bundle branch block.
Left bundle branch block is much more likely to represent significant underlying structural heart disease and should always be investigated – in particular looking to rule out heart failure, cardiomyopathy or coronary disease. An echo is a reasonable first test.
Related Articles

Align GP CVD incentives with guidance, say 15 groups
08 December 2023
READERS' COMMENTS [6]
Please note, only GPs are permitted to add comments to articles