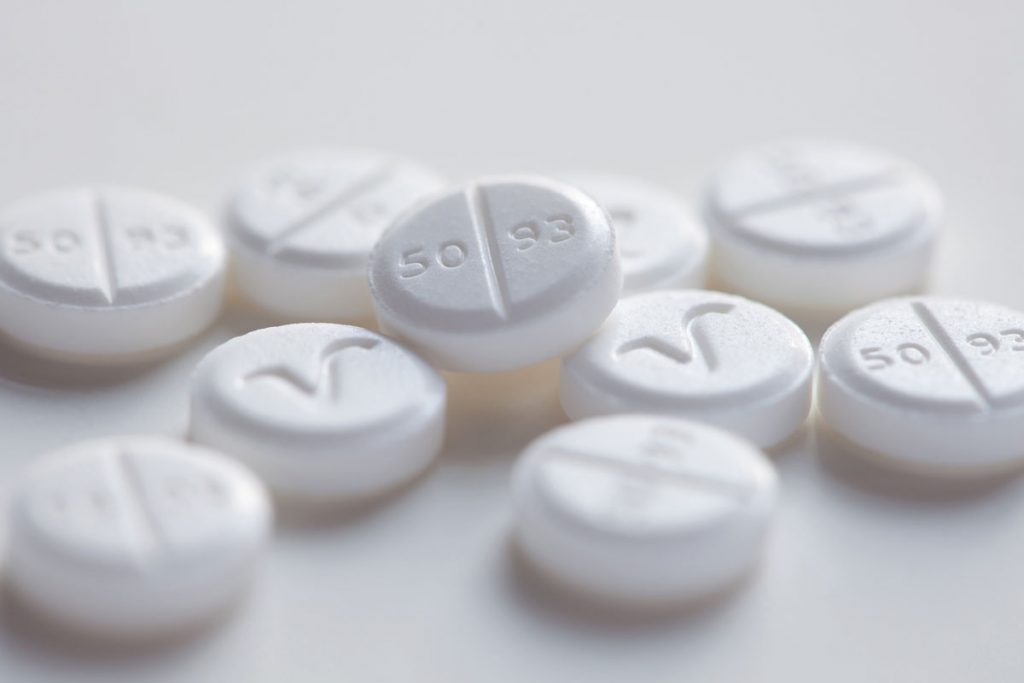 Dr Helen Simpson, Lisa Shepherd and Dr Steve Kell summarise the guidance and implementation of the steroid emergency card in primary care
Adrenal insufficiency (AI) is an uncommon but potentially life-threatening condition, where patients are unable to produce enough of the glucocorticoid, cortisol. Every practice will have patients with a known diagnosis of AI, such as those with Addison's disease, congenital adrenal hyperplasia or hypothalamo-pituitary diseases. Patients who take oral, inhaled, injected or topical steroids for other medical conditions may develop adrenal insufficiency and become steroid dependent.1 Over a two-year period in England between July 2018 and July 2020, four deaths and four intensive care admissions were attributed to steroid omission, according to the NHS Improvement national reporting and learning system.
To prevent such incidents, the Society for Endocrinology, Royal College of Physicians, and NHS England's patient safety team has developed an NHS steroid emergency card (SEC). This is a patient-held prompt that can be given to healthcare professionals when in crisis, or when undergoing a procedure to ensure steroid treatment is given appropriately and promptly. These cards should also be flagged up by hospital electronic systems and by patients in remote consultations.
A patient safety alert2 was issued alongside this, which requires general practice to take action by 13 May 2021. This includes assessing patients who are prescribed steroids and ensuring that all eligible patients are issued with an SEC.
Sick-day rules
Sick-day rule 1
Moderate intercurrent illness (eg fever, infection requiring anitbiotics), surgical procedure under local anaesthetic. Double usual daily glucocorticoid use
Sick-day rule 2
Severe intercurrent illness (eg persistent vomiting from GI viral illness), preparation for colonscopy, acute trauma or surgery Hydrocortisone 100mg intravenously at onset, followed by initiation of a continuous infusion of hydrocortisome 200mg over 24 hours.Or hydrocortisone 100mg intramuscularly followed by 50mg every 6 hours im or iv
Patient education
Teach the patient and their partner or parents how to administer and inject hydrocortisone; give them an emergency injection kit (100mg hydrocortisone sodium succinate for im injection)
What is the card and how can patients obtain one?
The card clearly outlines first management steps in an emergency. In addition, the card contains a QR code that links to further specialist advice on the Society for Endocrinology website. It is available to patients through:
• Community pharmacies, especially while GPs and hospitals are predominantly carrying out consultations remotely.
• GPs, when the patient has a routine review, if primary care is managing their steroid replacement.
• Hospital teams at a routine appointment.
The card can be ordered in primary care via the Primary Care Support England online portal or downloaded as a PDF, and added as a lock screen to mobile devices.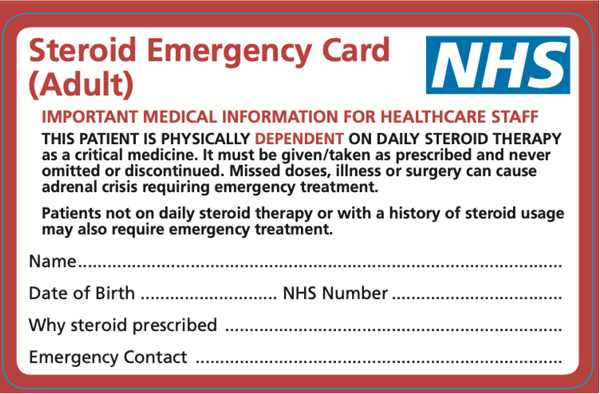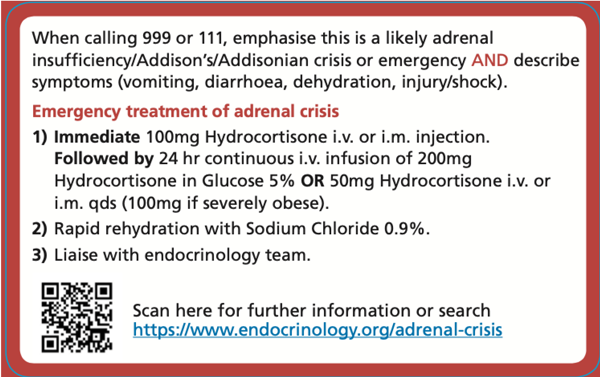 Who is at risk and should be given an SEC?
Endocrinology patients with primary adrenal insufficiency or hypothalamo-pituitary disease, including:
• Primary AI All causes. Commonest causes are Addison's disease, congenital adrenal hyperplasia, bilateral adrenalectomy, metastases and adrenal haemorrhage.
• Pituitary/hypothalamic disease Patients with hypothalamo-pituitary dysfunction who are known to be steroid dependent and those advised to take steroids during intercurrent illness.
These patient groups need life-sustaining steroid replacement, which should never be discontinued unless by instruction from endocrine specialists.
You should prescribe adequate quantities of steroids (three months' supply available at all times), emergency hydrocortisone injection medication (hydrocortisone sodium succinate or hydrocortisone sodium phosphate 100mg) and needles and syringes, to allow for increased dosing during intercurrent illness and emergency.
Typical physiological replacement dose-prescribing regimens are as follows:
• Hydrocortisone 15-25mg/day usually taken in two or three divided doses such as 10mg on waking, 5mg lunchtime and 5mg teatime (usually no later than 6pm).
• Prednisolone 3-5mg/day.
• Dexamethasone Rarely used, 0.25-0.5mg/day.
• Fludrocortisone 50-200mcg/day. Patients with primary AI will also need this.
When should patients carry an SEC?7
Specialist Pharmacy Services and Society for Endocrinology guidance on exogenous glucocorticoid patients who should carry a steroid emergency card
Oral prednisolone ≥5mg for more than four weeks, or ≥40mg for one week (or equivalent doses of other oral glucocorticoid); repeated courses of oral glucocortoid.
Three or more intra-articular/intramuscular glucocorticoid injections within the past 12 months.
Intra-articular/intramuscular glucocorticoid injections alongside glucocorticoids by another route (eg, inhaled or oral steroids).
Inhaled steroids >1000mcg/day beclomethasone or >500mcg/day fluticasone (or equivalent dose of another glucocorticoid).
Topical high-dose (≥200g/week) potent glucocorticoids across a large area of skin for four weeks or more, or factors increasing absorption assessed on a case by case basis.
Concomitant use of CYP3A4 enzyme inhibitors (see list below) and glucocorticoids (any route of administration)
– Protease inhibitors: atazanavir; darunavir; fosamprenavir; ritonavir (+/- lopinavir); saquinavir; tipranavir
– Antifungals: itraconazole; ketoconazole; voriconazole; posaconazole.
– Antibiotics: clarithromycin—long term courses only.
When to adjust or increase medication: sick-day rules
Sick-day rules refer to the increased requirement for steroids during illness to mimic the body's natural physiological process.4 Failure to adjust can lead to an adrenal crisis and can be fatal. One in every six to 12 patients with AI will experience an adrenal crisis in the next 12 months.3 These are precipitated by infections (25%), gastrointestinal illness (23%), surgery (10%) and psychological stress or pain (9%).5
Symptoms of acute adrenal insufficiency include: headache; weakness; fatigue; nausea and vomiting; light-headedness and dizziness; abdominal pain; and loss of consciousness. Prompt administration of 100mg IM hydrocortisone can be lifesaving. If in doubt, give the injection.
Patients who are unwell with Covid-19 should further increase steroids – hydrocortisone 20mg six-hourly or prednisolone 10mg 10-hourly – and drink plenty of fluids.6
If a patient with AI is so unwell that they give themselves an emergency injection, they should have a medical assessment, either with GP or at the emergency department.
Consider giving an additional supply of hydrocortisone tablets to patients who receive medication via blister or medipacks, as they have no spare capacity to increase doses.
Detailed guidance on exogenous steroids was due to be published by the Special Pharmacy Service last month. Patients on exogenous steroids may have hypothalamo-pituitary-adrenal (HPA) axis suppression and so not be able to mount a cortisol response to illness.
They should carry a steroid emergency card so they can be given extra steroids if very unwell and admitted to hospital or if undergoing surgery.
It is recommended these patients carry an SEC while on steroids and for one year after stopping. If they are taking steroids by multiple routes, such as inhaled and oral for COPD, or opiates, which can cause HPA axis suppression, they should be treated according to sick-day rules as they may have protracted HPA axis suppression.
If in doubt, refer to endocrinology for advice. Work is ongoing with NHS Digital to identify patients at risk of AI on exogenous steroids.
Dr Helen Simpson is a consultant endocrinologist at University College Hospital, London
Lisa Shepherd is an endocrine nurse specialist at Birmingham Heartlands Hospital
Dr Steve Kell is a GP in Nottinghamshire
Resources
The Leeds Teaching Hospital NHS Trust. Patient education for exogenous steroids
tinyurl.com/1uqx31i5
Society for Endocrinology Management ofadrenal crisis
endocrinology.org/adrenal-crisis
Addison's disease self-help group.
tinyurl.com/14ye9wnu
New NHS steroid card for Addison's disease.
tinyurl.com/47wq6dhd
Pituitary Foundation factsheets.
tinyurl.com/PF-hydrocortisone;
tinyurl.com/PF-adrenal
Video: adrenal crisis: when to give an emergency injection':
tinyurl.com/adrenal-video