Exclusive GPs in the South West of England have been told to 'immediately' stop using a batch of PPE that has been distributed locally, after finding that a number of protective gloves were 'clearly used' upon delivery.
In an email to GP practices sent earlier today, NHS Bristol, North Somerset and South Gloucestershire CCG said they should stop using a brand of gloves delivered by its Medequip team.
The CCG had said that the problem affected Sanique medium and large gloves from Malaysia-based manufacturer Brightway Holdings – however, the company strenuously denies this.
The gloves in question were delivered by community equipment supplier Medequip since 12 November.
The email said: 'We have become aware today of a significant hygiene and infection issue with this brand of gloves delivered via our Medequip team since 12 November. It would appear that a number of unopened boxes are filled with gloves that have clearly been used.
'We are urgently investigating this issue with the supplier but in the meantime, please withdraw and quarantine all medium and large gloves made by this company that have been supplied since 12 November.'
It added that Medequip 'will arrange to collect these' upon delivering their next order to practices.
'We are urgently exploring other supplies of these gloves for provision in regular deliveries but this may take a few days,' the CCG said, saying that practices left with a shortage of gloves in the interim should contact NHS England's central PPE portal.
The email added: 'We can only apologise for this unprecedented issue and thank you for your patience whilst we resolve it.'
A CCG spokesperson told Pulse: 'We have taken immediate action to remove this specific glove type from practice supplies and are working to supply alternatives.
'An urgent investigation is underway to understand how this occurred.'
A spokesperson for Brightway said: 'Brightway is not the manufacturer nor supplier of "Sanique" gloves. Further, we do not know or have any dealings with Mediquip.
'Brightway is a bonafide manufacturer and exporters of various types of medical and cleanroom gloves for the past 30 years and have built our reputation based on supply of quality products and prompt service.'
A spokesperson for Sanique said: 'We can confirm we are aware of this complaint and are taking it very seriously.
'We have recalled all the gloves from this batch – with immediate effect for evaluation quality inspection, track and trace and can confirm that we are in close contact with the manufacturer, and our customer to resolve the issue.
'We are happy to respond further once we have completed our investigation.'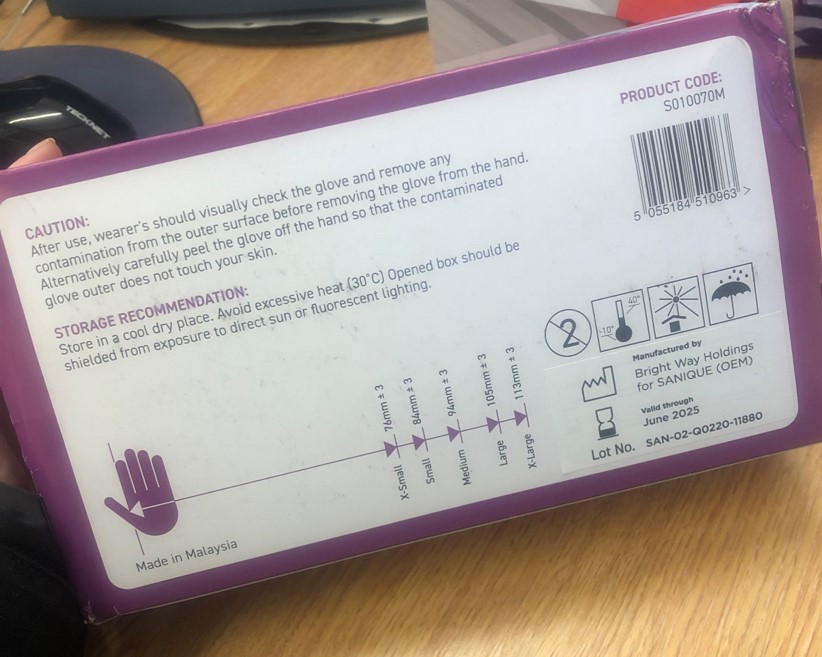 A spokesperson for Medequip said: 'Please note that Medequip has no involvement in the manufacture or procurement of the gloves in question. During the pandemic, we have assisted certain local authorities and CCGs with the distribution of various items of PPE.
'We are not responsible for any quality checking of the items concerned; we receive unopened boxes into our warehouse, store them and despatch to points of use. We do not place orders on suppliers.'
GP practices have faced a number of issues with substandard PPE during the coronavirus pandemic.
Pulse previously reported that practices across the country had been supplied with expired face masks that had concealed 'best before' stickers.
And in June, the Government issued an alert telling GPs to throw away batches of out-of-date face masks distributed to practices after finding they posed a 'risk to staff'.
Meanwhile, in August, GPs were told to 'immediately' stop using certain non-sterile PPE gowns supplied by the Government after some batches did 'not meet minimum standards for fluid resistance'.
And earlier this month, GP practices in Scotland were sent 'official' PPE aprons made from 'repurposed bin bags'.
Please note: this was edited at 11:30pm on 24 November 2020 to reflect the correspondence from Brightway Holdings; 12pm on 25 November 2020 to reflect the correspondence from Medequip; and 1.40pm on 26 November 2020 to reflect the correspondence from Sanique