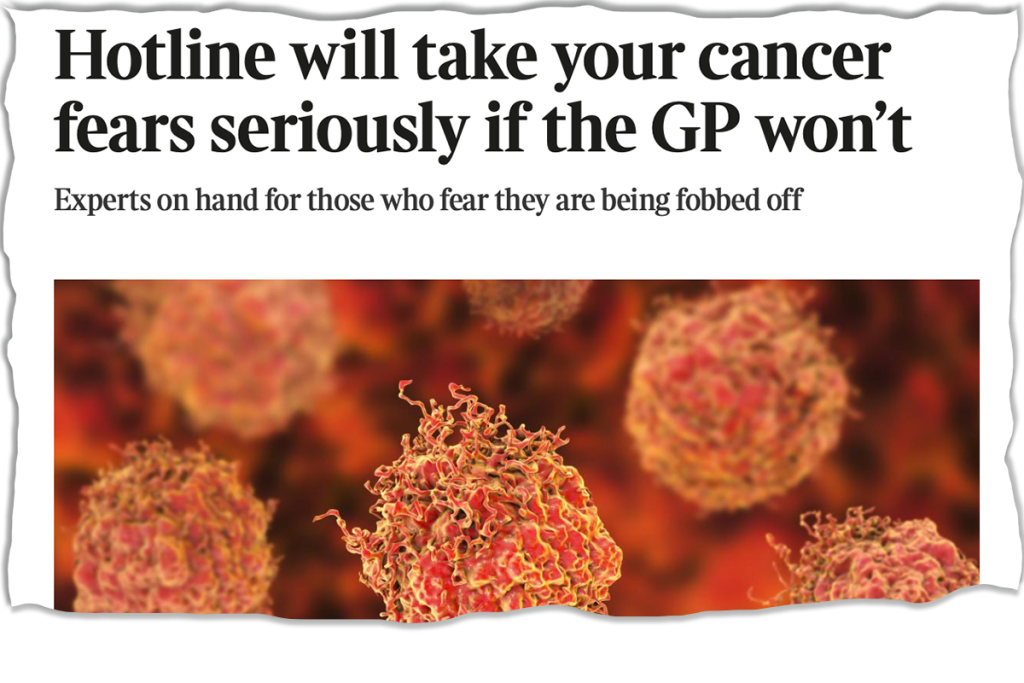 Rachel Carter scrutinises an article in The Times about a new NHS hotline for cancer symptoms
On 20 January, the minister for patient safety and primary care Maria Caulfield announced that the NHS was piloting a cancer symptoms hotline staffed by cancer nurse specialists, for patients who feel that they are 'not being listened to' and are facing difficulty getting assessment and diagnosis.
Her comments were made in the final evidence session of the Health and Social Care Select Committee's inquiry into cancer services, which explored the impact of the pandemic and why cancer outcomes in England 'continue to lag behind comparable countries internationally'.
The new hotline was covered by The Times, in an article headlined: 'Hotline will take your cancer fears seriously if the GP won't'. Crucially, the headline was tweeted by Ms Caulfield.
But did the minister paint GPs as the problem here, or was it a different story altogether? We take a look behind the headlines.
Hotline will take your cancer fears seriously if the GP won't: The NHS is trialling a hotline for people who fear cancer symptoms are not being taken seriously by their GP, a health minister has revealed.
These statements imply that the hotline was set up because GPs are failing to take patients' symptoms seriously. This was the experience of a cancer patient shared in the evidence session. As the article explains, she was repeatedly passed between her GP and consultant before receiving a terminal diagnosis – and both had failed to pick up the warning signs.
Ms Caulfield spoke about rapid diagnostic centres in response and her hope that these would help patients 'feel that they are being taken seriously'. She said the hotline would help patients who 'feel they are not being listened to'. She also commented: 'To be fair to GPs, some of the symptoms patients present with could be a range of conditions … and very often the vast majority are not cancer…' But this wasn't reported in The Times.
Meanwhile, the reason this hotline is being set up is not concerns that GPs are failing to do their jobs properly. NHS England told Pulse that the pilot is based on a service set up in Lancashire by St Helens and Knowsley Teaching Hospitals NHS Trust early in the pandemic, after they saw a drop in people coming forward with cancer symptoms. It meant that patients worried about going to their GP could access specialist advice and be referred if necessary. NHS England also said GPs are making 'record numbers' of suspected cancer referrals. The Times article does include the latest figures, but it doesn't mention that GPs will have made these referrals.
The phone line, staffed by specialist cancer nurses, will provide an alternative route for patients to be referred to hospital specialists and forms part of a £20m push to improve early diagnosis rates.
This is true and the £20m was announced by NHS England in July last year. NHS England told Pulse it will be 'important to assess whether this type of approach can play a useful role alongside [the] GP referral route'. Pulse understands that further evaluation of the St Helen's and Knowsley model is required, and some small-scale pilots are now in the early stages.
'Patients themselves, if they feel that they're not being listened to or [have] difficulty getting assessments done, can phone up that hotline, go through their symptoms, go through the experience that they've had, and that cancer nurse specialist can get them into the cancer pathways,' she added.
The Times article includes Ms Caulfield's quote on the hotline. But it omits the more sympathetic comments she made about GPs just before.
When asked what is being done to ensure GPs are aware of the symptoms they need to refer, the minister said: 'GPs [have] an extremely difficult job. People present with all sorts of conditions, we are talking about cancer today, but they have a range of conditions that their patients will be looking for….'
She added that for some cancers – such as breast cancer – pathways for referral are 'pretty clear', but 'for vaguer symptoms it is difficult for GPs and who they refer them to, if they are not necessarily even suspecting a cancer…'
[Ms Caulfield] said the idea was that it does not always have to be a GP that gets [patients] into the process.
As reported by The Times, Ms Caulfield said the hotline is trying to 'open up the opportunities to get diagnosed as quickly and easily as possible' and that 'it doesn't always have to be a GP'. However, NHS England also told Pulse that the hotlines are 'not intended to replace GP appointments' and are intended to run alongside existing GP services.
Complete relevant Cancer CPD modules on Pulse Learning by registering for free, or upgrade to a premium membership for full access at only £89 a year.