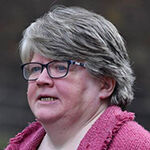 New health secretary Thérèse Coffey has pledged to tackle primary care workload by bringing more chiropractors into general practice.
In her first BBC Radio interview, Dr Coffey seemed to make a gaffe when she declared: 'The majority of healthcare is actually delivered through primary care, by our doctors, dentists, chiropractors, all those other supports that are there, not just through hospitals.'
But speaking later to Pulse Checker, she revealed plans for more chiropractors, who she called the 'bedrock of the NHS'.
'There is a chiropractor workforce crisis, caused by soaring demand and a shortage of magnetic healing machines,' Dr Coffey said. 'Patients rightly expect gold-standard NHS services, from diagnosis to treatment to curing imaginary ailments through manipulating the neck and back.'
She said the plan would rely on offering more degrees. 'With our new photocopier, 5,000 degrees should take less than a day.'
---
Doc Martin retires due to burnout
ITV has announced that the next series of the drama Doc Martin will be its last, as the eponymous GP is to retire due to excessive workload.
The popular show, featuring a grumpy GP with a blood phobia, provides light relief to viewers on Wednesday evenings, but its production company says the workload is getting on top of him.
A spokesperson told Pulse Checker: 'We all love the tales of uptight London GP Dr Martin Ellingham and his move to a sleepy Cornish village! But the referral to the GMC took its toll, and while his strained relations with patients have previously been a source of mirth, the media campaign against GPs has seen regulars resorting to acts of vandalism against his practice.
'An unannounced CQC inspection and CCG demands that his small practice offer enhanced access have left him working 14-hour days. We wouldn't even wish that on a fictional GP, so we're calling it a day.'
NHS England message re mourning period
To All GPs
Date 8 September 2022
We have ceased communications as a mark of respect to the Queen. We will indefinitely postpone publication of the following documents:
Waiting times data.
Excess deaths data.
999 response data.
GP workforce data.
Advice for NHS services ahead of this winter.
We have also agreed with Primary Care Support England (run by Capita) to pause all payments and support to general practice. At this sad time we would ask the media to stop stories about the state of the NHS, avoidable deaths and cancelled elective surgery. We will continue to publish essential documents, including:
Case studies on how our social prescriber saved 60 appointments.
The success of the Covid vaccination scheme.
Blog: How PCNs have solved all the issues in general practice.

 
Queen's passing lets us reflect on how bad GPs are
By Alice Person
The death of the Queen has touched us all. Her stoicism, her life of duty and her commitment to her people have been a shining light for us all. The number of people paying their respects at Buckingham Palace was a signal of just what she meant to us.
With all this in mind, I have taken the opportunity to reflect on how bad GPs are. I tried to book a face-to-face appointment to sort out my athlete's foot last week, and when I said I was unable to make the first two slots they offered, they said they couldn't see me for three weeks!
Contrast this with our departed Queen. Well into her 90s, Her Majesty was performing her royal duties, meeting dignitaries, shaking hands with common people, waving from cars and even performing with Paddington Bear.
But ask a GP for an appointment after 8pm so that I can attend a PR drinks do and they show their true colours.
We know the Queen wasn't one to show her true feelings, but I strongly believe her employment of
a royal physician was an implicit recognition of how useless NHS GPs are.
If GPs could start taking a leaf out of the Queen's book, we might get a functioning NHS. They can start off by working into their 90s. But I suspect they are too selfish to consider this.
Alice Person is a columnist with the Telegraph, and is currently suffering from ouchy foot
Next week: Why climate change doesn't exist, but if it did, it would all be GPs' fault