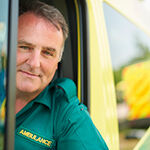 The Government has published plans to launch 'Uber Ambulance' in a bid to counter the crisis in emergency services.
Some patients are waiting 48 hours after a callout, and queues of ambulances outside A&E have become commonplace over the past few months.
But health secretary Steve Barclay laid out plans for a new app that will allow patients to order an ambulance online.
He said: 'People love the convenience of ordering via apps, and this new initiative will allow patients to choose a basic service for superficial injuries, or pay a little more for our premium service for those experiencing, say, a cardiac arrest.
'The app will allow the user to track the ambulance's progress, though we do warn that the drivers themselves will be able to cancel the callout if they deem it too tricky.'
Mr Barclay also set out plans for drivethrough emergency departments, branded McA&E. The BMA is reviewing the plans, and will advise GPs in due course.
---
It's all the strikers who are wrong, say ministers
It is the Government that is on the side of the public, and not striking nurses, ambulance staff, junior doctors, school teachers, railway workers, civil servants or barristers, ministers have claimed.
Ministers insist they still have the support of the public despite trade union officials pointing out that pretty soon, the majority of the public will be on strike.
Former Tory party chair Nadhim Zahawi told Pulse Checker: 'The public understands that all these strikers are simply taking honest British taxpayers for fools.'
On the NHS strikes, health secretary Steve Barclay said: 'These are unfair negotiations. Those bullies have "facts" and "figures" on their side, which we simply don't have. However, what we do have are badges to prove how much we love the NHS.'
He added: 'Luckily, we also have the ability to impose pay unilaterally, as well as a fully compliant press.'
---
Sir Kier Starmer: 'We need to trust patients' medical expertise'
The Labour leader elaborates on his plans for patients to be able to self-test at home when suffering from internal bleeding
I wrote in the Sunday Telegraph last month of my plans to allow patients to refer themselves to secondary care, and to be able to self-test for minor problems such as internal bleeding. I received such good feedback that we are taking this further in our bid to reduce waiting times, and I am delighted to announce these plans in Pulse Checker.
First, I would ask why we should stop at home testing for internal bleeding. What is to stop patients doing CT scans at home? Or conducting blood tests or prostate examinations? With clear instructions, anyone could perform such tests whenever they liked and would only need to bother secondary care if the results were unclear, thereby reducing waiting lists.
Second, I'd like to see patients undertake more surgical procedures. The NHS is short of beds, yet most people have beds at home. Our new 'home surgery toolkits' with easy-to-follow YouTube videos would allow patients to perform surgery on themselves or on loved ones if they feel something might be wrong, thereby easing NHS pressures, especially if they perform the surgery successfully.
Finally, with Labour's groundbreaking initiatives, soon we won't need GPs at all. Patients can act as their own gatekeepers, deciding when they need specialist help. We need to start trusting patients' own medical expertise.
NICE guidance on prescribing statins in full
Consider proactively offering statins to patients who:
Have had a recent heartbreak (>holiday romance, <love of life cheating with best friend)
Get heartburn after eating curry (spiciness >korma, <jalfrezi)
Have had heart flutters or 'butterflies in stomach' in the past year
Experience a stitch after running >2km
Are ≥50 and have a vowel in their name
Ask really nicely
The stupid things politicians say
'Face-to-face GP appointments have become almost extinct in some areas of the country.'
LibDem leader Sir Ed Davey. Among the 106 sub-ICB regions, the one with the lowest rate of face-to-face appointments is in Somerset, where 57% of appointments are in person.