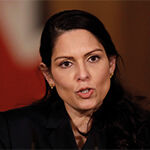 The solution to the problem of GP workload is to deport thousands of GPs, current Home Secretary Priti Patel has said. 
Ms Patel told Pulse Checker the new 'GP Go Home' campaign, which sees newly qualified overseas-born GPs sent threatening letters by her department, was a compassionate policy to support practices with their workload.
She said: 'Countless studies I have read in the MailOnline comments section show that immigrants in their 20s and 30s are the biggest users of health services. Sending overseas-born GPs back home/Rwanda/wherever will cut waiting lists.'
Under immigration rules, visas allow for doctors to train in the UK for five years, and then be given indefinite leave to remain. However, GPs who complete their training in three years do not qualify.
Ms Patel added: 'We don't want GPs who are too stupid to see it is in their interest to fail exams. Boris has shown the values we want here – the ability to cheat the system.'
---
Only give antibiotics to patients who request them, say ministers
The Government has recommended GPs only give antibiotics to patients who 'really want them' as part of its strategy for fighting antimicrobial resistance.
Antimicrobial resistance is one of the biggest dangers facing the country, but ministers say an even bigger danger is that they could lose the next election.
Health secretary Steve Barclay [is he still in? Please check. Ed] told Pulse Checker: 'We know that we need to cut down on our use of antibiotics, otherwise there is the potential danger we will be unable to fight a whole host of diseases and performing operations may become impossible. 
'However, there is also the danger that patients who do want antibiotics will punish the Tories at the next election, and that will be an even bigger disaster.'
He added: 'What we will probably do is let GPs take the flak for turning patients down. It's a strategy that has worked many times before, after all.'
The stupid things politicians say
An occasional series looking at the dumbest things said by the people hoping to lead the country. We kick it off with a real, but scarcely believable, quote by the unsuccessful Conservative Party candidate for the June Wakefield by-election Nadeem Ahmed, on former Conservative MP Imran Ahmad Khan, whose resignation triggered the election after he was convicted of sexually assaulting a 15-year-old boy. He did later apologise. 
'[Khan] is in prison, which is the right place. As a teacher, a father, and as a human being, what he did was wrong. He's been convicted of that offence, and I cannot stand here and say that was right. It was absolutely disgusting. And the people of Wakefield know that he was one bad apple…
Harold Shipman committed suicide in Wakefield prison. He was a GP, he was a trusted professional, just like teachers and others. When they put a vaccine in our arms, we trust what they are putting in us. Have we stopped trusting GPs? No, we still trust GPs and we know that he was one bad apple in there.'
This month GPs have mostly been rubbish at…
Underprescribing, for failing to prescribe UTI 'wonder drug' ('Why won't GPs prescribe "life-changing" UTI drug?', Daily Mail, 4 June)
Overprescribing, for thinking there is a 'pill for every ill' ('Doctors must stop over-prescribing as if there is a "pill for every ill" so money can be better spent on tackling waiting lists, NHS chief says', Daily Mail, 17 June)
---
Answers on a postcard
Our new quiz for those who are fluent in management speak
What did the Fuller stocktake report commissioned by NHS England mean when it said: 'Systems have a role to play in articulating a clear plan for data sharing across the system to support the development of population health management approaches at neighbourhood and place level, enabled by a clear information governance framework and work closely with providers and patients to co-produce data sharing agreements where appropriate'?
A We need to improve patient record sharing across health providers
B We should stop selling patient data to private companies
C Let's bring back care.data for a laugh
Answer All three are correct. Or none. Someone please make it make sense.