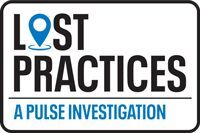 As part of our Lost Practices investigation, Pulse plotted the postcodes of practices and branch surgeries that CCGs and health boards told us had closed between 2013 and 2021, and all practices that are currently recorded as open in each of the four UK nations.
The map only includes postcodes for practice closures where no other surgery or practice is open in the same postcode*. The postcodes of closed practices are shown in blue on the map, while currently active practices are red.
This revealed that some closures have left a gap in GP provision, with patients having to travel further to access care. Here we explore some of those examples…
AB45 3ZG – Gardenstown Surgery, Aberdeenshire, Scotland
Gardenstown Surgery in Aberdeenshire was originally closed on a temporary basis in 2015 after two doctors left – one to take up a new post and the other to recover from an accident, according to the Scotsman. It was later closed permanently in 2016 following a merger with Macduff Medical Practice, which is a 20-mile round trip from Gardenstown.
At the time, local MSP Peter Chapman was quoted in The Press and Journalsaying that the staff shortages that had led to the closure of Gardenstown were 'disastrous for rural communities in particular, leaving them 'further cut off from the health services they need'.
NHS Grampian health board told Pulse that the population of Gardenstown is roughly 700 people and 'with a lack of GPs nationally' it had been 'unsustainable' to keep the practice open as a branch surgery.
TA4 1JZ – Milverton Surgery, Somerset
Milverton Surgery, a branch of Lister House practice, closed in 2018.
Local news reports at the time said that the closure had been triggered after four doctors from Lister House announced their plans to leave. The Somerset Partnership NHS Foundation Trust, which took over the short-term management of the practice, later applied to close the branch surgery due to difficulties recruiting GPs.
According to the Somerset County Gazette, the village has an elderly population and the closure would have resulted in a six-mile round trip, with some having to 'struggle 900 metres for a bus to Wiveliscombe', where the main Lister House practice is based.
There had been a surgery in Milverton for 90 years.
Beech Grove surgery, Brading, Isle of Wight
Beech Grove, a practice in Brading on the Isle of Wight, closed in 2020. The Isle of Wight County Pressreported that the wife and husband team running the surgery had said they 'could no longer cope with rising demand and decreasing resources'.
A statement from the two doctors also said the decision was made 'in light of forthcoming retirements and additional loss of GP cover'. The list of around 4,500 patients was dispersed after the CCG was unsuccessful in finding anyone to take over the practice.
The nearest primary care services to Brading are in Ryde (a 12-mile round trip), St Helens (a six-mile round trip), or Sandown (a three-mile round trip).
In a letter to affected patients, seen by local news site Island Echo, the CCG said: 'We appreciate that this is not the outcome that everyone wanted, and that it presents some patients with difficulties, but the decision cannot be changed. The PPCCC (Partnership Primary Care Commissioning Committee) agree that, realistically, it was the only option open to us to ensure your continued safe access to GP primary medical services.'
CO2 0NL – Birch Surgery, nr Colchester
Birch Surgery, a branch of Winstree Medical Practice, closed in 2016. The practice manager quoted in the local press at the time said the surgery had reached 'crunch point' and the practice did not 'have the ownership structure' to be able to commit to the new lease arrangements that were on offer after the existing lease expired in November 2015.
The same article said that the nearest surgery was more than two miles away, and there was no direct bus route, meaning those that are elderly and who could not drive would be affected. The village had also already lost a shop and a post office, it said.
The Daily Gazette also later reported that there were plans to hold GP sessions two days a week in the village school after the closure, but these fell through after parents objected.
WV6 7AF – Pattingham Surgery, nr Wolverhampton
Pattingham surgery, a branch of Claverley Medical Practice, closed in 2018 after receiving formal notice to vacate its premises.
A CCG report from the time said 1,500 of Claverley's 4,250 patients had been using the Pattingham branch site, and of those approximately 850 lived in Pattingham. It added that the Pattingham surgery building belonged to a previous partner in the practice and they had been leasing it to the practice until notice was served on the lease.
The Express and Star reported that the closure would mean patients had to make a six-mile trip to Claverley for GP care and quoted a patient saying there was no public transport available to do this.
A spokesperson for Staffordshire and Stoke-on-Trent ICB told Pulse that the Pattingham building was an 'old house' that 'just wasn't fit for purpose', and that closing the branch meant that the practice would be 'more resilient and provide a better service to patients'. They added that there is plenty of choice of service provision for patients in the area. This ranges between practices that are a seven-minute drive to a 12-minute drive away from the village of Pattingham.
DT2 8EP – Broadmayne Surgery, Dorset
Broadmayne Surgery closed in 2015. The Dorset Echo reported at the time that the decision to close the surgery was taken after the GP based there announced he would be retiring.
According to the local news article, NHS England wrote to the surgery's patients telling them that Broadmayne has a very small patient list which made it 'difficult to sustain'.
It also said that NHS England had 'asked 15 local GP practices if they would be interested in providing services in Broadmayne but after three initially expressed interest they said that it would not be sustainable'. All patients were transferred to the Atrium Health Centre, which operates from two locations in Crossways and Dorchester, the article added. Both are an eight-mile round trip from the village.
A local councillor quoted in the story said the closure was 'another blow' for the village's rural community and it would impact 'a lot of older people'.
*To get the list of 'lost practices' we collected the data on active practices and branch surgeries from all four UK nations. We compared this list to our list of closed practices and removed instances of duplicate postcodes. This left us with 474 practices or branch surgeries that had closed, and there is no current surgery in the same postcode. Read our full methodology here.
Please note, the postcodes for 16 closed practices and and 18 currently open practices were not recognised by Google Maps.