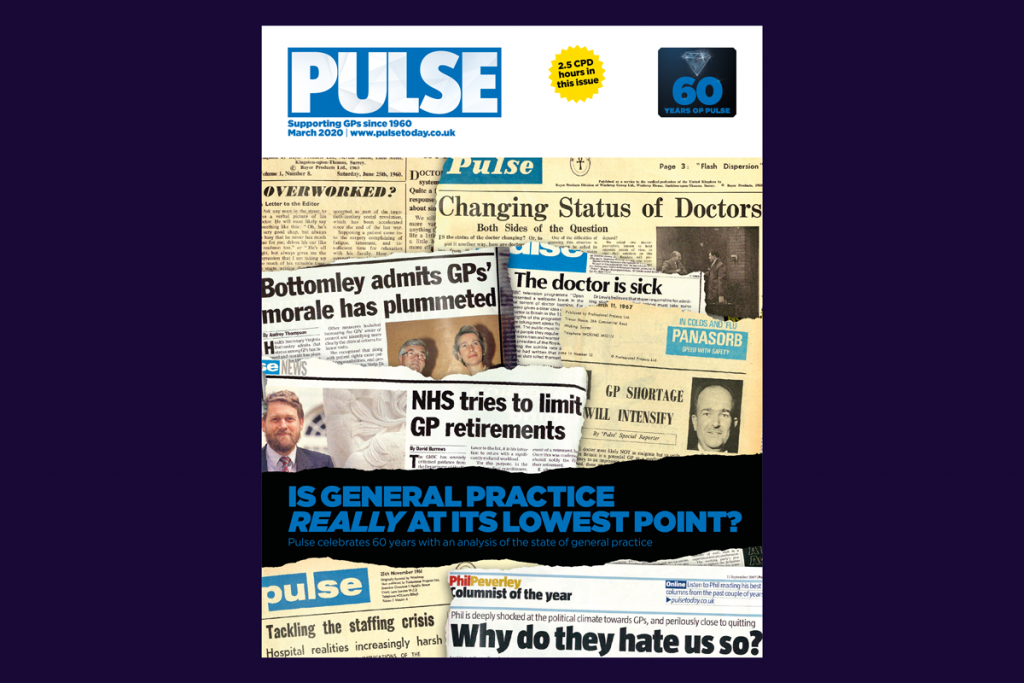 Tackling the staffing crisis.
GP manpower in low gear.
The problems of work load.
More GPs needed, says MPs report.
Although they'll no doubt look familiar, these aren't Pulse headlines from the last year, but from the last 60.
As Pulse celebrated its 60th birthday in March, it became clear to those of us who write the headlines that many of the issues general practice faces today are evergreen.
In 1961, Pulse reported that the first decade of the NHS (1948-1958) was 'characterised by a surplus of doctors', but 'this situation is in the process of being reversed'.
The 80s rolled around and workforce figures were once again in the headlines. This time, a 1981 commons report called for a 'substantial increase in the number of GPs'. The RCGP told MPs back then that list sizes of 2,000 to 2,500 were 'reasonable' if workload remained stable, but average lists of 1,700 were advantageous. What a heady time that was… (Not, however, for one GP who'd sent off 400 job applications without success).
Compared with then, patient numbers per GP had fallen by 12% by the start of the 1990s, which was welcome news. But the perennial recruitment crisis was back making waves in the early and mid-90s – with a novel solution proposed in the form of EU doctors, followed by a cash incentive for partnerships in 2009.
Anyone getting a sense of déjà vu?
Of course, the past 60 years has witnessed an abundance of change as well as stagnation. One area that's evolved – to some degree at least – is technology.
Even before the moon landings, general practice was buzzing about the prospect of IT, anticipating the likes of 'electronic medical record systems, automated laboratory measurement and analysis, patient-monitoring systems, and a host of para-medical applications'.
As Pulse's 60th birthday issue went to press in early March, noting that video consultations still were 'not common', little did anyone know just how much – and how quickly – that was all about to change.
Rewind four decades (long before GDPR was a thing) and patient data was in the headlines. But the debate rumbled on over time, and Pulse reported in 2007 that GPs voted to boycott the rollout of electronic records over concerns about confidentiality.
They didn't like the idea of phone consultations or 'radio telephones' either. A 1970 GP thought it 'absolutely vital that the radio link should be confined to the doctor and his staff and wife'.
Back then, funding for technology in general practice was withdrawn, with the money going to hospital computers instead.
Luckily (or not) general practice was well used to rations, as the Pulse team discovered when looking through decades' worth of back issues. In the early days, the egregious cutback was shutting Harrogate Royal Baths to NHS patients. The Pulse team was still lamenting that decision three years later in 1970, with the magazine's six-part series on the 'Golden age of spas'.
Over the years, rationing has affected other areas of practice – notably, in 1967, renal dialysis. A front-page piece that year reported that a Devon hospital board was 'expressly forbidden' from working with a charity to provide treatment for a patient who couldn't access an NHS dialysis machine.
It was left to locals to hold a 'giant bingo', 'mammoth auction' and 'charity cabaret' in a bid to raise £6,000 for a new machine and treatment – because 'without these events a young father must die'.
Cutbacks over Pulse's lifespan have seen among many others things the raising of the threshold for cataract surgery in 2009, reducing dermatology referrals in 2007, and rationing dementia drugs in 1998.
In 1960, at least, GPs were free to prescribe whatever they considered best for their patients, without the restrictions of today's drugs formularies. The BNF of 60 years ago – the fifth version – would have fitted into the pocket of your white coat at just 225g.
These days, at 1,700-odd pages and 1kg, it weighs heavier than the nostalgia of bygone times.