For the second year running, general practice has been stretched to the max but once more has gone above and beyond to deliver services. From a competitive field, below are the winners of this year's GP awards, run by Pulse's publisher, Cogora.
GP of the Year
Dr Christopher Griffin, chief executive officer, Milton Keynes Urgent Care Services
Dr Chris Griffin impressed the judges with his reorganisation of his services' out-of-hours provision, leading a Covid hot hub and helping repatriate and care for UK Nationals returning from Wuhan, China, at the start of the pandemic.
He was nominated for doing all this while keeping high standards of patient care as a priority, working "110%" and being "completely selfless".
Dr Griffin turned the out of hours service (OOH) from a "muddle" to an "extremely well run set up service". He set up a system where a healthcare assistant would take and log observations then triage to the most appropriate clinician, which was a novel way of working at the time. Dr Griffin implemented NEWS2 and POPS scoring, working with the clinical systems support team to create service-specific templates to streamline the transition.
He also found time to turn the out-of-hours service's pharmacy around. He ensured that all acute and patient group direction medications were set up electronically and catalogued meticulously, minimising the risk of errors and reducing workload for staff.
Under his leadership, UK travellers returning from Wuhan were swabbed and cared for, and he also organised doctors, nurses and HCAs to staff the service and cover the hotel that housed the quarantined guests. He worked around the clock whilst also making sure the local Covid-19 hub was constantly staffed.
In nominating him, colleague Alicia Djukic said: "In my 20 years in the NHS, never have I seen a team that supports a GP in the way that his team does, because of the utmost respect that they have."
GP Team of the Year
Covid Protect – Norfolk and Waveney
Created as a response to Covid-19, the team has supported thousands of clinically extremely vulnerable people who have needed to shield across Norfolk and Waveney.
Through an online platform and by telephone the clinically-led project team gave help and advice to support safe shielding. It is believed this was the first local system to apply such a wide-reaching, clinically led, digitally enabled and data informed, multi-organisational integrated approach.
Soon after the pandemic started last year the team formed from a wide variety of services, including GPs, professionals from Norfolk and Waveney CCG, Clinical Support Unit, Prescribing Services Ltd and Virtual Support Team. It also included 100 volunteer non-clinical call-handlers.
They rapidly identified clinically extremely vulnerable people, and directly or indirectly the team helped at least 22,864 people across Norfolk and Waveney. An interim analysis of the service in July suggesting people's engagement with the service meant fewer cases, hospitalisations and deaths in the area.
One service user said: "I am being so well care for, I feel like the Queen."
Dr Jeanine Smirl from the Covid Protect teams said: "It's an incredible feeling to get the recognition for our team. I've been a GP 30 years and this last year and Covid Protect is definitely the highlight of my career – we're so proud.
"We really tried to balance health inequalities; focusing our attention on people who needed it the most: the shielding people, and the people who are disadvantaged within the shielding people, and it just felt really good and we made a really big difference.
"The Covid Protect project is really groundbreaking. It was this digital connection, finding the patients and them being able to actually log on and ask for help, just digitally. Then there were the call handlers calling them and then if they needed help, there was a whole team of people to support them, including lots of people in the voluntary sector, getting them food, medicines. At a time when all those frightened people couldn't reach their doctors, they weren't getting their follow ups, they had us."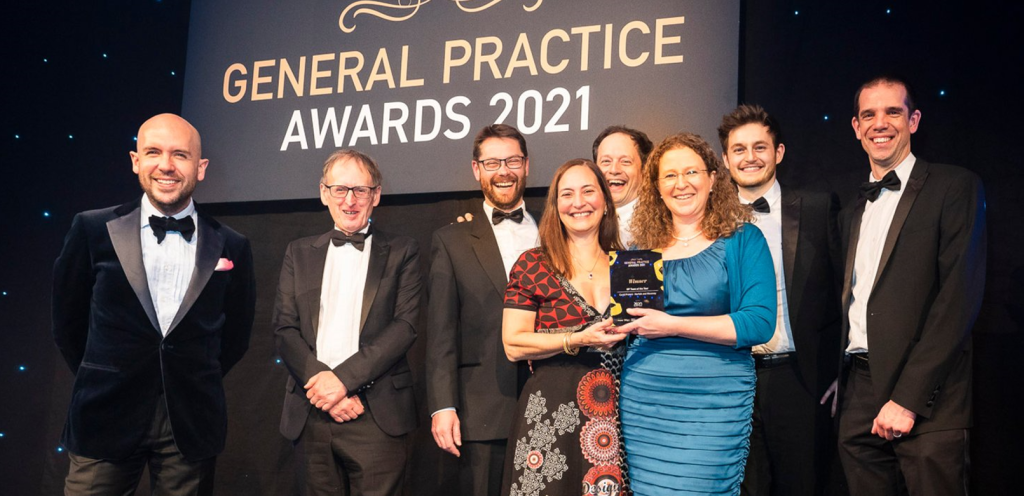 GP Trainee Rising Star Award
Dr Devina Maru, national medical director's clinical fellow, GP speciality registrar, London
Although still a trainee Dr Devina Maru was described as a "wonderkind" in a testimonial included in her nomination who had "accomplished what few people do in a lifetime".
She is the first trainee in the RCGP's history to be selected as a clinical champion, working to improve outcomes for deaf people. In collaboration with NHS England, NHS Improvement and the Royal National Institute for Deaf People, she created GP resources to support implementation of NICE guidelines and NHS Accessibility Quality Standard and Guidance across the UK. Dr Maru sits on various committees and working groups. She was invited to 10 Downing Street in recognition of her contribution to medical education, training and policy for junior doctors and was selected to speak at the House of Lords event on Women in Leadership.
Dr Maru said: "Amazing people were shortlisted so I thought I was never going to win. My main thing is empowering people with hearing loss. I got free British Sign Language commissioned and worked with the Department of Health to get transparent face masks. The year has been hard – even though I'm a GP trainee, we moved everywhere. I've been redeployed to the Intensive Therapy Unit (ITU) and various paths in secondary care to assist with everything. At the end of the day, we're all working together."
Clinical Improvement Award: Chronic Conditions
Newton Medical Centre, SSP Health
The Covid-impact Assessment & REsponse project was a team led by Dr Olukayode
Adeeko (Newton Medical Centre) and students of University of Liverpool on GP placements from December 2020 to February 2021.
It identified which patients who had tested positive for Covid were vulnerable – because of their age, health conditions of ethnicity – and offered further support to those patients. Conditions that made patients vulnerable included being over 65s, people with sickle cell disease as well as homeless people and asylum seekers. It also helped patients with long Covid.
The team set up a weekly mid-week dedicated virtual clinic from December 2020 to early February 2021 to provide support for its cohort of patients. Gathering data through their work they found 41% of 271 patients with Covid were vulnerable. The team managed to signpost patients on to appropriate services, including counselling.
Clinical Improvement Award: Mental Health
Ansh Pal Singh, Lynwood Medical Centre
Ansh Pal Singh is a 16-year-old student who came up with the idea of a 'gold card' for people with learning difficulties during the pandemic, giving them priority for treatment.
With the help of a practice manager, he obtained a copy of the patients on the learning disability register and each was given a unique ID number.
The 70 patients on the register were given a gold-coloured credit card sized card and an alert would come up if a member of the healthcare team accessed their notes.
A system was also put in place so a designated member of staff would call and check on the patients on the register every three months for a general welfare check.
An audit three months after starting the scheme found patient satisfaction was high and the practice has now decided to expand the scheme to include other vulnerable groups, such as homeless people and refugees. The practice also intends to include domestic abuse patients and those newly diagnosed with cancer in the scheme in the future.
Clinical Improvement Award: Public Health & Prevention
Dr Maggie Kirk and the HealthBus Team
The HealthBus charity was started by Dr Maggie Kirk in 2016 and provides mobile and accessible primary care for rough sleepers and those in emergency accommodation around Bournemouth.
It provides a 'one stop shop' for a join management of conditions and has campaigned for homelessness vaccination during the pandemic. It partnered with the YMCA to facilitate two Covid vaccination days for homeless people. The Dorset healthcare vaccination team asked HealthBus to help it reach more marginalised patients.
The charity is helping reduce health inequalities among the population and the National Complete Care Community Programme has identified the project as a blueprint for care provision in other areas.
The team points out that providing the service will ultimately reduce hospital stays and long-term illness, ultimately lessening the financial burden on the NHS. Homeless patients are 40 times less likely to have a GP and five times more likely to end up in hospital for health needs than the average member of the population, the charity says. These needs should be managed in primary care, it adds.