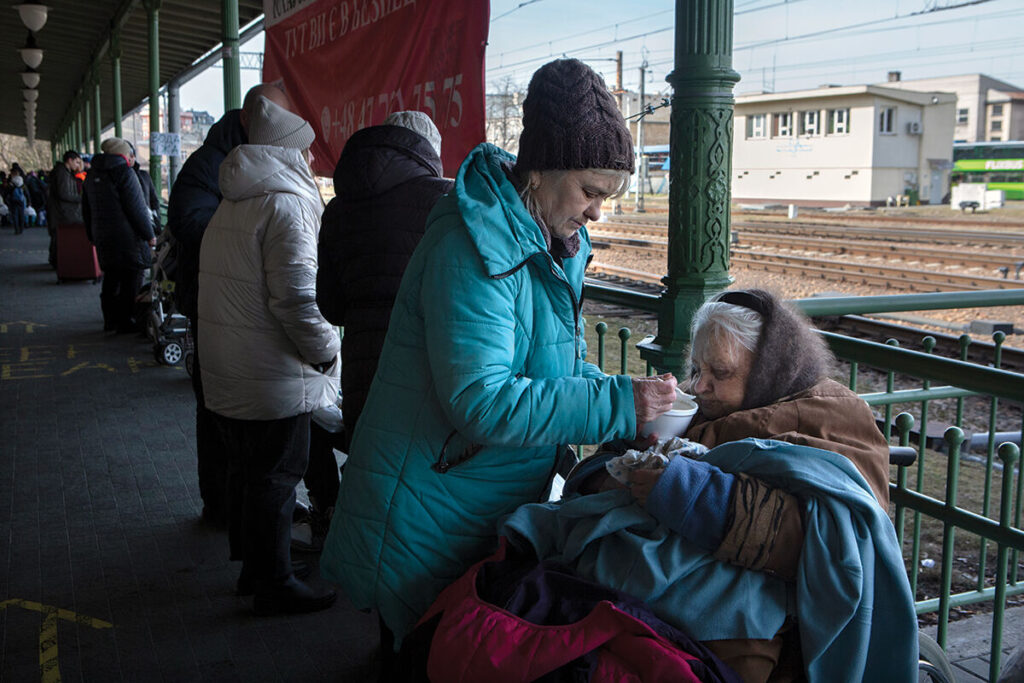 Dr Kathy Morton, a locum GP from Manchester, on a day volunteering in Przemyśl, Poland, 10km from the Ukrainian border
6am I don't sleep late in Przemyśl. I lie here wondering what's happening with the arriving refugees and what I could be doing to help. I arrived at the Polish-Ukrainian border town after following a fundraising link on a WhatsApp doctors' group. With a few hours' notice to stuff clothes in a bag, I jumped in the van convoy driving medical supplies from Essex to Ukraine and have been here ever since, working alongside a Ukrainian pharmacist, Nadia Kravchuk, who's based in Singapore and has also come to help refugees from her home nation as they arrive. More than two million refugees have crossed the two nations' land borders since Russia invaded Ukraine.
7am After a quick coffee and a shower, we get in our hire car and head to Syston Glozny, the first train station on the Polish border, where refugees arrive in their tens of thousands each day, tired and traumatised. On the way we stop at a supermarket to buy suitcases, battery powerpacks and children's toys. We know that today's refugees – who are mostly women, children and the elderly – will arrive with their possessions in plastic bags to conserve space on the train for others. There's food at Syston Glozny, too. Some arrivals won't have seen food for days as they have been hiding out in the forest, so will fall upon it, filling their pockets.
10am We drive the most vulnerable in a car to the local refugee centre, Lwowska 36, where they can sleep, get basic medical treatment and claim asylum in other European countries. I'm not licensed to practise medicine in Poland, but can treat cuts and grazes and listen to chests. Otherwise I provide comfort and play with children as their parents go to the loo, grab some food and try to piece their lives together. Women arrive without their husbands, who are obliged to stay and fight, and are full of anxiety. As a GP I'm used to providing human comfort, but I also have an ability to detach, which some volunteers lack.
1pm I realised I haven't eaten anything today and grab something from the canteen provided by Polish housewives who come down to the reception centre with baskets of homemade pierogi and borscht. They're delicious. I eat with Nadia and a refugee family, who tell us about the gruelling journey that brought them here.
2pm I'm called to another refugee arrival centre to help a fifth-year Polish medical student who is nervous about examining two children who have been living in a bunker under shellfire. I show her how to put children at ease by playing games and chatting. Soon, the two kids, mum and gran are all smiling and lifting their jumpers for my stethoscope. I've seen a lot of respiratory problems in refugees who've been hiding underground, as well as lice and norovirus and consequences from missed prescriptions such as hyperglycaemia and asthma attacks.
7pm Nadia again reminds me we haven't eaten. We grab a plate of paella from the amazing Spanish volunteer caterers who set up outside the refugee centre. There are more runs to Syston Glozny to welcome trains. In recent days we have seen more disabled refugees making it out as well as Ukrainians from cities under Russian siege such as Mariupol, including a paediatrician and her family. She was a practising doctor living in a peaceful city a few weeks ago. It makes me realise how fragile our human existence is.
9pm Nadia and I head home. It's a longer day than I'm used to working as a locum GP, but both lives are exhausting in their own way. Nadia came to Przemyśl a few days before me and was sleeping on office chairs until a young man named Grzegorz offered to put us up at his mum's apartment. He'd evacuated her away from the border to Warsaw. I sleep on the sofa and we have the run of her kitchen, with its traditional Polish decor and the buckwheat, walnuts and porcini mushrooms beloved by Poles. We've nicknamed our host, who's called Teresa, 'Mother Teresa' and raise a toast to her, before falling into our beds in anticipation of another long day.
As told to Sally Howard
Profile: Dr Kathy Morton
Roles
Locum GP in south Manchester and volunteer at the Polish/Ukrainian border
Hours worked
11 hours a day 
To read more Working life features, click here