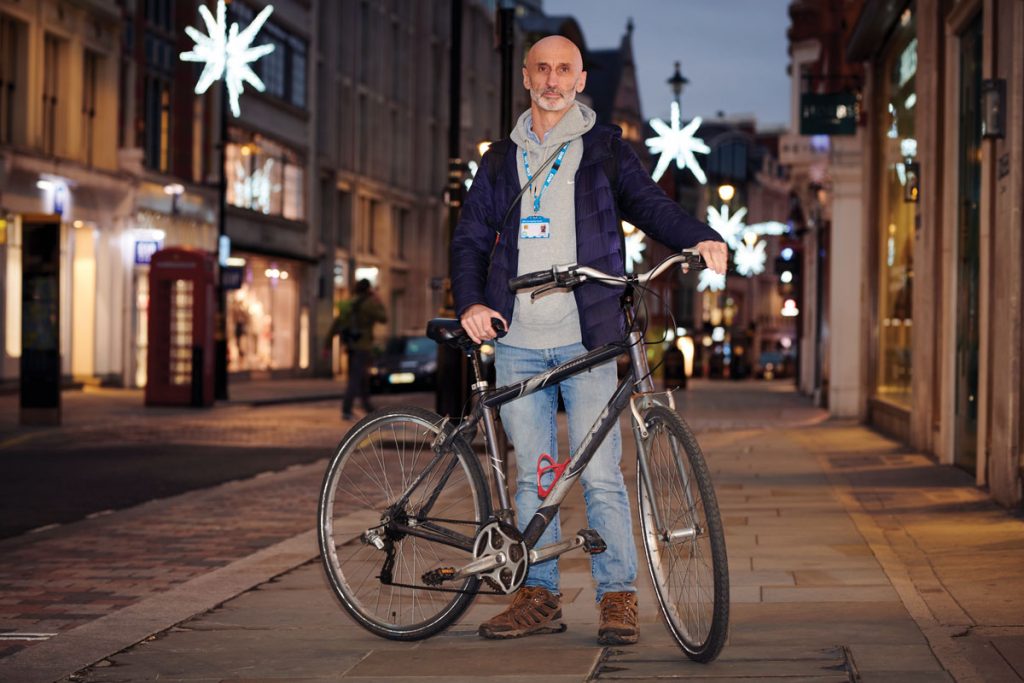 Dr Gary Colman on a day providing GP outreach to homeless patients during the festive season
8.45am
Many people imagine that working at a specialist practice for homeless patients must be miserable, especially at Christmas. Yet I've never worked at a happier, more positive GP surgery. Or one that gets through as many coffees and mince pies.
My morning starts with the weekly practice meeting, where all staff members contribute. Clinical cases from the previous week are discussed, medical management plans agreed and heroic amounts of caffeine consumed.
Our patients suffer tragic levels of morbidity and mortality. They often display chaotic behaviour and may not engage with secondary care, so working with them means being comfortable with 'holding risk'. A multidisciplinary approach is essential to sharing and mitigating that risk and it is this team element of the work I enjoy the most. That and the mince pies.
10.30am
I do my monthly register for our 80 most high-risk, non-engaged patients (who are often at risk of death from sepsis, organ failure, chaotic drug use or suicide). I review them each month with the aim of reducing our mortality and morbidity rates. They won't come in, so I engage directly with them at hostels, on the street or remotely via multidisciplinary team meetings (MDTMs).
The Christmas period is a difficult time for our patients. Most years we don't seem to see a measurable increase in deaths over winter period (possibly due to additional services and shelters being available) and, thankfully, this year seems to be the same. The Covid lockdown has made 'street activity' (begging) near impossible. And I imagine the cold weather does bring additional misery to our patients. Happily, Covid cases currently don't seem to be any higher than in the general population.
Our team at Camden Health Improvement Practice (CHIP) has developed several approaches to the care of homeless patients. In the past five years national life expectancy for homeless patients has fallen from 47 to 44 years; for CHIP patients it has risen from 47 to 54.
11am
I usually have one or two MDTMs each morning. This morning, we start with the monthly Camden 'street population panel' – a panel of specialists (keyworkers, drug and alcohol services, the homeless psychiatric service, health navigators and 'street population' police engagement officers) which meets to discuss the 20 or so highest-risk street homeless people in our north London borough. It is agreed that I will accompany a street team to see a concerning patient at their 'sleep site'.
The second MDTM is an adult safeguarding meeting. It is agreed I will go out to review the patient at his hostel.
1pm
I am visiting 12 patients across three hostels. I carry a rucksack of diagnostic and emergency equipment and a laptop to access clinical notes and electronic prescribing. As well as clinical PPE, I also always wear tough boots, as occasionally a hostel room floor can be littered with needles. But the most important item is my rusty old bicycle. This loses some appeal on a dark, cold, December day, so I eat another hot mince pie before I leave.
2pm
At the first hostel a keyworker accompanies me to the patient's room. My role is to help non-engaged patients such as this one to manage chronic disease. It is also about vigilance, catching a patient before deterioration, and it is not that unusual for a 'routine' hostel visit to result in emergency admission for suspected sepsis, DVT or liver failure. We aim to help patients 'normalise' their health-seeking behaviour and resume attending clinics.
4pm
Back in saddle, I nip through empty streets to the final hostel for a review of the self-neglect of a shared client. Again, I know him well and he is at risk of dying in his early forties from the consequences of complex childhood trauma.
5pm
Like most GPs my day ends with admin, letters, blood results. Then, finally, home.
Profile: Dr Gary Colman
Location
London
Roles
Salaried doctor providing GP outreach to non-engaged, high-risk homeless patients. Works for Camden Health Improvement Practice, a specialist practice for the homeless.
Hours worked per week
Includes one day per week GP outreach at CHIP.
Related Articles

Open surgery: Santa, please can I have a bigger staffing budget?
08 December 2023