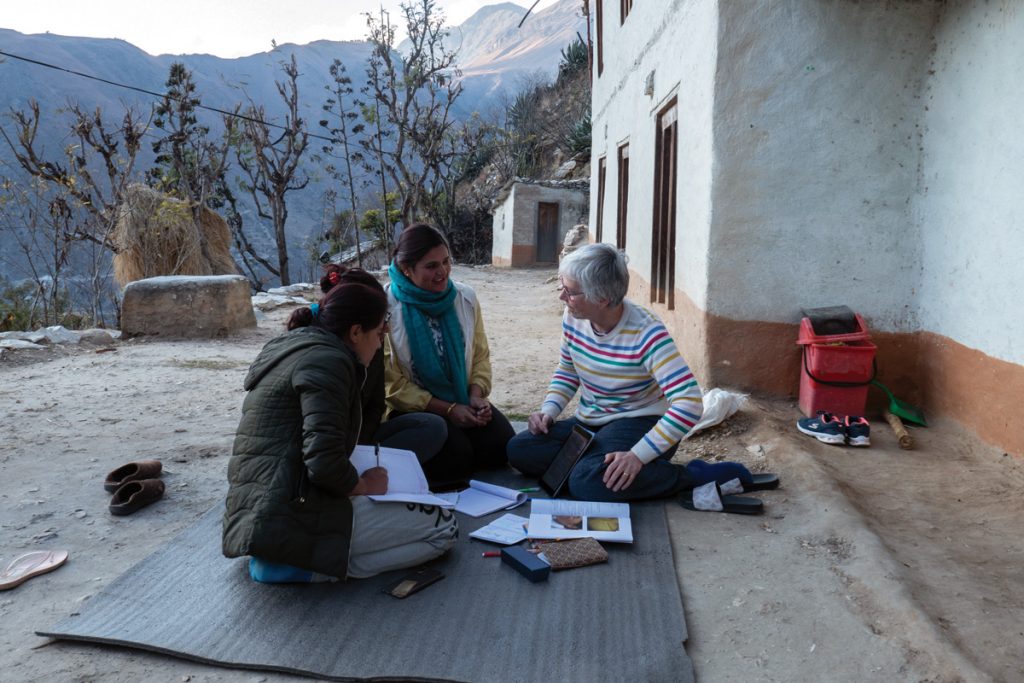 Dr Helen Wehner on working as a GP mentor in a Nepalese village in early 2020
7am
I'm woken by the movement of two auxiliary nurse midwives (ANMs). After a mug of spiced black tea, they begin to cook on the wood-burning stove, while I collect water from the village tap.
PHASE Nepal employs ANMs, who have had 18 months' training, to provide primary care in remote villages where government resources are inadequate. Maternal and neonatal death rates are high in Nepal, but PHASE ANMs have had a significant impact. Unfortunately, since I left the country, this trend reversed due to the Covid restrictions, with fewer women delivering in birthing centres or being supported by a trained health worker. Now, maternal and neonatal deaths have increased beyond pre-pandemic levels.
8.30am
It's warming up as the sun rises above the mountains. We sit outside to eat dal bhat (rice and lentil sauce with vegetable curry) with two other PHASE staff on agriculture and livelihood projects.
9.30am
We walk uphill through the village, past goats, buffalo and schoolchildren, to the health post. It has consulting rooms, a birthing room and a small dispensary, but no electricity or running water.
10am
Patients arrive. Some have walked several hours to get here. First, we see a woman who delivered a baby yesterday with an ANM. All is well. Next is a man with a painful foot who can't walk, so can't work – a severe problem here, where farming is the main livelihood.
Then we see an older man who's suffered a stroke and attends for BP monitoring, then a woman who gave birth alone in an animal shed and now has a pelvic infection. We see several people with coughs, two of whom are advised to go to Kolti, a village a three hours' walk away, for tuberculosis testing. (Covid hadn't really impacted Nepal until late 2020.) Also, there are women needing contraception; several people with minor injuries; and a man with abdominal pain.
All young children who visit are checked for malnutrition. At least half are malnourished. Many patients have scars that indicate they have previously consulted a traditional healer.
My role as mentor is to offer support, rather than to treat patients. I observe consultations, advise when requested and identify topics for tutorials. Today's clinic sees us discuss consultation skills, differential diagnoses of abdominal pain and when to use a scarce urine test strip.
3pm
We meet community health volunteers to talk about a campaign to encourage women to attend antenatal check-ups and deliver their babies at the health post, rather than at home.
6.15pm
The sun's gone down and it's bitterly cold. We eat our evening meal, again of dal bhat, inside this time, to keep warm.
7pm
Tutorial time. We share ideas on how to identify and treat malnutrition, then practise abdominal examinations on each other. Language difficulties are frustrating at times, but we manage with the bilingual PHASE manuals, drawings, roleplay and improvisation.
I see the girls demonstrate some of the actions we've talked about, so it seems to be working.
8pm
Time to relax before bed. Attempts to teach me Nepali songs and dances result in a lot of laughter.
9pm
Before falling asleep, I reflect on how lucky I am to be here, and the fantastic work PHASE Worldwide is doing. It's currently raising funds for 'Start Strong', a three-year project to improve maternal healthcare and increase the availability of high-value foods. A donation of just £40 could allow an ANM to treat 10 children suffering from malnutrition. Until 25 June, all donations will be matched by the UK Government.
Profile: Dr Helen Wehner
Roles
Retired GP, and volunteer GP mentor with the charity PHASE Worldwide 
Location
Bristol and Rugin, northwestern Nepal
Related Articles
Lived experience: Answering the estates challenge
24 June 2022