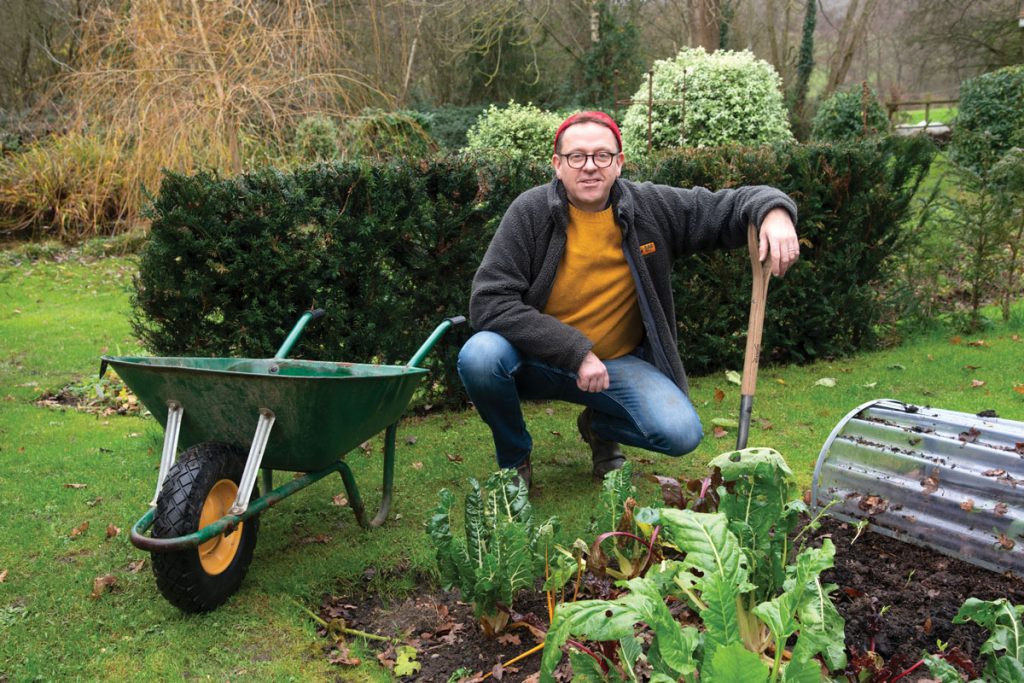 Dr Richard Claxton uses his GP knowledge to design gardens for those with chronic conditions
Thursday
Today's is a fairly typical session – since the pandemic began, the full surgery of traditional appointments at our large town centre practice has obviously been replaced with remote consultations, with a few face-to-face appointments for people triaged as needing to be seen.
There's a visit or two as well to finish the morning on my half-day today, after paperwork, prescriptions, checking in with my registrar and everything else.
My response to the stresses that emerged during the first lockdown, the uncertainty of how our world and working lives were changing, and fear of the virus was to seek refuge in the garden.
Today is a beautiful day and reminds me of the many reasons I love gardening – working with nature; being creative and productive; producing my own food and flowers; marking time in the seasons; getting gentle exercise and a sense of groundedness; connecting with the soil and the natural world. Gardening has been a lifelong hobby, but more so in the time of Covid.
Friday
I'm taking an online diploma in garden design, with an ultimate goal of working a full day a week in garden design, spending the rest of the time in my GP partnership.
I intend to use my GP experience to inform my garden designs, especially in healthcare settings or for private gardens for people with particular healthcare needs, such as the client I'm seeing today. I'm also involved in a hospice garden redesign. This is certainly challenging, posing requirements on aesthetics, accessibility, structure and sensory needs, but it's also rewarding.
After leaving the practice this afternoon, I travel the short distance to my client's new-build house to continuing redesigning their back garden. It's my third visit, so I check a few measurements, and chat with the client to ensure I'm on track with the brief.
There are some specific disability issues, as the owner suffers from a chronic disease, so it's important that I factor these into the plans. This affects both the structure and access, and also long-term maintenance.
After an hour or so, I head home to update my website. It's still in its infancy, but was born out of recognition that there isn't currently a UK-wide directory of organisations providing gardening for health opportunities.
The Scottish charity Trellis has a brilliant map-based directory for its country so if you're a GP, social prescriber or member of the public, you can easily find out about gardening opportunities locally, whether for therapeutic benefits or to contribute as a volunteer. So I'm trying to create a similar directory for England, Wales and Northern Ireland, gardening4health.co.uk. I spend an hour once or twice a week updating it to include new organisations. It's growing slowly, and I'm hoping it will snowball.
I then update the drawn plans and elevations of the garden I visited earlier. The technical drawing and computer-aided design aspects of the garden design course have been difficult, but enjoyable. After 30 years of clinical medicine, the creative bit of my brain has lain fallow.
Saturday
I start the weekend with a shift at Sissinghurst Castle, my local National Trust site, as a volunteer guide and horticultural interpreter. It's my favourite garden for talking to the visiting public while learning about the planting, design and maintenance that such a prestigious venue demands. Finishing at 3pm, I'm home in time to catch the last of the light to check on my own garden – mowing, weeding and propagating – before bracing myself for the hurly burly of another week at the practice.
I normally update my Instagram feed, instagram.com/richardclaxtongardens, at the weekend. I set up the page to combine my passions of gardening and photography. I'm taken aback by the response it's receiving, as well as the small part it plays in a worldwide community of gardeners, providing encouragement, advice and humour.
If you know of any similar schemes to add to Dr Claxton's directory, visit tinyurl.com/healthgardening
Profile: Dr Richard Claxton
Location
Tonbridge, Kent
Hours worked
Nine sessions, approximately 48 hours, with one half-day afternoon off (usually garden related)
Roles
GP partner, also responsible for QOF, IT and CQC at the practice; trainer; LMC rep
Related Articles

Red flags in child safeguarding
28 November 2023

We need to talk to patients about quality, not quantity, of life
28 November 2023
READERS' COMMENTS [2]
Please note, only GPs are permitted to add comments to articles