Pulse summarises September's talking points – the exclusion of general practice from the PM's winter support fund, and signs that interest in the NHS is cooling among big US healthcare companies
Are GPs going to get any support this winter?
On September 13 Prime Minister Rishi Sunak appeared to grasp the scale of the winter crisis ahead for the NHS, summoning clinical leaders to a summit at Number 10.
The good news is that the PM's urgency to 'drive forward' winter planning resulted in a pledge of £200m to ease winter pressures.
You can guess the bad news. Not a penny of that has been set aside for general practice.
RCGP chair professor Kamila Hawthorne, said she was disappointed and warned primary care must not be 'overlooked'. Pulse readers might wish Professor Hawthorne had been at the No. 10 summit to make GPs' case. She was.
Before the meeting, health secretary Steve Barclay insisted the government was 'working across' the NHS with 'one shared aim –protecting patients'. Yet looking across the NHS, general practice has far more patient contacts than any other part of the service.
And Mr Barclay's refusal to meet hospital doctors to end their strike action is unlikely to contribute to 'protecting patients' – but it is likely to further increase GPs' workload as patients seek help in primary care
The Government's announcement of the funding did not specify how it would be spent but pledged it would ensure patients are seen 'as quickly as possible'. But where – in hospitals with no doctors, or in understaffed, underfunded GP practices?
GPs might also remember NHS England's recent announcement of so-called 'care traffic control centres' to help speed up patients' discharge from hospital during the winter. Where will these patients go if they need care after their speedy discharge?
A better option might be to avoid admissions to hospital in the first place. As Gateshead and South Tyneside LMC chair Dr Paul Evans said, 'spending money in general practice is massively efficient in terms of preventing admissions'. Was this pointed out at the PM's crisis summit?
Dr Evans said he thought the winter would be 'absolutely dreadful' for staff in primary and secondary care, with the 7.7 million waiting list going up rather than down. 'A recipe for disaster', added Mid Mersey LMC medical secretary Dr Ivan Camphor.
Professor Hawthorne claimed it was 'encouraging' that the RCGP had been invited to the talks at No. 10. It's just a shame that the PM ignored all they had to say.
---
Will the US takeover of general practice ever materialise?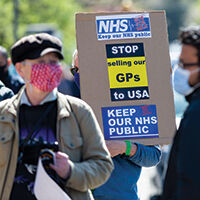 The spectre of the NHS being sold off has menaced the UK for many years. Two years ago, headlines lamented the swallowing up of NHS GP practices by a 'US insurance giant'.
The insurer concerned was Centene, through its UK subsidiary Operose.
Despite the revelation of links between the Government and Operose, the feeling persisted that even the Conservatives wouldn't be stupid enough to privatise the NHS. Besides, would anyone truly want to buy it? Do we imagine that no one overseas notices the constant coverage about staff shortages, waiting lists and strikes? A glance at headlines such as CNN's recent 'Worst-ever NHS crisis' suggests our crown jewel isn't as shiny as it once was.
Furthermore, despite a narrative in parts of the media about the 'wasteful' and 'inefficient' NHS, the amount of activity it does is quite remarkable given the lack of real-terms funding increases. Contracts that pay poorly and expect a lot of work (plus a ton of regulation) aren't a great sell to shareholders.
And sure enough, late August brought news in the Financial Times that Centene is looking to sell almost 60 NHS GP practices as part of a move to exit the UK healthcare market. Centene has launched a sale process for Operose, which serves a total of 640,000 patients, making it the largest primary care organisation in the country.
Centene has also sold its 53 UK private hospitals – Circle Health – to a company in the Middle East. The FT reported that this suggested the company had given up on plans to forge an easy pathway to private care by encouraging NHS GPs to refer patients to Circle.
Centene has indicated that its move stems from a lack of profitability. This echoes the sentiments of Babylon Health, which has sold off its UK businesses amid financial troubles. More than a year ago, Babylon revealed it was losing money on every patient because of 'structural challenges' in the UK. GPs know those challenges only too well.
Specialist medical accountant Andrew Pow told Pulse that the struggles of large providers underline the issues all providers are facing.
He warned commissioners to take note and 'address practices' need for funding'.
Two years ago, Pulse did note that starving the NHS of funding was a form of privatisation via the creation of a two-tier system. Sadly, that observation has aged very well.