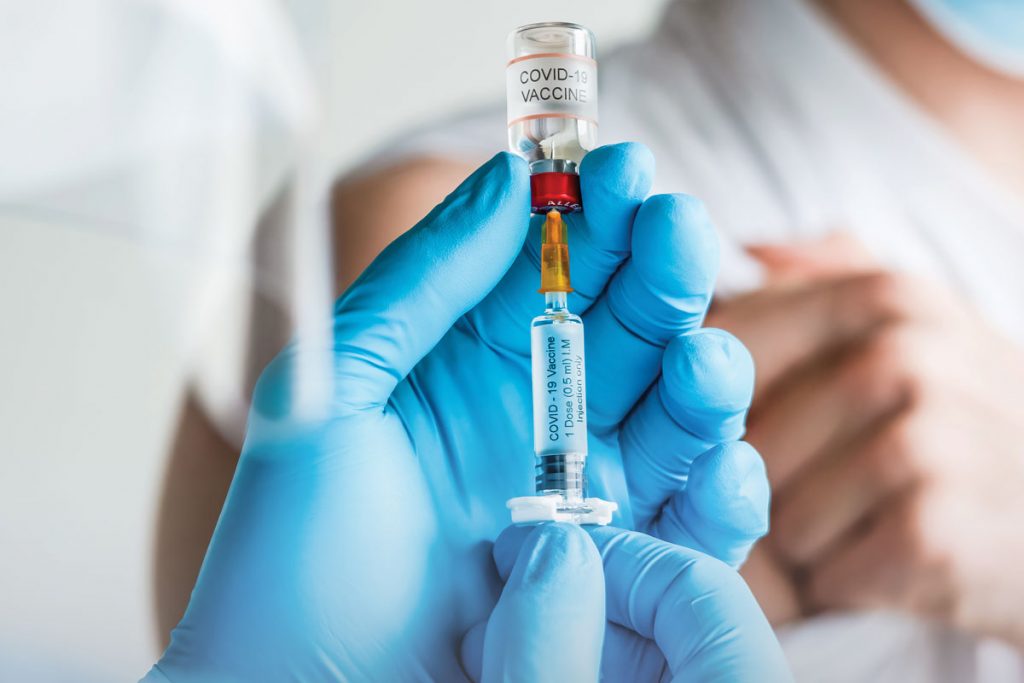 As GPs struggle with chaotic vaccine delivery, they set out the guarantees needed to continue their strong start to the programme. Nicola Merrifield reports
'By 15 February we aim to have offered a first vaccine dose to everyone in the top four priority groups identified by the Joint Committee on Vaccination and Immunisation.'
This statement, from the UK's Covid-19 vaccines delivery plan published last month, came just after an announcement by health secretary Matt Hancock that 'every adult will be offered a vaccine by the autumn'. These mark key milestones for GPs and vaccinating teams.
With spiralling infection rates and all parts of the UK having returned to lockdown in January, the pressure is on to hit the targets.
GPs have been administering the Pfizer-BioNTech vaccine since it became available in December, and the less complicated Oxford-AstraZeneca vaccine from the start of January. The latter marked a step change in the programme.
What practices have achieved so far has been impressive. The latest UK Government data shows 7.45 million people have been vaccinated with a first dose up to 28 January. The vast majority of those will be in the JCVI's first four priority groups – meaning 51% of the target has been met.
Despite these formidable efforts, GPs warn there may be barriers to meeting these targets. However, they insist they can deliver the programme successfully – if they receive enough supplies on time.
Dr Uzma Ahmad, GP and Walsall LMC medical secretary, says: 'The practices are on board. It's the deliveries we need. Give us the vaccine and we will deliver it.'
Key milestones for GPs in England
24 January All care home residents
End of January Rate of 2 million people a week
15 February All patients in priority groups 1-4
Autumn All adults
There have been problems with delivery – which, while understandable for a programme of this size, have hampered GPs' efforts. Some deliveries have only been confirmed at the very last minute, while others have been delayed or, worst still, cancelled.
Mr Hancock himself has said supply is the main problem facing the UK rollout. He told BBC Radio 4's Today last month: 'As I've said all the way along this vaccine programme, the rate-limiting step on the rollout is the supply of the vaccine itself. We are now managing to get that supply more than before, and it will increase over the next few weeks.'
Yet he is confident the 15 February target will be met. 'We have enough in the supply chain coming through to be able to deliver against that target.'
GPs are not so sure. Supply issues have already caused major disruption to their vaccination clinics.
Gloucester GP and Aspen PCN clinical director Dr Bob Hodges told Pulse at the beginning of last month: 'We had a day and a half to book 1,150 appointments at our centre. We managed to give 1,162 doses in one day on Saturday, which may be a world record for the number of Covid vaccines in one place on one day.'
He said it was 'proving difficult to get absolute guarantees of delivery, which is holding back booking and rota building'.
North-east London GP and Springfield Park PCN clinical director Dr Vinay Patel said the situation was similar in his area: 'The last delivery was "anytime before 4pm", so we booked clinics from the following morning. It ended up arriving at 9.15am, so we effectively lost a day, which is critical to ensure no wastage.'
And there is a lack of transparency about how many Covid-19 vaccine doses the UK has available at any one time. According to a report in the Health Service Journal, this might be intentional, to avoid manufacturers switching supplies to other countries indignant at the amount taken by the UK.
As Dr Patel's experience showed, uncertainty can also lead to wastage, especially of the Pfizer vaccine, with its short shelf life.
Pulse reported last month that some GPs had been throwing away supplies, believing they were following NHS England guidance. As a result of this reporting, NHS England changed its guidance to clarify its 'three key rules' for deployment of the vaccine: 'Do not waste any vaccine; provide it first to the JCVI cohorts one and two; second doses should be given at a 12-week interval.'
It added: 'We strongly recommend setting up a reserve list that can be invited at short notice. Your local authority vaccination lead can help identify social care workers.'
It later clarified that in extreme circumstances, patients outside the priority cohorts could be invited in for a first dose if there was a risk of wastage.
But Londonwide LMCs medical director Dr Elliott Singer says the ability to deliver the programme rests on having reasonable certainty in terms of deliveries: 'If you set up the correct supply chain so there aren't delays and we know we have a steady supply of vaccines it means we can be booking people in advance, rather than having this mad panic where we're waiting for confirmation of next week's AZ vaccine. As soon as we get them we can then start booking people in.'
GPs also point to the potential longer-term problem of staff availability for the rest of the year.
Wessex LMCs chief executive Dr Nigel Watson says meeting the key milestones involves 'two sprints, then a marathon'.
He says: 'We can get the volumes through over the next few weeks, but to sustain this until the middle of the summer once we start giving the second dose we do need to expand the workforce.'
Different cycles of volunteers and returning staff will be needed, he adds: 'You can't just take frontline staff to run the programme for the next 12 months because we just don't have enough staff.'
Practices have so far been donating employees to their PCN's approved designated vaccination site, with 1,013 centres up and running so far in England.
Despite the concerns, there is optimism about progress so far. This has been strengthened by the approval of the Oxford vaccine, which the UK is relying on to make up the bulk of its programme. This can be stored in regular fridges, has more doses per vial and a shelf life of six months – unlike the Pfizer version, which needs to be frozen and used within 3.5 days once delivered to a practice.
The UK has ordered 100 million doses of the Oxford product, compared with 40 million doses on order from Pfizer, and 17 million of the Moderna vaccine, which is not available until the spring.
As the health secretary pointed out during a Downing Street press conference on 11 January, the rate of vaccination significantly increased after GPs received the first Oxford batches, to an average of 210,000 a day.
The rate has been up and down. When Pulse went to press, the UK was vaccinating just over 200,000 people per day, but this was down from a high of around 325,000 a few days earlier – almost certainly due to supply issues and perhaps the focus on the more time-consuming care homes.
Regardless, although the targets will be tight, the UK – largely relying on GPs – is making good progress in administering the vaccines needed.
But there is one more change that would almost guarantee even swifter progress – allowing individual GP practices to start vaccinating their own populations. It is not clear when this will happen; when questioned by Pulse on the live TV Covid briefing, PM Boris Johnson dodged the question (see below).
Berkshire GP and joint clinical director of Wokingham North PCN Dr Rupa Joshi says local GPs who want to give jabs at their own practices are facing timing difficulties: 'They currently have to collect it and use it within six hours.'
Direct delivery to practices is needed, Dr Joshi says: 'It would be easier to have vaccines on site because practices can then plan their clinics, with smaller clinics, more opportunistically and using their existing workforce.'
PM evades Pulse's vaccine supply question
Pulse editor Jaimie Kaffash 'We've been hearing plenty of reports about deliveries to GP centres being delayed and cancelled, which has led to GPs having to cancel appointments for their elderly and most vulnerable patients, obviously causing quite a bit of distress.
'So can I first ask what you're doing to smooth this process, and second can I ask what actions you're taking to ensure individual GP practices can start administering the vaccine to their own patients – the patients they know best?'
Boris Johnson 'I think the crucial thing is obviously that everybody gets down to their vaccination centre, to the hospital, to the primary care network, the local pharmacy, wherever the vaccination is being offered, when they get the message to come for your vaccine.
'I do think it's also very important that when we have the problem of some groups or some people not getting the message, perhaps being a bit reluctant to go for one reason or another, that we all work to make it clear that this is a great thing to do, and local councils, I believe, and public heath directors in local councils will know where to find people who may be hard to reach, and I believe they can be of massive, massive help.
'So what we've got is an integrated system where if people don't come and we're not getting people getting to the vaccination centres in the way that we want, then there are other ways of reaching out to them and ensuring that they get the jabs they need. We've got the army, we've got pharmacies, we've got local councils and we've got the NHS. But the crucial thing is for people to go down and get the vaccine if they're offered one.'
Chief medical officer Professor Chris Whitty 'Can I just add one thing to my colleagues in general practice, which is a massive thank you. They've put up with enormous amounts of strain over the whole of the pandemic, and they've now stood up the vaccination [programme] on top of everything else that they're doing. So I think we should be enormously grateful for what they have done, including some quite rapid turns of policy when actually we've had to do that, and people have been very understanding of this.'
From the Downing Street Covid press conference, January 15
Related Articles
Lived experience: Answering the estates challenge
24 June 2022