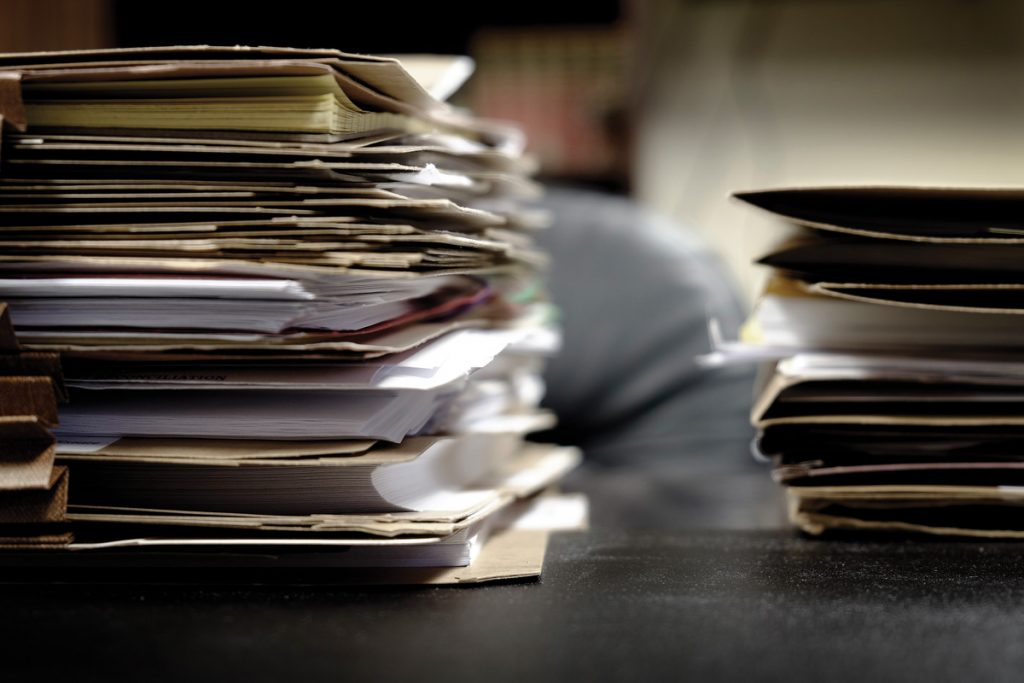 While plans to reduce appraisal paperwork and other bureaucracy are welcome, GPs say the Government must do more to make time for patients in the pandemic. Nicola Merrifield reports
A plan to cut GP appraisals back from five hours to 30 minutes was announced with a fanfare at the end of last year.
The proposal was the standout item from the Government's consultation on how to reduce bureaucracy for health and care staff in England (1) – which also promised to reform fit notes so more healthcare professionals can issue them, allow death certificates to be emailed and 'permanently remove the cremation form 5 requirement'. On top of this, the CQC said it would be 'moving away from periodic inspections'.
The consultation, published at the end of November, came in the middle of the Covid-19 pandemic at a time when GPs have been under huge strain and patient demand has been high.
In the document's foreword, health secretary Matt Hancock acknowledged there was less time for patient care because of cumbersome requirements. He said 'excess bureaucracy reduces the time that staff have for care'.
He highlighted how the pandemic had forced the NHS to reduce some bureaucracy, citing the pausing of some data requests by managers and the use of streamlined inspections.
Mr Hancock said: 'The Covid-19 pandemic has shown us streamlining bureaucratic processes can release time for our workforce to prioritise care. Local and national healthcare leaders have introduced changes within weeks that have been talked about for years.'
It was time to create a 'post-pandemic world where staff are released from unnecessary bureaucratic burdens', he added.
For GPs, drastic action is required. Doncaster LMC chief executive Dr Dean Eggitt says: 'In the current crisis with Covid-19, with acute illness over winter, with chronic disease being as bad as it is, with hospitals being as bad as they are – and us having to manage their work – we are overwhelmed.
'Patients can't get through to me. They are stuck on the telephone and when they finally get through after weeks of trying they are ill – and ridiculously grateful, but also a little bit angry.'
More hospital dumping
It is not just patient demand. Hospitals are heaping work on GPs. A recent workload analysis (2) carried out by Bedfordshire and Hertfordshire LMCs, alongside Cambridgeshire LMC, showed that to complete work transferred from secondary care during the pandemic would require an additional 1,156 full-time GPs across England.
Of a total of 109 practices responding to a survey in October, 95% had received requests to complete work from acute trusts. The LMCs' report concluded GPs are spending 5% of their time on work passed on by hospitals.
It said: 'This represents a significant shift in workload, with a practice that has a list size of 10,000 patients requiring an average of 8.6 hours of GP time to complete this work.'
The Government's new proposals therefore need to work. They build on work undertaken during the first wave of the pandemic last year, when sweeping action was taken to free up GP time.
Routine CQC inspections were called off in mid-March, QOF recording was suspended, and the GMC postponed revalidation for a year. NHS England said in March it 'strongly recommend[ed]' appraisals be halted.
As the first wave died down, NHS England rowed back from this. But it also gave a glimmer of hope. In a letter on 3 September, it said it had developed a new format for appraisals – which would later be the centrepiece of the Government's bureaucracy-busting review.
Its 'Appraisal 2020' model is one that 'focuses on the doctor's professional development and wellbeing, and simplifies expectations of supporting information and pre-appraisal paperwork', said NHS England.
The letter, signed by medical director Professor Stephen Powis, recommended that responsible officers aim 'to begin reinstating appraisals by 1 October, with a view to resuming normal levels of activity by 1 April next year'.
Work transferred to GPs by hospitals
A report (2) by Bedfordshire and Hertfordshire, and Cambridgeshire LMCs found:
95% of practices had received requests to complete work from acute trusts
5% of GP time is spent on work passed on by hospitals
78% of practices consider the workload from hospitals 'unsafe' for patient care
87% of practices feel 'under pressure' from their local trust to undertake additional work, which is 'risking system partnership working'
93% of practices say workload transfer is harming morale
Too little too late
But for many GPs, watering down appraisals is simply not enough. 'I am grateful to the Government for cutting any bureaucracy it can, but as it stands, it's too little too late,' says Dr Eggitt. 'Giving me back a couple of hours from appraisal is great but it's gone far beyond that now.'
Others say appraisals should not even be a consideration for GPs in the middle of a pandemic.
An open letter to the RCGP, sent on 18 November by Derbyshire GP Dr Heather Ryan and signed by around 200 GPs, said: 'Appraisal should not ever have been restarted, least of all at the beginning of the second wave of a pandemic, especially as GPs are also re-escalating chronic disease management work and facing renewed demand from patients, including being asked to take on Covid vaccination.'
The letter urged the RCGP to support the call for appraisals to be suspended again. The college agreed and issued a statement saying they should be halted 'for up to one year'.
RCGP chair Professor Martin Marshall said: 'The college has been pleased to see the introduction of a "lighter-touch" approach to appraisal but we remain concerned that many GPs do not have the capacity to engage even with a simpler process.
'It is now necessary to create capacity to allow GPs to do what is needed to tackle Covid-19 while continuing to deliver the vital care and services our patients rely on us for.'
There are similar concerns around the CQC's restarting of routine inspections while the pandemic continues. Having suspended inspections in March, the regulator started visiting healthcare providers again in October.
The Government, in its bureaucracy consultation, describes that suspension as a 'key change' that offers 'important lessons for the future'.
However it goes on to warn that 'not all changes will be appropriate long term'.
It explains the CQC's strategy for 2021 will reduce bureaucracy for health providers. It says it will 'move away from periodic inspections' and use data from a range of sources 'to proactively assess quality of care and determine risk'.
But GP and Tower Hamlets LMC chair Dr Jackie Applebee doesn't believe this change is likely to bring beneficial long-term outcomes. She says the CQC's earlier attempts to apply 'light-touch' approaches – such as the use of telephone inspections – have still proved burdensome for practices.
She says: 'In Tower Hamlets, practices haven't welcomed the phone inspections. There is a three-and-a-half page questionnaire in preparation for an hour-long phone call. The phone calls have all taken nearly three hours.'
Dr Applebee also warns that if GPs have to provide data, this could also take up a lot of time – and might not represent an adequate picture of the practice.
She says: 'It depends what data will be used. If it's outcomes data – such as for cancer screening or smears – they need to take the context of the population into account. Somewhere in leafy Surrey will probably have much better outcomes than a deprived population in Newham, for example.'
Radical steps
Even if the Government's review turns out to be of some help in the long term, GPs insist they need more radical action right now to enable them to create more time for patients.
Dr Eggitt says: 'It's got to the point where I need to start cutting some of the clinical care I have to deliver because I can't fit patients in.'
He says practice workload must be shared out among different healthcare professionals. 'We need to look at where we have healthcare professional capacity – an obvious solution is to upskill clinical pharmacists.'
As for the future, Dr Eggitt believes the Government's bureaucracy-cutting proposals will only work if they have contractual backing.
'I genuinely believe that the DHSC has good intentions about reducing workload, but it doesn't have any real impact unless it's contractual. We need enforcement of these changes otherwise nothing will ever happen.'
Key government proposals to cut bureaucracy
CQC inspections
A new CQC strategy in 2021, to be consulted on in the spring
Will move away from periodic inspections and also use data from a range of sources to assess quality of care proactively and determine risk
Will include exploring better data and information sharing with local authorities and other partners
New 'Appraisal 2020' model
A streamlined appraisal process was introduced in October 2020
The model is focused on professional development rather than satisfying revalidation requirements
Includes only 30 minutes of preparation, compared with three to five hours previously
Supporting evidence requirements also cut. Doctors have to update their scope of work, review previous personal development plans, achievements, challenges, aspirations and reference details of significant events or complaints in which they were named. No further additional supporting information is required
Questions on health and wellbeing will be emphasised in the appraisal discussion, as well as verbal reflections rather than written submissions
Appraisal discussions will be conducted online where appropriate
Fit notes and forms related to patient deaths
The DHSC is working with the Department for Work and Pensions to reform the fit note
Plans include extending the certification to a wider group of healthcare professionals and exploring digital options
The requirement for cremation form 5 will be removed
Emailed or scanned copies of the medical certificate of cause of death will be accepted as part of the new statutory medical examiner system
References
1 DHSC. Busting bureaucracy: empowering frontline staff by reducing excess bureaucracy in the health and care system in England. November, 2020. tinyurl.com/DH-bureaucracy
2 Beds & Herts, and Cambs LMCs. NHS general practice Covid-19 capacity and workload transfer analysis. November, 2020. tinyurl.com/capacity-workload