15 March: And so it begins
As I think of the coming days, I have a feeling of anxiety, dread and even anticipation. Two cases were confirmed in the practice next door. Tomorrow, we must decide what measures are to be taken. It's not a question of carrying on as normal, but about what's a reasonable balance between safety and exposure, transmission and containment, treatment and neglect.
Already we're seeing effects that are nothing to do with coronavirus. Supermarket shelves have been emptied of toilet rolls, dried pasta and tinned tomatoes. This morning I met my friend and her son at the local swimming pool. It was unusually empty and a sign at the door to the changing room advised us to remove our shoes to allow easy cleaning of the floor. We joked that we were as well to enjoy going out before leisure centres were shut, little suspecting that this would be less than a week later.
This afternoon it was announced that the over-70s may need to self-isolate for four months. Fortunately, we live near our parents and can do their shopping, but those living by themselves will be so lonely. I can't help doing calculations involving four grandparents – 70% chance of infection and 15% risk of death in the over-80s. What will happen when those we know and are close to become unwell or start dying? Better to stay away from these dark thoughts.
——-
16 March: Information overload and equipment underload
I met with my GP partner before starting work to discuss the numerous emails from the health board and everyone else regarding the 'C' word. The practice next door is unusually quiet as they are 'seeing' everyone by phone. Plans for an isolation room are progressing – except for a lack of detergent to clean the room and a lack of protective equipment for the GP to wear! I spend most of the day planning and then updating plans as more information arrives. New developments aren't just for work. Over-70s now have to self isolate from the weekend. Maybe I should visit my parents one last time…
I'm not sure why the working day was so stressful. Perhaps it was the email about gathering information on the next of kin, or maybe the one telling us how to certify a covid19 death.
The final straw is when Boris announces that social gatherings are banned. But what about my flamenco class? I attend anyway and we forget our stresses banging batistas (sticks) on the floor – Ole`!
——-
1 April: A cough for April Fool's Day
It's April Fool's Day, but my daughter's coughing is worse and definitely not a laughing matter. However, we all had a good chuckle when she told her brother his lace was undone and he looked down to check, even though he was barefoot and in his pyjamas! After breakfast, my husband and I had a serious talk. I was quite surprised when this resolute Mammil agreed to forego his sacrosanct cycle ride. I phone NHS 111 to see if medical staff could be tested but was told: 'no'. I can't put off telling my GP partner that I will be off for two weeks while we self-isolate. However he has friends who have been tested so our practice manager applies online through Health Protection Scotland. They inform us that if the test is done today we should have the results by next week.
All of this doesn't distract me from worrying about my daughter who likely has this dread disease. Luckily, apart from the cough, she seems fine. I spend the rest of the day telling her incrementally more bad news. Firstly, that we have to treat her as if she has the coronavirus. I feel awful telling her that she should stay two metres away from us! She was very disappointed when I advised her not to make chocolate brownies as she had been planning to do this since last week. I go round the house wiping door handles and disinfecting surfaces. Unfortunately, my daughter catches me doing this. Just before lunch, I discover she also needs to eat her meals separately.
The precautions are pointless in a way, as she's had a slight but unnoticed cough for several days. However, a smaller viral load should mean if we do catch it we will be less badly affected, or should that be infected. Clearly it would be very upsetting for her if her parents with their 'elderly' immune systems were seriously ill on ITU or worse…
——-
3 April: The result we've been waiting for
 Everyone in the house is tense today, waiting for our daughter's coronavirus test result. It's supposed to be due 24 hours after it was taken, around 3pm today. I sleep in and have to rush to get to 'work' in the conservatory on time. Today is much colder so I wrap myself in a furry throw. It's hard to concentrate on all the email updates. In addition, it's a strain avoiding being within two metres of my daughter, eating separately and disinfecting every surface.
In the afternoon, my son FaceTimes his best friend. His mum is a teacher and single parent. She's getting cabin fever with just the two of them in a small flat. As she's keen for an excuse to get outside, she offers to get some supplies for use while we self-isolate and is considering volunteering in the Covid effort on the days her son is with his dad. We end up WhatsApping for over an hour. So much for home working! It's a good distraction from the test result, as it's now past 3pm. We'd been told we would be phoned for a positive and emailed if it's negative. I limit myself to checking the computer once an hour. My husband suggests I check my junk mail, but still nothing. I had planned to phone my GP partner, but phone him anyway at 5.30pm, before he leaves, just to let him know what isn't happening. He says his friend waited 48 hours for their result. My sister is getting our shopping tomorrow along with our parents and I don't know whether to ask for a day or two weeks' worth of shopping.
I check my emails a final time before putting the computer away. The result is there and it's negative! I give my daughter a big hug and tell her and my husband the good news. In the event the result was a huge relief. I could get our shopping as normal! My daughter could sit with us to eat tonight and could be with us on Sunday when we celebrate her brother's birthday. He screamed with delight that she could now make his Pikachu birthday cake. Even though we had only been social distancing for three days, it had felt like an eternity. It was wonderful to have dinner together and I couldn't stop stroking her arm and touching her hair. The last few days have been a tsunami of emotions. We're really lucky that she could have this test. If I didn't work for the NHS, we would have had to wait two weeks in self isolation, never knowing the true diagnosis.
Earlier today, our practice manager emails with the news her dad is in hospital with the coronavirus. My partner told me about another previously-fit friend aged 40 who is in hospital with difficulty breathing. Clearly, no-one can be relaxed about catching it. We discuss volunteering in the Covid assessment centre. The lack of protection for medical staff is concerning. Apparently, in other health boards, 'volunteering' for shifts is mandatory.
——-
8 May: Welcome Mr Scrubs
It was great to receive scrubs I'd ordered in the post, only a week after the website stated they were out of stock and would be delivered at an unspecified date. If they're so readily available online, why do volunteers have to make them in ludicrous patterns for NHS workers? I feel odd wearing them as a GP, but other doctors in the health centre and now my practice colleagues are all wearing them to 'protect their families'. What kind of parent would I be if I didn't join them?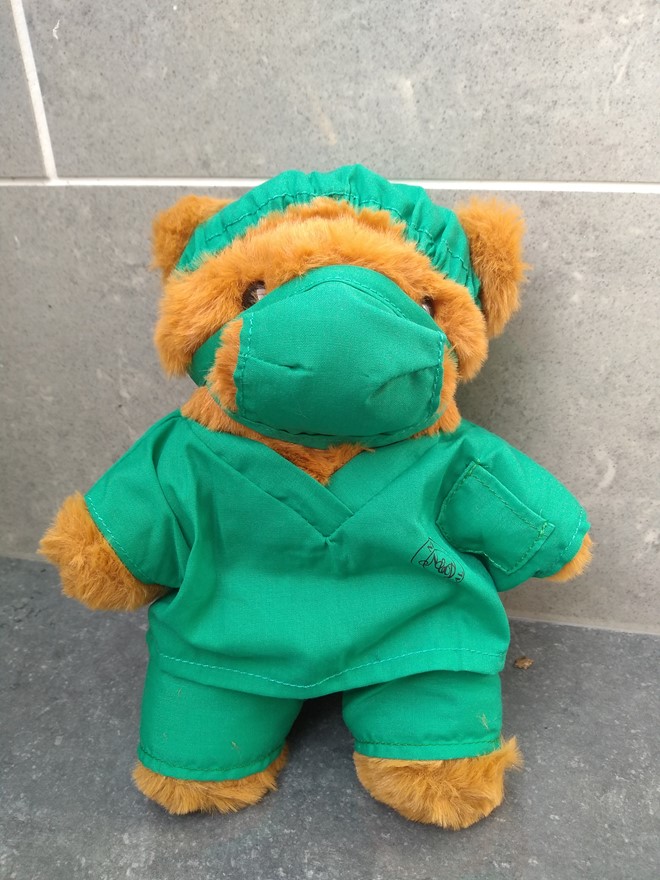 I also received a teddy bear from the same website. He's really cute with full get up of theatre greens, hat and matching face-mask! Officially, he's to reassure small children who need to be examined while wearing PPE, but to be honest I bought him for myself. His irresistibility was confirmed when both children wanted to adopt him. To mollify them, I said they could choose a name. 'Guardian', 'Coronabear' and 'Fluffy' were suggested before they decided on 'Mr Scrubs'. They weren't happy when I told them I preferred 'Toxic Ted'. It's probably best if I don't call him this when I introduce him to toddlers during my surgery!
We've finally got our heads round patients to be shielded. The patients causing most difficulty were those with COPD. There was endless discussion of GOLD groups FEV1s, CAT and MRC scores before we became completely overwhelmed with acronyms. Our patients themselves are divided between those who were disappointed they were not deemed to be at the very highest risk, and those who were high-risk but were determined to carry on as normal. I was quite amused by a patient I'd phoned myself to advise on shielding. Having assured me that his relatives left his shopping on his doorstep while maintaining social distance, I asked him about his next of kin. Moments later, I could hear his daughter relaying her telephone number in the background!
Some decent eye protection has finally arrived from the health board in the form of visors. I didn't question why our previous eye protection had been recalled. It came in the form of a flimsy piece of plastic which in DIY fashion you had to attach to a plastic headband. Embarrassingly, they were prone to falling apart during use. The only downside is that Toxic Ted doesn't have a matching visor. Hopefully the kids will enjoy making one as a home-schooling project.
——-
15 May: Is it a bird? Is it a plane? No, it's a super-shielder!
Remote consulting has been interesting. Resolution is very poor – great for hiding wrinkles and excess lockdown pounds, but useless for diagnosis. However, telephone consulting does challenge the patient to describe their problem in detail. It can be unintentionally amusing when you need to locate a swelling in an intimate area: 'It's round the side at the back of my bottom'. I'm also hoping contactless payments don't lead to the end of cash. Its handy when I ask my patients if a spot is smaller than 1p, or bigger than 2p. Unfortunately, not many rashes are the size of a credit card!
I quite enjoyed attending the LMC meeting by Zoom. No schlepping out in the evening, finding somewhere to park and pretending a miniscule sandwich is dinner. One speaker had replaced his background with an impressive view of Glasgow at night. Unsurprisingly, he is the GP IT expert! Another delegate had a background of pink and white birds, which alarmingly seemed to consume then regurgitate her arm if she shifted in her seat.
While it's nice not to be wearing goggles from a Christmas cracker, wearing my new visor for the first time, I was disconcerted to see a patient smirking at me. I have to admit in combination with the facemask, the effect is rather alarming – more mad Professor than caring doctor. It helpfully proclaims 'FACE SHIELD' in large letters across the headband. I posted a picture in full kit to my friends and was kindly told I looked like a superhero. Perhaps I could be 'Super-shielder' – after all, Superman's outfit is also emblazoned with his initial.
Finally, there are some hints that lockdown will end, or at least ease a little. Although there are other reports that it will take six months, a year or even never to return to normal. DIY shops are now open for business, although unfortunately you have to wait for ages outside. My son thought they should be renamed 'Queue & Q'.
I'm looking enviously across the border at the schools reopening. Boris has declared that we're no longer safe, but alert! Although here in Scotland, thankfully, we're still 'staying safe'. Whether we're supposed to be simultaneously alert has yet to be announced.
——-
19 June: Will the trickle become a flood?
Having converted almost entirely to remote consulting, we're now seeing a trickle of patients in person, so to speak, or at least the part of them that can be seen above a facemask. There are only so many times that you can reassure someone for the same symptom over the phone. Rather worryingly, almost everyone who's seen requires urgent or even same-day admission.
We've had two recent cases of patients attending with a three-month history of symptoms highly suspicious of cancer. I can't help wondering what will happen to all the patients whose referrals have been put on hold, an electronic mountain of referrals waiting to be seen, invisible in the 'cloud' but daunting to imagine. When asked about waiting times, I wonder whether to reply vaguely, reassuringly or simply honestly – I don't know!
It was nice to relax after work with, at last, a Zoom flamenco lesson. My mop was delighted to be promoted to a baston (a stick used in Spanish dance) before my son stole him to wield as a Ninja weapon. Not much mopping going on at home!
Dr Liz Day is a GP partner in Glasgow