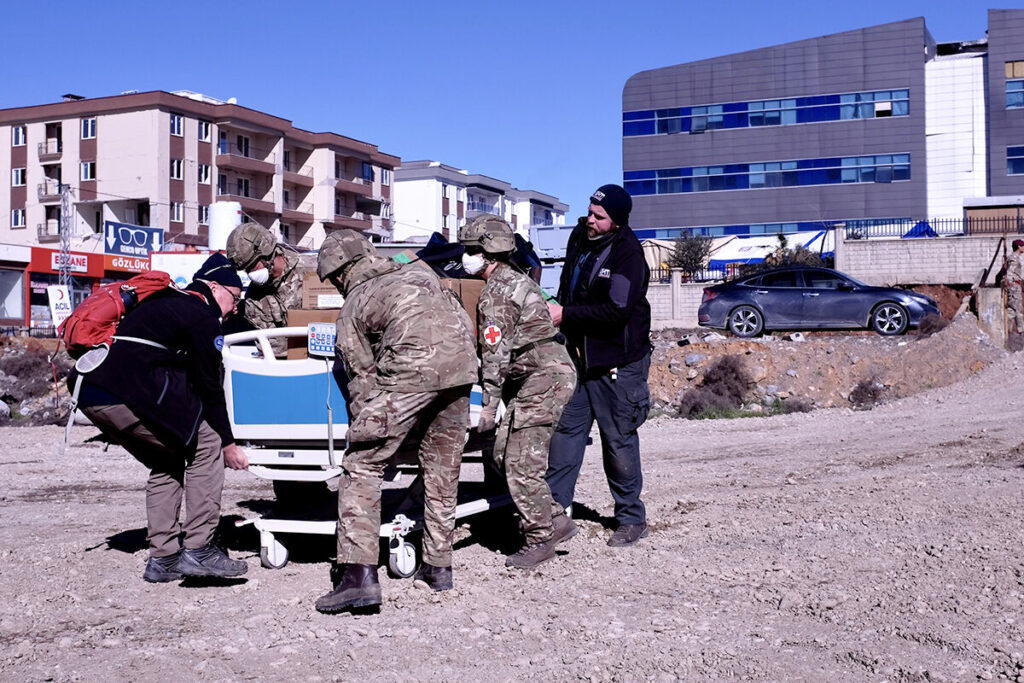 Dr Bryony Pointon describes working in a field hospital in Türkoğlu, in the weeks following the devastating earthquake that hit Turkey and Syria in February. As told to Sally Howard
7am, 24 February 2023
I wake in a tent in Türkoğlu near the city of Gaziantep, where the temperature plummets to minus seven degrees overnight. I'm in two sleeping bags on top of each other. I'm here for six weeks as a field GP for UK-Med, my second posting for the humanitarian charity after a stint last year in Poltava, a Ukrainian-Russian border region. I'm helping Turkish healthcare respond to the February earthquakes that have killed more than 48,000 and displaced millions of people from their homes across southern Turkey and north-western Syria.
8.30
Clinic starts. There are 32 staff here, but I'm the only GP working in a field hospital that can treat up to 100 patients a day. Thankfully, two more GPs will arrive soon. I work alongside an MOD-run hospital, which takes surgical cases, and I'm in a clinic with paediatricians and obstetricians.
Many people don't have access to medication as their homes have been destroyed, so supporting them is a big part of my workload. There are coughs, colds and diarrhoea, too, because of the tented camp conditions. Families are very concerned about the effects of the earthquakes and homelessness on their children's health, so we see a lot of kids.
1.30
Lunch is staggered, so there's always someone on hand to treat patients. Initially we ate food from military ration packs, which were mixtures of flavoured mush and quite samey, but now the logistics arm has arranged for a canteen, which is much better: rice and pasta dishes, meat dishes and fresh vegetables.
I was a doctor in the Navy for 10 years, and back home in Chichester, I work as a locum with the military so I can take overseas postings like this one. I've worked on cruise ships and on the James Clark Ross marine research vessel in Antarctica. I was also the medic on Australian Survivor, a reality series where I treated fainting and dengue. I even drained a cast member's tooth abscess on camera. Life is pretty varied.
What's nice in humanitarian settings is the esprit de corps: we use local medical students and newly qualified doctors as translators, and it's rewarding to get to know them and learn about general practice in their parts of the world.
2pm
Back to the clinic. One of the unique challenges in Turkey is the lack of buildings. Usually when I'm deployed in the field, we take over hospitals, or at least buildings, with solid walls and ceilings. But here, the local hospital is not safe to enter, so we're doing everything under canvas.
Fortunately, UK-Med trains us in tented conditions so we know what to expect. There's no privacy, though: it's hubbub around you while you're doing consultations, which is tricky when you're dealing with terrified, traumatised patients.
7pm
After dinner, we have a debrief – how we are doing for capacity and medications. We expect to be here until spring, or until the Turkish government builds up healthcare capacity. The scale of human need is huge. It's starting to get warmer now, but hygiene is a big challenge in tented encampments, making the spread of infectious disease a constant risk. There will be long-term mental health issues in the population, which we're only just beginning to see.
10pm
I'm a good sleeper, which is useful in a region that's still experiencing earthquake aftershocks.
I drift off wondering what my partner Paul is up to. He's a station leader at Rothera, a British Antarctic Survey base, and was sent there shortly before my posting to Turkey, leading to a scramble to get our neighbour to feed our cats. I look forward to going home in a few weeks' time for a cuddle and a hot bath.
Profile: Dr Bryony Pointon
Roles: Locum and humanitarian GP in Chichester, West Sussex
• UK-Med is currently recruiting emergency doctors. Find out more at uk-med.org 
Click here to access Pulse's archive of Working life features