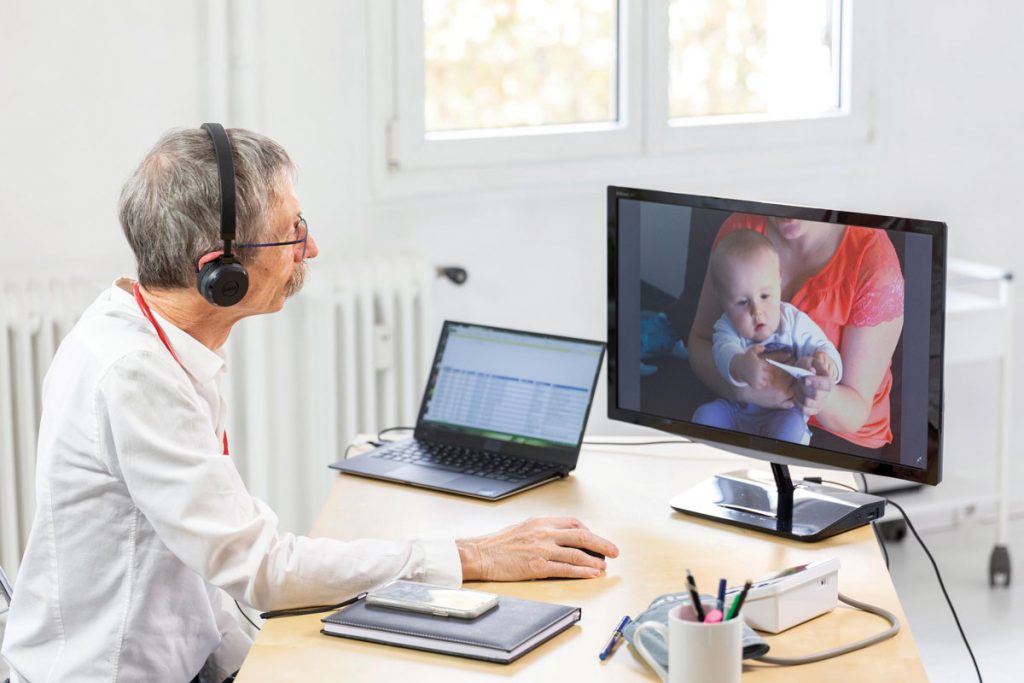 After the toughest year ever for general practice, Nicola Merrifield reflects on how GPs have stood up to be counted
This year's battle with Covid-19, has meant GPs have had to be more dedicated and adaptable than ever.
They have taken on new ways of remote working and run outdoor or socially distanced clinics, often with smaller teams due to staff self-isolating.
There has also been a monumental effort to maintain normal services as far as possible, at a time when GP numbers continue to fall – down by 1.2% on last year, with 334 fewer full-time-equivalent GPs in England, according to the latest official NHS data from September.
'General practice has coped – more than that, we've shown our mettle and we've more than played our part,' RCGP chair Professor Martin Marshall told the college's annual conference in October.
Yet patients have not always seen it this way. Spurred on by the media, they have accused practices of shutting during the pandemic – with some, like Bristol's Charlotte Keel Medical Practice, being attacked with graffiti.
Media headlines in the autumn said: 'GPs told to give patients face-to-face appointments or be investigated', following an NHS England press release about GPs being reminded to offer in-person consultation.
That was of course misleading, Professor Marshall told the conference: 'The data clearly demonstrate how open we are – we are seeing the same number of patients as this time last year and more than before the pandemic.'
GPs have been forced to counter the misinformation, reassuring patients they are open. Manchester-based salaried GP Dr Haider Ali says: 'Because of the reduction in face-to-face consultations, some patients thought we were shut, so we had to send texts to patients.'
Staying open has been a challenge. Remote consultations have made it possible – but practice teams have worked tirelessly to enable the new systems.
Dr Ali says: 'The biggest challenge has been mental health. If someone is depressed, imagine opening up over the phone or video – even if they have a rapport with their GP.'
Dr Ali says clinical and non-clinical practice staff have been 'unbelievable': 'We've had to stay for hours extra, but people just do it, no one asks for overtime.'
All GPs have had to absorb many changes at once, which they've done with great success. At the beginning of the pandemic, GPs rearranged their premises overnight, to designate some parts as 'hot areas', where any suspected Covid patients would be sent. Other GPs went to work at 'hot hubs', whole premises dedicated to treating Covid patients.
The increased use of e-prescriptions was another example of overnight change. Recent NHS England board papers show around 96% of practices now offer this, meaning 82.5% of prescriptions can now be delivered digitally for dispensing – up by 12.5% since the start of the pandemic.
The papers highlighted the speed of innovation, noting how practices 'rapidly adopted AccuRx technology to perform telephone and video consultations with patients remotely, ensuring that care could continue whilst reducing risk to staff and patients'.
But such advances have left GPs having to overcome logistical issues.
In Slough, GP partner and PCN clinical director Dr Bharan Kumar had to source and deliver laptops to staff in his spare time at the start of the pandemic.
He says: 'You might get a call from someone on a Sunday night saying "I've got a cough and need to isolate". I'd go and find the laptop – because you only had a certain number back then – or take it from someone who had one and then transport it to another person's house.
'It was to maintain the service because the next day, they had a full clinic booked.'
This type of dedication goes unseen by the public, but other work, especially with extremely vulnerable patients, has been more visible.
At the start of the pandemic, GPs across the UK had to review patients to see if they met the Covid-19 shielding criteria; in England alone, 1.5 million patients needed review. The number of patients shielding in England now stands at 2.25 million.
Dr Kumar says the assessments took 'a lot of work by GPs and all members of the practice team contacting patients'.
'We were making sure they were OK physically, mentally, and that they had their medication in order and the right support. A big chunk of our time was spent maintaining that list and making sure they knew we were open.'
Dr Kumar's PCN also looks after a 250-bed nursing home, so there was 'constant' liaising with the home and relatives.
Patients with Covid have also needed help to manage the condition themselves if they were not sent to hospital.
In Waltham Forest, east London, GPs set up a system whereby the GP federation delivered a pack including an oximeter, thermometer and BP monitor to patients' homes.
Dr Elliott Singer, medical director of Londonwide LMCs, says: 'Patients tell us they find the system provides significant reassurance. The majority are monitored for eight to 10 days, but a small number require longer.'
Alongside Covid-attributed illness, GPs have been seeing the return of patients with other conditions who had previously stayed away from NHS services for fear of contracting the virus.
The latest NHS England figures show urgent suspected cancer referrals are
now back to pre-pandemic levels. In September 199,801 patients were referred via the two-week-wait pathway – 2% more than the same time last year.
And GPs have also been supporting colleagues, offering help to practices affected by staff absenteeism.
Dr Kumar says: 'One practice in our PCN didn't have a nurse – one nurse was shielding, the other had a household member with Covid – and was falling behind with immunisations. So we stepped in to do their immunisations.'
Doncaster GP partner Dr Suman Thullimalli managed staff absence on his own – while also standing in for the clinical director of his local PCN, who was stuck abroad during lockdown.
He says: 'My two GP colleagues fell ill with Covid so I ran the practice on my own. I am also a BAME person with comorbidities, so I am at high risk.
'I had to balance my personal and professional life and the PCN – it's been
a tough year.'
All practices have been carrying out assessments of high-risk staff – including those from BAME backgrounds, who have been found to be at greater risk from the virus. NHS England asked GPs to conduct assessments in the summer and by October it confirmed more than 95% of BAME GPs and hospital staff had been reviewed.
GPs helped develop assessment tools, such as the Safety Assessment and Decision (SAAD) scorecard.
Salford GP Dr Bushera Choudry says SAAD is an 'ongoing commitment'.
'We came together because we had no adequate tool to identify the risk we saw.'
She says GPs are motivated by keeping their communities safe, but adds: 'GPs have families and loved ones they want to protect as well – that often gets missed.'
GPs' efforts to maintain services are hard to quantify, but leaders at a national level are keen they don't go unnoticed.
At England's LMCs conference last month, Tower Hamlets LMC proposed 'that conference, in respect of the response of general practice to the Covid-19 pandemic, commends practices for stepping up to the unique challenges'.
The committee also urged conference to 'congratulate GPs and clinicians for developing and using alternative consulting methods during the pandemic'.
BMA GP Committee chair Dr Richard Vautrey says GPs have shown 'great bravery and determination' this past year, putting patient safety first while also witnessing colleagues tragically unable to survive the virus.
He says: 'Far from closing, practices remained open, and are now delivering more appointments than a year ago, all while contending with the devastating impact of the pandemic.'
Perhaps the Covid vaccination programme will put to bed the misleading suggestions that they have not been open for their patients.
When the safety I'd felt as a GP changed
Fourteen years ago, I recall driving to my interview at Charlotte Keel Medical Practice. I had never visited Bristol before. I accidentally veered into the wrong street and came face to face with misery. Boarded-up shop fronts, parents swearing at their kids, street workers, all engulfed in the haze and smell of cannabis.
I accepted the partnership but was left wondering what the hell I was doing. Yes, I may have been raised in poverty, but I had spent 20 years in the bright lights of the city, eating and drinking in the swankiest parts of London. How safe would I be walking these streets on home visits?
A wise GP who had been working here a few years reassured me: 'They know who the doctors are Shaba, and they will protect you. They will keep an eye on your car, and they will ensure you are safe.'
I didn't ask who 'they' were, but I was glad to be a recipient of these informal layers of community protection for more than 13 years. I felt comfortable parking in 'residents only' parking and putting a sign in my car window to say I was the visiting doctor.
But the safety and security I felt being a GP changed one Monday morning in October when my colleagues went into work to be faced with hideous graffiti sprayed over our practice, accusing us of not caring.
We need to change the narrative about GPs. Our doors may be shut but we are not closed. Our online face-to-face bookings have stopped, but you will still get a face-to-face appointment if you need one.
Our days are not spent saving lives in ITU, but we are desperately trying to filter out the symptoms stored up for the past six months, to make sure none of them will kill you. And most of all, if you are diagnosed with a life-changing illness, we will be with you and your family every step of the way, holding your hand – even if it is metaphorical hand- holding in a Covid world.
Dr Shaba Nabi is a GP trainer in Bristol and Pulse columnist