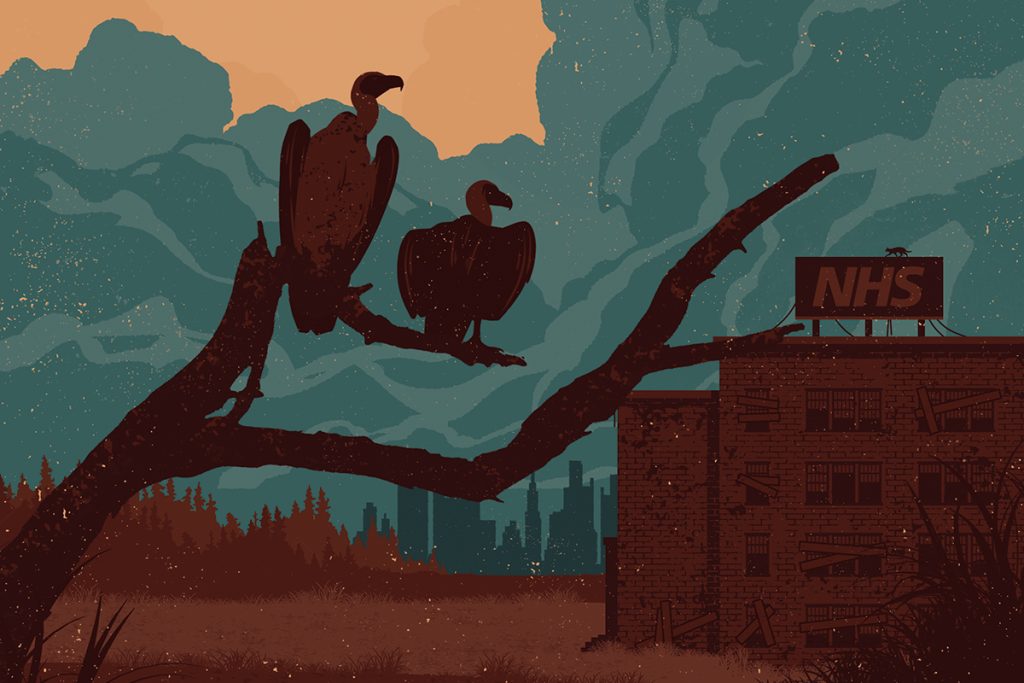 One sector that is thriving as a result of Covid is private health services, and this is having an effect on GPs. Rachel Carter investigates
'The overall positive dynamics in our market…have not changed – especially with lengthening waiting lists and significant demand in both the NHS and private sector resulting from the postponement of elective procedures,' reads the 2020 report from private provider Spire Healthcare.
This outlook sounds remarkably cheerful, especially compared with the outlook of those working in the NHS. With 1.2 million people joining the backlog of NHS waiting lists during the pandemic – a situation ministers warn will get worse – Covid-19 may have created the perfect opportunity for private providers to bolster their books.
The waiting list appears to be driving a rocketing demand for self-pay private healthcare. A report published by health data firm LaingBuisson in April 20211 found NHS waiting times are having a direct impact on the demand for self-pay in a way 'that hasn't been seen in recent years', with 'numerous providers' commenting that this would form a 'significant part' of their marketing messages in early 2021 – something that has transpired.
At the same time, the NHS has found £10bn to fund private providers to help tackle the Covid backlog over the next four years.
Rocketing demand
There has always been some demand for self-pay health services. But during the pandemic, GPs have seen this increase – and a change in the type of people accessing these services.
Surrey GP Dr Dave Triska says he's seeing people who 'really can't afford it' going private 'because they have no choice'. He says CAMHS is an example of a service that has 'essentially imploded'.
'I had a parent in tears because they don't have a lot of money and they've had to scrape together to pay for a diagnosis for something that is very obviously wrong with their child. They would be waiting upwards of a year to be seen in the NHS with a young child in distress.'
Doctors Association UK representative Dr Louise Hyde, a GP in Tywyn, Wales, says her rural patient group is 'generally not very demanding or well off', but despite this she is seeing 'way, way more' of them choosing to pay for care.
'I've recently had an elderly lady say she's too old to wait two years for her cataract op, so she's going private. An elderly man made the same decision about his hip replacement,' she says.
Dr Hyde adds: 'Urology waiting lists are really bad here and I've had one patient with bladder cancer and another with prostate getting tests and outpatient appointments done privately self-paid, although I think both then returned to the NHS for treatment.'
An OpenDemocracy survey of nearly 7,000 readers2 revealed that one in five patients has been told by a doctor or another NHS professional that they should consider going private to get the treatment or test they need.
'A significant opportunity'
LaingBuisson's report in April found there is 'growth evidenced by all hospital groups' across the self-pay market, with just over half of providers surveyed expecting this market to grow by 10-15% in the next three years. None of them thinks it will contract. This follows a 'positive trajectory' over the past four to five years, according to the report.
David Furness, director of policy at the Independent Healthcare Provider Network (IHPN), the representative body for the sector, tells Pulse: 'There is currently significant pent-up demand for both NHS and private treatment, and independent providers will continue to play a major part in improving access to care in the months and years ahead.'
He adds: 'With NHS waiting lists now at record levels, it is not surprising that more patients across the country are looking at private healthcare, including in areas that have not traditionally had a strong private-pay market.'
There is also evidence that providers are focusing their marketing on NHS wait times to harness the demand for self-pay. A tweet shared by the Spire Little Aston Hospital's account in August reads: 'Avoid long waiting times by choosing to self-fund your own treatment. Spire self-pay means that… you are given a fixed price, so you are in control of the cost. And you won't always need a GP referral.'
Spire Group medical director Dr Cathy Cale says: 'The NHS waiting list is leading many patients to turn to us to receive treatment. These are people who have significant symptoms impacting on their lives, who are choosing not to wait for stretched GPs and the NHS to treat them. They come to Spire in the knowledge that they will get fast access to high-quality facilities and treatment and return sooner to the things they love doing.'
Similarly, Nuffield Health's Plymouth Hospital tweeted in July: 'Are you waiting to have routine CT/MRI scans, X-rays? You can request a referral from your GP to access private self-pay diagnostics & get rapid access to these services. Our team can help to take away the stress & frustration of long waiting times.'
A Nuffield Health spokesperson says: 'We are committed to supporting the health and wellbeing needs of our local communities. We do this by providing extra capacity to our local NHS trusts, keeping people fit, healthy and out of hospital through our connected health and wellbeing services.'
Examples of private provider investment in GP services
May 2020 
Bupa UK announces launch of remote GP service while its clinics are temporarily closed. 
March 2021 
The New Victoria Hospital in Kingston Upon Thames, Surrey, launches private GP service offering 'face-to-face consultations six days a week', and virtual appointments. 
June 2021 
Nuffield Health announces partnership with Doctor Care Anywhere, combining the digital provider's virtual GP service with Nuffield's national network of face-to-face GPs.
Private GPs: 'a growing presence'
Private GP services are also expanding. The LaingBuisson report says there is a 'growing presence' of private GP services online, in standalone clinics and private hospitals, which is 'driving self-pay work'.
In a section based on interviews with provider organisations in the sector, it suggests this is an area providers need to develop, 'given the likelihood of continued pressure on NHS GP services'.
Locally based private GP practices are also reporting higher demand for their services. Dr Neil Haughton, president of the Independent Doctors Federation and a private GP in west London, tells Pulse his practice has seen a spike in enquiries from NHS patients.
'We would hardly get any enquiries before the pandemic… but now we're getting enquiries from people who wouldn't normally use our service and are trying to find out, how can I get this done, how can I see a GP?
'I can't remember a time when we've been so fully booked,' he says.
Effect on GPs
This growth in the self-pay market – both primary and secondary care – has had an effect on GPs. East London GP Dr Selvaseelan Selvarajah says: 'We're seeing a lot of patients going to a private consultant to get an opinion and then coming back to the NHS queue, after they make sure it's not anything serious.'
Dr Selvarajah says people who self-fund generally tend to have one or two appointments, then come back to their GP 'with certain recommendations' – rather than completing the whole episode of care privately.
One example is ADHD services, which are not widespread on the NHS. Patients come back on amphetamine-based drugs prescribed by private consultants that GPs 'don't have a lot of experience prescribing'. They also need 'regular ECGs, blood tests and monitoring', he adds, increasing GPs' workload.
Dr Selvarajah says digital-first GP providers may prescribe antibiotics that are not appropriate, or tell patients to go back to their NHS GP for follow-up or to get medication.
'UTI is one of the big things – especially where a patient gets recurrent infections and might be resistant to certain antibiotics. We would have known but the private GP might not, so the patient gets the wrong antibiotics and comes back to us because it hasn't cleared up. We have to restart the whole thing, send the urine to the lab and so on.'
Dr Triska says a lot of outpatient work is 'floating outside the hospital system' because of the long waiting lists and GPs are left picking up investigations, follow-up and test chasing.
In his area, there is a 'huge wait' for NHS musculoskeletal imaging so lots of people are electing to pay for a private scan, but this can cause problems.
'The scan drops back in our lap as showing something that is surgically treatable – but I'm a GP so I can't advise on the best option for that,' he says.
NHS contracts
Among the initiatives to tackle the waiting lists is the Increasing Capacity Framework (ICF)3, an agreement that could see the NHS spend up to £10bn on private providers over the next four years to 'support the contracting authorities' ability to manage [and] reduce waiting lists'.
Commissioning private providers for this purpose is not new – but under the agreement NHS England is expected to spend £1bn a year more on contracts with private hospitals than it did in the years before the pandemic, according to a report by the Centre for Health and the Public Interest (CHPI).4 The ICF came into force in April 2021 and allows CCGs and trusts to award contracts and subcontracts to around 90 pre-approved providers for a range of clinical services.
It follows the first NHS England Covid contract, under which private hospitals were initially paid 'at-cost' for 100% of their facilities from March 2020 to help the NHS cope with the extra demands of the pandemic. The CHPI report suggests that private hospitals treated just eight Covid patients a day on average between March 2020 and March 2021 under this NHS contract.
Patients left in limbo
The new framework has wider implications. Dr Jackie Applebee, a GP in Tower Hamlets, east London, says one of the key issues with the private sector taking on NHS work to help clear the backlog is they don't offer the full range of NHS services, and this can lead to patients waiting for months only to find they won't be treated.
She gives the recent example of a patient who was referred for a rectal prolapse – then the private hospital that was 'commissioned to help deal with the backlog' said: 'Oh no we don't deal with that, go back to your GP'.
'If you refer to an NHS colorectal department, they will have the facilities to deal with all the problems,' Dr Applebee says.
She adds: 'The [private hospital] bounced pregnant women back before, and someone who was HIV positive but was very well controlled, on medication and whose viral load was really low. They won't deal with anybody with a high BMI. Anything slightly complex and they will bounce it back.'
There might be a positive outlook for private providers as waiting lists rise. But it seems GPs and the wider NHS will continue to provide the safety net.
Rosy outlook for private providers
Ramsay Health Care
'In the UK, the business is focused on the significant opportunity associated with the backlog of privately insured and self-funded patients in the UK.'
Source: Ramsay Health Care annual report 2021
Spire Healthcare 
'The Covid-19 pandemic has left high levels of pent-up demand for the group's services. The ability for patients to access private care does not appear presently to be constrained financially… Private revenue growth recovered strongly in Q2 21, up 25.2% against Q2 19, driven by a record 80.6% growth in self-pay revenues.' 
Source: Spire Healthcare annual report and accounts for year end 31 December 2020
Bupa
'The pandemic has accelerated opportunities in our markets. Customers are increasingly focused on their health and wellbeing, and both customers and clinicians are more willing to use telehealth services – presenting opportunities for healthcare companies who can adapt.'
Source: Bupa annual report 2020. Bupa declined to comment when approached by Pulse
Benenden Health
'With waiting lists for NHS elective treatment growing exponentially in 2020, demand for self-pay services is expected to carry on growing.' 
Source: Annual report and financial statements for the Benenden Healthcare Society for the year ending 31 December 2020
Circle Health Group
'The increase in demand for private providers doesn't only come from the self-pay market. Strong collaboration, enhanced during Covid-19, has helped to develop secure patient pathways between Circle Health Group and the NHS.' 
Source: Circle Health Group quality account 2020/21. Circle declined to comment when approached by Pulse
HCA Healthcare
'We have seen growth in self-pay, particularly in orthopaedics, urology, gastroenterology and gynaecology. We have seen a 25% increase in self-pay orthopaedic inpatient procedures.'
Source: Figures supplied to The Guardian by HCA Healthcare in September
References