The media was full of tales of underperforming practices, but a Pulse analysis has revealed the major systemic issues around GP access. Jaimie Kaffash reports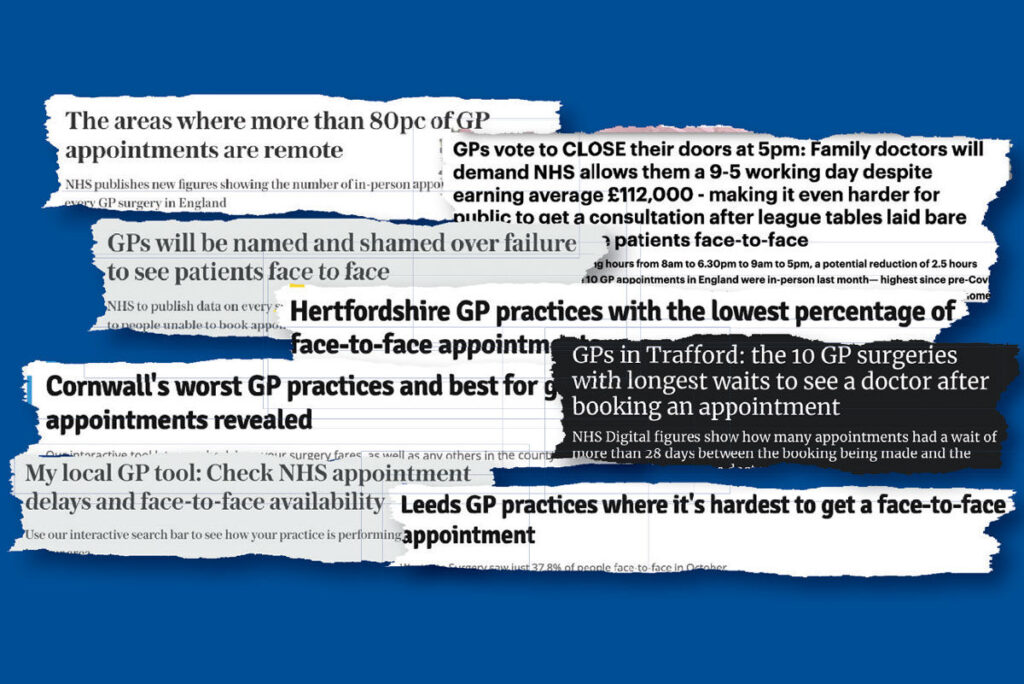 What the media says about GP access
Dr Therese Coffey's time as health secretary was nasty, brutish and short for GPs. Her idea for league tables on numbers of face-to-face appointments, average waiting times and proportion seen by GP came into fruition in November. And the effects for GPs were soul destroying.
Even before the data were released on Thursday 24 November, the Telegraph was reporting with relish that 'GPs will be named and shamed over failure to see patients face to face'. The day it was released, the nationals and local media were primed to report on the 'worst performing' individual practices, with league tables and all.
Of course, there were plenty of positive stories to tell here, if they wanted. But such stories were lacking. Instead, they mixed up their stories, with some focusing on the long waiting times, others on the lack of face-to-face appointments, and others still on ability to see a GP.
But this muddled reporting has helped emphasise a fundamental truth around GP access, which has been confirmed by a major Pulse analysis of the data: that there is a direct pay-off between having face-to-face appointments on one hand, and getting an appointment quickly/with a GP on the other.
And the main determinant of whether a practice has a high proportion of F2F appointments or has shorter waiting times is the average age of its patient population.
Here, we take a look at some of the wider claims by the media, before looking at what the data is really telling us.
————–
'Fewer than three-quarters of GP appointments were face-to-face last month, according to new data released by the NHS…. Across the country as a whole, just 73.4% of GP appointments took place face-to-face in October' (Daily Mirror and various other Reach local publications, including Hertfordshire Mercury, Nottingham Post and Kent Live, 25 November)
'League tables laid bare how few now see patients face-to-face' (Mail Online, part of headline that was also featured on Daily Mail splash, 25 November)
There were numerous headlines around how few practices see patients face-to-face. Of course, this ignores the fundamental truth that face-to-face takes time, and it results in longer waiting times. But it is also completely untrue – which the line from the Daily Mirror emphasises, while drawing the opposite conclusion.
It is slightly unclear where the figure of 73.4% of appointments carried out face to face comes from – indeed, this might even be a slight exaggeration. NHS Digital's headline figures reports 71.3% of all appointments in October 2022 were carried out face to face. It may be that the Mirror's figure includes Covid vaccinations. The percentage of GP appointments carried out face to face was 61%.
But either way, this is a vast percentage of appointments carried out face to face and more than likely reflects patient preference, with a sizeable number of patients preferring the convenience of a remote consultation. The best research available – which was conducted during the pandemic, from March 2020 to September 2021 by the Health Foundation – found that towards the end of their research period, only 10% stated a preference for face-to-face appointments, with 44% stating a preference for telephone consultations.
Meanwhile, the 71% figure compares favourably with the 83% seen face to face in March 2019, before the pandemic necessitated the vast bulk to be remote. And, most galling for all for GP practices who are accused of failing to provide face-to-face care, this hybrid model is exactly what NHS England planned in its 2019 Long-Term Plan, which said by 2030: 'The NHS will offer a "digital first" option for most, allowing for longer and richer face-to-face consultations with clinicians where patients want or need it.'
One could argue that, with this in mind, 71% of face-to-face appointments seems a little high. What is undoubtable is that a more accurate headline would be that the majority of consultations take place face to face – but this wasn't the pre-decided story.
————–
'Only two% of GP practices are seeing all of their patients within two weeks' (Telegraph, 24 November) 'Revealed: London areas with the longest GP wait times' (Evening Standard, 24 November)
There were also a number of headlines around the problems with waiting times, focusing on the very worst angle to take on GPs. However, these don't stack up. The NHS Digital data reveal that almost half of all appointments – 46% – are taking place within a day of the booking. Meanwhile, 69% were seen within a week. A Pulse analysis showed that the average wait is a week exactly.
At the same time, 36.1m appointments took place in October, including Covid vaccinations – a record number.
————–
And what the data really says…
We knew that the coverage of the figures didn't tell the whole story, so we looked in detail at the raw statistics from NHS Digital.
Pulse's methodology
We placed every practice in England in a decile for each of the following (based on figures for October 2022): percentage of appointments that were face to face; average waiting times in days; and percentage of consultations that were carried out by GPs.
To do this, we split the 6,165 practices in ten equal groups across the three domains (see table below). For F2F and proportion seen by GPs, this was straightforward – the data from NHS Digital was laid out with these percentages. For waiting times, we worked a practice's average time through a mid-point analysis.
We did not do this to judge whether they were performing poorly or well; instead, we wanted to look at how their performance in one area affected their performance in others. In the below tables, you can see the ranges of results for each decile.
We also looked at the characteristics of the practices in each decile, including the average age of their population, the payments per patient, their deprivation scores and their patients per GP.
Results and analysis
Our investigation showed what many GPs will already know: that to offer face-to-face consultations, practices generally can only provide lengthier waiting times and fewer appointments conducted by GPs. The table below show that those in the bottom decile for face-to-face appointments have the shortest waiting times at just under five days, while those that offer the highest percentage of appointments that are face to face have an average waiting time of just under eight days.
It is a similar story with appointments with GPs – those offering the most appointments face to face offer the least number of appointments with GPs, with more conducted by other healthcare professionals, in particular nurses.
We found there were some correlations between average waiting times and factors such as deprivation scores and their patients per GP. These correlations existed inversely for percentage of appointments that were F2F.
But these were subsumed by the most obvious correlation – the average age of the patient list. It is unclear whether this is cause or effect – it might be that practices choose to focus on F2F appointments for older populations, or that they have to because that is what patients demand.
But this is irrelevant, in a way. Because the conclusion is clear: practices simply can't offer a service involving a high number of face-to-face appointments, with short waiting times and with GPs – all of which a demanding media and Government insists on. These are systemic issues, and in all but a handful of cases, something has to give.
So when GPs see headlines like those above, or health secretaries – and shadow health secretaries – saying it is up to GPs to step up their game, this is particularly galling, and more likely to send them to the exit door. When that happens, it won't be a choice between face-to-face appointments or shorter waiting times – there will not even be a profession to provide any care.