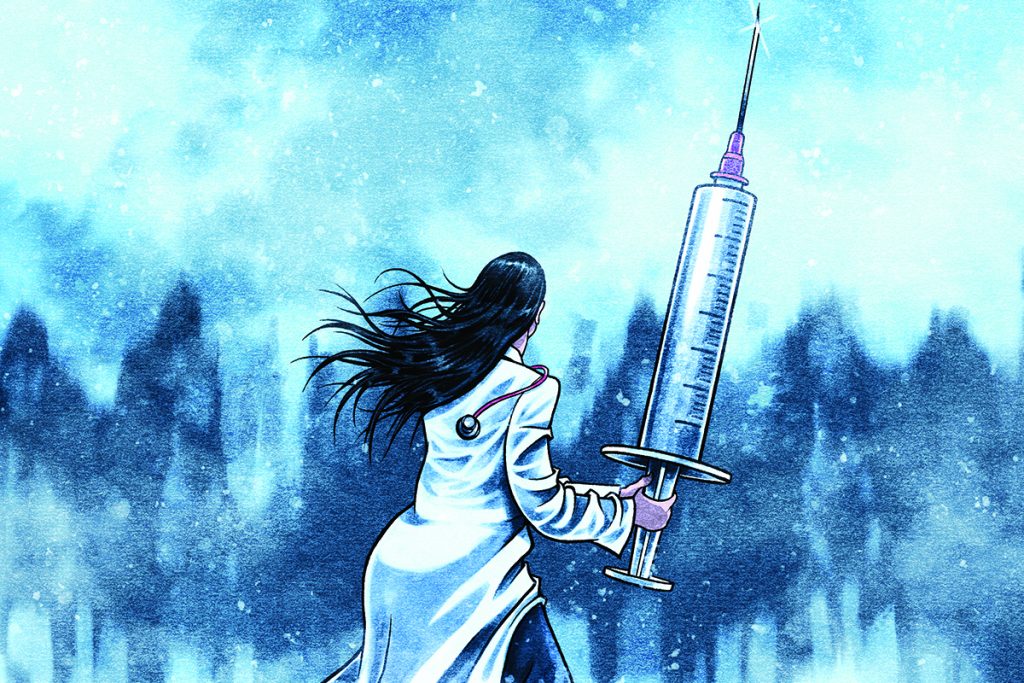 Emma Wilkinson looks at the factors that could make the winter ahead the worst ever for the NHS
This winter will be 'like no other'. That might sound like an annual NHS refrain but the most dire predictions could actually be borne out this time.
Covid is being allowed to circulate with few restrictions, we are expecting an unprecedented flu season and 5.6 million people are on hospital waiting lists. On top of this, GPs will be managing a Covid booster campaign and there have been problems with supplies of blood test tubes and flu vaccines. Relentless patient demand leaves practices with limited headspace for complex winter plans and, unlike last year, QOF and enhanced services requirements are continuing. What's more, GPs are facing a concerted media campaign against them.
'The quadruple whammy of new "freedoms", public apathy, Covid variants and recent lack of exposure to seasonal viruses suggests this will be like no other winter,' says Hertfordshire GP Dr Mike Smith. 'I am seriously worried. So many of us are close to the exit, this winter could push us through.'
Below, we look at the problems ahead for an already stretched profession.
The return of the flu
A major concern is the upcoming flu season. A sombre letter about this year's flu vaccination campaign from the UK's four chief medical officers pointed to mathematical modelling that indicates the 2021/22 flu season could be 50% larger and start earlier than usual, due to a lower level of population immunity after Covid measures prevented flu circulating last winter.
The Academy of Medical Sciences (AMS) has also noted there will be a larger-than-usual number of infants and young children who have never been exposed to influenza. This comes alongside concerns of high levels of circulating respiratory viruses increasing the risk of Covid-19 variants and potential interactions between viruses, causing more severe disease.
It is no surprise flu vaccination has been highlighted as an important priority to mitigate the impact of this on the NHS. The NHS is continuing the expanded programme of free vaccination, begun last year, that includes all over-50s and members of households with clinically extremely vulnerable people, now with the addition of secondary school children.
Practices are keen to get started, but have had to cancel hundreds of appointments after vaccine delivery delays affected the UK's biggest flu vaccine supplier, Seqirus. In addition, there has been a lack of Government clarity over the co-administration of flu and Covid boosters.
Even when the supply issues are fully resolved, the AMS has warned of reductions in its effectiveness, because lower levels of infection during the pandemic have made it harder to identify dominant circulating strains.
BMA Public Health Committee chair and former GP Dr Peter English says matching the flu vaccine to prevalent strains, vaccine uptake and the 'virulence and transmissibility' of those strains will be key issues. A mitigating factor might be that those who are more vulnerable may continue protective behaviour such as mask wearing, he adds.
But, he says: 'I think I've learned enough to know it is next to impossible to predict with any confidence what the forthcoming flu season will be like.'
Differentiating Covid from other viruses
As of late September, Covid-19 cases are exceeding 30,000 a day and are likely to rise as schools and offices reopen. Outlining the Government's winter plan, health secretary Sajid Javid told MPs it was 'plausible' that current measures would not prevent unsustainable pressure on the NHS. 'Plan B' could be a return to measures such as face masks in certain settings or working from home, he said.
But a rarely mentioned problem for GPs is that the Delta variant can act like flu or a cold. The Zoe Study, which monitors four million people worldwide to understand how Covid affects them, reveals the most common symptoms are now a runny nose, headache, sneezing, sore throat and loss of smell.
Study founder Tim Spector tells Pulse: 'We need to spread the message about the [changed symptoms]. Every other country has done this. Why are we so frightened of changing the criteria? It's not a joke, it's killing people.'
The situation will only get more complex heading into winter, he warns. 'It depends on the prevalence of other viruses but it'll get more confusing.'
GPs have long warned about Covid test fatigue among patients who are 'sure 'it can't be Covid' and so don't have a test. Practices are likely to be overwhelmed with patients with respiratory illnesses, making it difficult to distinguish Covid from the others.
Pulse has also learned that Covid hot hubs are being closed across the country, leaving practices to manage symptomatic patients.
Northumberland GP and Covid lead Dr Ben Burville predicts problems with viral infection control. His practice has a Portakabin where it sees anyone with symptoms suggestive of Covid. 'Not all practices can do that,' he says, 'but they can think about fresh air, ventilation and "hot" and "cold" sites. Even if it's just a room, that still has its advantages.'
Booster campaign – a 'massive undertaking'
On 14 September, GPs received long-delayed instructions on the Covid booster campaign – effectively, a week's notice. All those over 50 or with conditions that make them vulnerable to Covid-19, as well as frontline healthcare workers, will be invited to have a Pfizer booster jab at least six months after their second dose. At the same time, medicines regulators ruled flu and Covid vaccines could be given at the same time.
This follows advice that a third vaccine dose be given to all immunosuppressed and immunocompromised patients.
Sheffield GP Dr Anne Noble says her practice began planning as soon as it heard boosters were going ahead, ordering doses to administer to care home patients the following week.
'With the Pfizer jab, the 15-minute observation period is still required so our practice nurses are planning to do chronic disease reviews simultaneously with flu and Covid boosters. This will be a massive undertaking,' she added.
Professor Azeem Majeed, professor of primary care at Imperial College London, notes the booster announcement came after some had already done their first flu jabs.
'Some practices may struggle with the recommendation to use Pfizer for the booster, as it is more complicated to store than the AstraZeneca vaccine,' he adds.
Knock-on pressures from secondary care
While the longest waits – those of more than a year – have improved and millions of diagnostic tests have been done in the summer months, the NHS waiting list is growing and stood at an all-time high of 5.6 million in July. Nottingham University Hospitals Trust is one of a number that have reportedly hit their limits, with no free beds and some cancer and urgent operations having to be cancelled. The city of Nottingham now has 6,300 Covid patients compared with fewer than 600 this time last year. Nationally, ambulance crews are dealing with a 25% higher volume of calls than before the pandemic, with knock-on problems for GPs.
Hospital colleagues have told Dr Mike Smith they are expecting to cease elective procedures after October and not resume until the New Year. This is likely to add to the huge amount of chronic disease work GPs are already facing. 'A significant number of people who were awaiting follow-up or had appointments following a scan have mysteriously been discharged,' Dr Smith says. 'That is the thing I don't understand – the number of times a hospital has unilaterally discharged someone and I have to put them through again.'
Patients wondering what is happening with their appointment 'frequently phone us for more advice', he said.
Somerset GP and executive committee member of the Primary Care Respiratory Society Dr Steve Holmes says: 'A lot of patients haven't had the chance for a review and many are waiting for procedures and outpatient appointments.'
From a practical point of view, Dr Holmes advises that the priority for thorough review should be patients with asthma and COPD who have had a previous hospital admission.
'We've put a doctor on reception'
'We've put a doctor on reception'
Birmingham GP Dr Gavin Ralston says phone requests are double pre-Covid levels. The practice has also seen several partners retire or resign due to pressure, alongside rising levels of abuse of reception staff from frustrated patients.
'We have been looking at how to cope, and visited three local practices who are experimenting with forms of triage. We've adopted a system with a doctor on reception to help deal with problems and decide if on-the-day appointments are necessary. That has been popular with staff – they feel supported.
'We're trying to make working life better so we don't lose any more staff.'
The practice has kept one of its three practice sites as a 'red site' for infectious disease, but it requires more manpower, he says. 'This winter is going to be grim.'
Threat from supply disruptions
There are also unpredictable supply issues. Already, GPs have been hit badly by the cancellation of flu vaccine deliveries and a shortage of blood-test bottles. Dr Noble says: 'We [are having to] rearrange and deal with blood tests delayed by the blood bottle shortage.'
For weeks, GPs were asked to cancel all blood tests except those deemed clinically urgent. Practices were only given the go-ahead to resume routine tests on 17 September.
Surrey GP Dr Liz Galloway is concerned that the blood bottle shortages and flu vaccine deliveries may be just the start of a raft of supply problems that could impact on primary care. 'We are already seeing delays in deliveries to our dispensary. This is currently causing inconvenience to patients, but there is a threat to the ability of dispensaries to provide safe and timely supply to patients in rural areas.'
No support for advance planning
The Government has announced a £5.4bn funding injection for the NHS over the next six months, including £1bn to tackle the care backlog. Yet there has been little indication as to whether any of this additional cash will be available to support general practice.
GPs are not getting much help from commissioners either. The raft of structural changes facing the NHS, including the abolition of CCGs, is another complex factor feeding into the problems lying ahead of general practice this winter.
'We don't hear anything from CCGs anymore because they're all waiting to transition,' says Dr Smith.
But most importantly, practices lack the time and resources to plan in advance, especially given the delays in supplies and in Government decisions.
Dr Holmes says: 'GPs are just trying to survive at the moment rather than think of the next strategic move.'
What you can do to get ahead
One PCN director shares her tips for mitigating the effects of the coming months
Related Articles
Stop making examples of doctors, BMA ARM tells GMC
29 June 2022