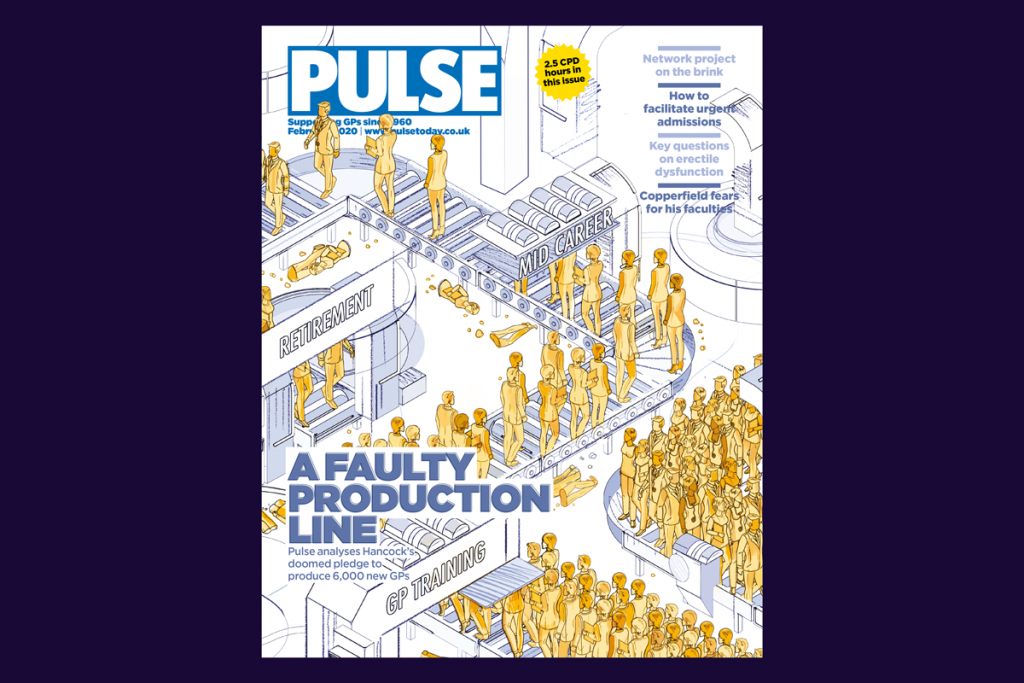 Pulse's end-of-year newsletters wouldn't be the same without making mention of workforce numbers and recruitment.
Every year there are promises to boost GP numbers, and every year there are disappointments.
In February, we took a closer look at the latest workforce and training figures from NHS Digital, which showed a net loss of 489 qualified, full-time-equivalent (FTE) GPs in the year from September 2018 to September 2019.
Our analysis found that if the pattern continued, by September 2023 the NHS would be almost 2,000 FTE GPs down compared with 2019 – representing a 1.75% annual decrease.
That's a far cry from the additional 6,000 doctors Health Secretary Matt Hancock said he'd find for general practice by 2024/25, as part of the Tories' election pledge just a few months earlier. That target would mean seeing numbers rise by 2.67% year on year.
Not only were Mr Hancock's sums questionable – of the 6,000 GPs he talked about, half would be trainees – but his plans also lacked much-needed detail about how the Government intended to achieve them.
The promised £2.5bn four-year investment would go towards retaining GPs currently working in the NHS, recruiting more from overseas, and putting 500 more would-be doctors through GP training each year.
On the last point, there were signs of success, with more graduates entering training to become GPs in 2019 than ever before: 3,500 in total. But Pulse's closer inspection of those numbers revealed that those 3,500 trainees would likely translate to just 1,000 additional FTE GPs.
The number-crunching showed that for every 100 trainees, around 65 make it into general practice full time. The reality is more like 40 in 100, according to NHS England's director of primary care Dr Nikita Kanani, with the rest choosing the flexibility of portfolio careers.
But a bigger challenge lay in convincing middle-aged GPs to stay on in general practice, despite pension tax rules forcing them into early retirement in their swathes.
NHS Digital figures revealed the catastrophic strain that was placing on the professions, with a net loss of 340 quinquagenarian GPs between September 2018 and September 2019. If that rate of loss continues, the NHS will be down 1,200 experienced 50-something GPs by 2024.
The way things are going, overseas GPs won't be chomping at the bit to fill the void either. Brexit, when it's seen through to its bitter end, will likely put paid to that.
An unlikely glimmer of hope for the workforce came out of the Covid pandemic. A call to arms in March was answered, and according to the NHS People Plan that was unveiled a few months later, more than 500 returning GPs and 1,000 locums signed up to the NHS 111 Coronavirus Clinical Assessment Service (CCAS).
That plan put flexible working and bank staff at its core, with guidance on what 'flexible' might look like scheduled for December. At the time of writing, that guidance hadn't yet materialised.
What had become clear by autumn is that any trend among locums to move to permanent GP roles, tempted by the vision of flexible working, wouldn't be the silver bullet NHS England had hoped for. The initial fall in locum numbers at the start of Covid didn't translate to a rise in salaried GPs.
Those locums who did move into permanent positions were turning on their heels six months later, opting to go back to agency work.
Retirees didn't flock back to support the NHS's Covid effort as hoped. Red tape and bureaucracy meant it took months to get interested GPs on board, and many of the 4,000 who'd re-registered with the GMC early on gave up.
It seems the old problems that historically beset the general practice workforce persisted: there were 1.4% fewer FTS GPs in the three months to June 2020, and a 1.2% drop in total numbers in the previous 12 months.
The answer, as always, will be in reducing workloads rather than increasing the workforce. After the year general practice has had, that seems like a far-off dream.