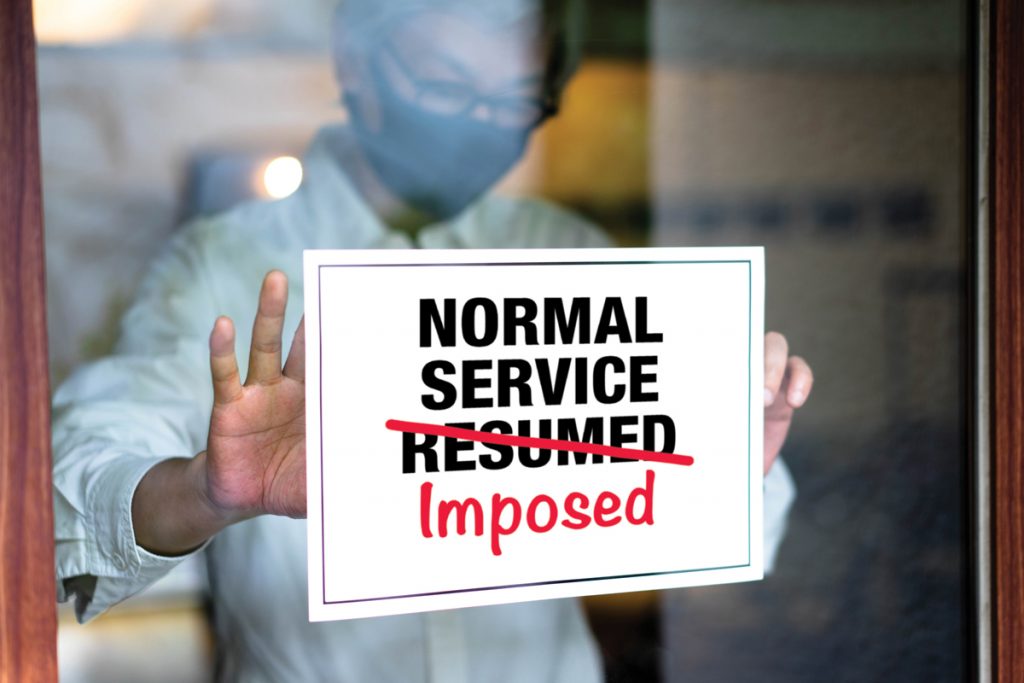 When NHS England instructed GPs to grant all patients face-to-face appointments when requested, it lost much of the profession's goodwill. Costanza Pearce examines the fallout from the infamous letter
'Practices should respect patient preferences for face-to-face care unless there are good clinical reasons to the contrary.' So reads NHS England's latest diktat to GPs.
The letter, sent on 13 May, tells practices they must also open their receptions to walk-ins within three days, with patients being triaged at reception.
In practice, this means any patient who requests an in-person appointment should be granted it, as long as they do not present a Covid-19 infection risk, NHS clarified.
The letter – which was incorporated almost wholesale into the Standard Operating Procedure on 20 May – caused a storm rarely seen in general practice. It was branded 'tone deaf' by the BMA and dismissed as a 'memento to incompetence' and 'ridiculous' by LMCs.
A petition calling for the resignation of NHS England medical director Dr Nikki Kanani has so far racked up 1,000 signatures.
The week after the letter, the BMA's GP Committee agreed a motion expressing a vote of no confidence in NHS England's executive team, and voted to cease all formal meetings with NHS England until the disagreement is resolved.
The 'GPs are closed' myth
The main reason for the anger is that the whole premise that GPs have 'not been open' is a myth. Where clinically appropriate, patients have been seen in person throughout the past year.
As Berkshire, Buckinghamshire and Oxfordshire LMCs put it in their statement: 'Practices in our area have been working at levels which are not just at their full capacity but actually exceed their full capacity throughout the pandemic and more so over winter.'
The letter ignores the fact that many GPs have already returned to 'business as usual' of their own accord.
An exclusive Pulse survey of more than 800 GPs, held in the week leading up to the NHS England letter, found half were already doing home visits (54%) and non-urgent screenings (51%) as 'normal', with 35% saying the same for in-person enhanced services.
Furthermore, 9% said they were already offering face-to-face appointments as standard, while 25% said their reception was open.
Importantly, those who hadn't yet moved to 'business as usual' had very good reasons for not doing so. It shouldn't be forgotten that the main reason they began operating a 'total triage' model in March 2020 was because that was NHS England's own guidance, implemented to reduce face-to-face care and minimise infection risk.
Despite this, NHS England has still seen fit to criticise GPs. Last September, it sent a letter 'reminding' GPs 'that face-to-face appointments continue to be on offer, where clinically appropriate, in addition to video and phone consultations'.
The latest letter followed hostile coverage in parts of the media. It was released a few days after the Mail on Sunday launched a campaign continuing the narrative that practices have not been open, and calling for patients to be seen face to face 'again'. The previous week, Telegraph columnist and repeat offender Allison Pearson claimed it was a 'scandal' that 'you've not seen your GP recently'.
Practices aren't ready
But alongside the anger, there is very real fear around the implications of the letter. More than two-thirds of GPs said they were concerned about their practice returning to 'business as usual' – a service comparable to that before the pandemic.
Around 70% of GPs cited low infection rates as 'very important' in the decision to open up services. With rising concerns over the India variant in the UK, it seems a perverse time to impose a blanket loosening of restrictions.
The BMA's GP Committee chair Dr Richard Vautrey points out that social distancing is vital, but makes face-to-face appointments on demand impossible.
'A surgery waiting room with space for 40 patients might now hold only six, affecting the number of patients who can be physically seen each day,' he says.
Lincolnshire LMC medical secretary Dr Kieran Sharrock says the guidance leaves GPs in an impossible situation: 'The expectation of the powers that be is that we'll just go back to allowing patients to just book their appointments, but clearly we can't do that. We need to socially distance and protect our patients and staff from infection.'
The sense of unfairness is exacerbated by the fact that NHS England is not applying the same rules to hospitals.
Hackney and City LMC chair Dr Vinay Patel said: 'It's not fair. In primary care, we are dealing with the consequences of hospital clinics not being at full function because they're not seeing patients, so we are carrying a lot of the workload burden that may be generated as a result.
'This message should have been allied across healthcare, not just focused on primary care.'
Workload
An even more pressing concern is the workload implications. GPs are already reporting being busier than ever and this guidance will exacerbate the problems, they warn, as patients have got used to digital access being freely available.
In Pulse's survey, respondents scored 'patient expectations' highly as a factor influencing a return to normal services, with half saying this was an 'important' or 'very important' consideration.
As East Sussex GP partner Dr Chris Dixon puts it: 'I am uncertain how we will cope with double the demand – people who like the new instant access against those who want face to face.'
The rise of e-consultation systems has increased workload. The UK LMCs conference earlier this month voted for a 'full impact assessment' of e-consultations amid reports of practices being 'overwhelmed' by demand.
NHS England's letter adds open access to in-person appointments to the mix.
'We're seeing an increase in irritation from patients, who are expecting everything to be back to normal and have no idea about this tsunami of work which has landed on the health service,' GPC deputy policy lead for education, training and workforce Dr Tim Morton tells Pulse. 'We can't continue safely at this rate.'
The days of clapping NHS staff are long gone, and patients now expect more than general practice can offer.
'Those with minor issues still expect to be seen urgently', says Surrey GP partner Dr Emma Watts, citing a patient who recently presented for 'hair-ache'.
Enforcement
However, there is little clarity on whether GPs are obliged to act on the letter and Standard Operating Procedure. Many LMCs are advising they 'have no contractual force' and should be seen only as 'guidance'. The BMA agrees: 'It is for practices to determine how best to manage and deliver services and the best arrangements for appointments, based on expert knowledge of their community.'
NHS England emphasised the Standard Operating Procedure was a guideline.
However, Pulse later revealed CCGs had been contacting practices with a low proportion of face-to-face consultations, to ask how they planned to address this.
Contractual duty or not, GPs fear complaints if they don't offer full online and face-to-face access: almost four in 10 respondents cited this as an 'important' factor in decisions to return to normal.
Future of digital provision
There are also potential long-term implications. This guidance seems at odds with the health secretary's emphasis on digital provision. Matt Hancock, speaking in Parliament about the letter on 17 May, said the letter reiterated 'the point that it is important to offer a face-to-face consultation for a patient who really wants one, while also using technology where that is the most clinically appropriate thing to do'.
How this is to be implemented going forward is anyone's guess. Mr Hancock has long been a supporter of artificial intelligence triage, and it would not be a surprise if this is something he wants to see across general practice.
And maybe calls for 'business as usual' ignore the wider context – that 'normal' may well be different. Pulse's survey showed a fifth of 836 UK GPs believe in-person appointments will never again be the default. Most tellingly, around 37% said they didn't expect their waiting room ever to return to full capacity.
But come what may in the future, what GPs need now is for NHS leaders to show, once and for all, that they are on the profession's side – rather than the media's.
As Surrey and Sussex LMCs chief executive Dr Julius Parker says: 'This latest letter panders to the illusion that the NHS can meet a limitless pool of patient demand… and throws general practice under the media bus.'
What is practices' contractual duty?
The contractual requirements for practices are laid out in the GMS Regulations 2015, their subsequent amendments and any accessory legislation.
Practices are required to 'have regard to' all applicable guidance issued by relevant bodies, including NHS England. In other words, they should be aware of, consider and take into account guidance issued, but they are not contractually obliged to follow it. They may ignore it if they judge it to compromise other contractual, legal or ethical obligations.
The underpinning principle of the requirements of the regulations on practices is to meet the 'reasonable needs' of their patients 'in the manner determined by the contractor's practice in discussion with the patient'.
If any practice is uncertain about whether or not something they are being asked to do is contractually enforceable, they should always contact their LMC for advice.
Dr Matt Mayer is chief executive of Berkshire, Buckinghamshire and Oxfordshire LMCs