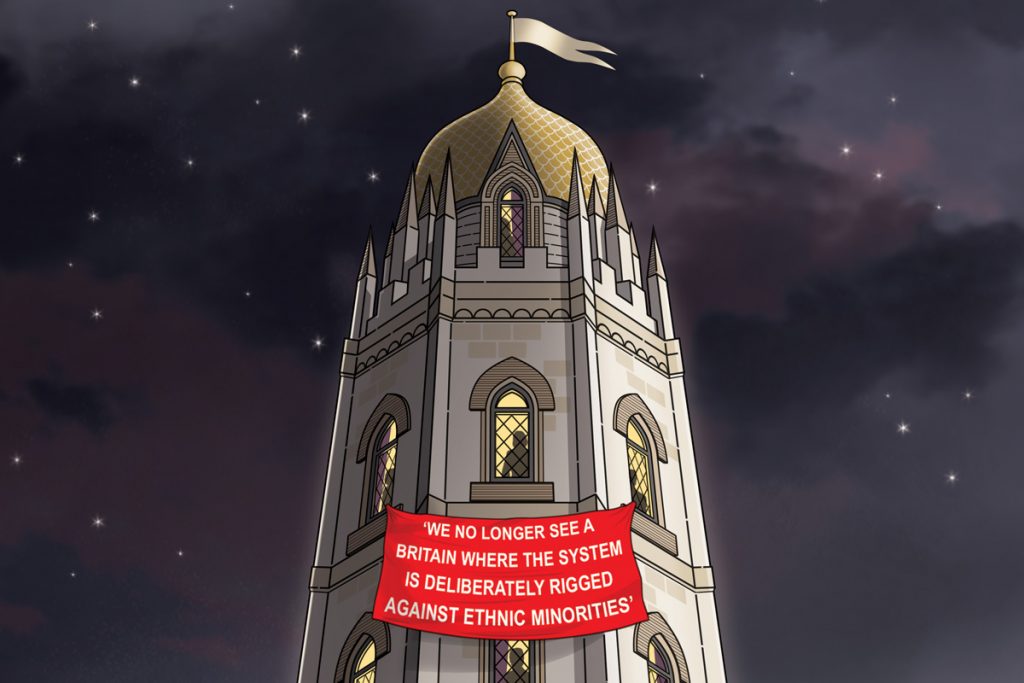 Covid and the Black Lives Matter movement have shone a light on the ivory towers in general practice. Nicola Merrifield and Emily Stearn investigate
'We no longer see a Britain where the system is deliberately rigged against ethnic minorities. The impediments and disparities do exist, they are varied, and ironically very few of them are directly to do with racism.'
This statement comes from the controversial Government-commissioned Sewell report1, whose remit was to investigate race and ethnic disparities in the UK in the wake of Black Lives Matter protests. Its publication in March led to widespread alarm, including among health leaders and campaigners.
'There is clearly an attempt to diminish the impact of racism,' says Manchester GP Professor Aneez Esmail, a leading expert on racism in the NHS.
The statement, from report chair Tony Sewell, looks even more poorly judged in the light of the pandemic. GPs have seen a disproportionately high number of patients and colleagues from black, Asian and minority backgrounds die from Covid-19.
The Office for National Statistics found that in England and Wales, males of black African ethnic background had the highest rate of death involving Covid-19 – 2.7 times higher than white males. All ethnic minority groups other than Chinese had a higher rate than the white ethnic population, for both males and females.2
Tragically, 16 practising GPs have died with Covid – all but three of them from a BAME background.
These health outcomes may be down to a mix of structural and biological reasons and it is likely to take years to develop a full picture.
But for BAME GPs, it is simply more evidence that they face greater disadvantages than their white colleagues.
Speaking in a personal capacity, Sheffield GP Dr Krishna Kasaraneni, who is also on the BMA's GP Committee executive team, says: 'The significant difference in outcomes, both in hospitalisations and mortality rates, shows there is a problem.'
Pulse looked at the issue of racial bias in medicine three years ago, in the wake of the Dr Hadiza Bawa-Garba case. Sadly, there has been little improvement – ethnic minority doctors still face worse outcomes in terms of investigations, exams, and CQC inspections.
The NHS Race and Health Observatory acknowledges this in its response3 to the Sewell report: 'The evidence is clear: institutional racism exists in this country, it exists in the organisations that make up our health and care system, and it exists across wider public establishments.'
Structural – or systemic, institutional – racism was elevated into the public consciousness with the 1999 Lord Macpherson report into the Stephen Lawrence murder. It concluded that 'processes, attitudes and behaviours' create discrimination.
Lord Macpherson's definition of institutional racism
'The collective failure of an organisation to provide an appropriate and professional service to people because of their colour, culture or ethnic origin. It can be seen or detected in processes, attitudes and behaviour which amount to discrimination through unwitting prejudice, ignorance, thoughtlessness and racial stereotyping.'
Yorkshire GP and RCGP Council member Dr Margaret Ikpoh points to indications of systemic racism in general practice: 'It manifests in myriad ways: a lack of career progression or opportunity; bullying and harassment; a lack of diversity at management or senior board level; and ethnicity pay gaps.'
Of course, the catch-all terms 'BAME' and 'minority ethnic' can be problematic. They may not reflect the way people refer to their race, or the differing problems for different ethnic minority groups. But there is no doubt that outcomes are worse for GPs in all non-white ethnic groups than for their white colleagues.
The reasons are complex and exist at the societal level. There is a will to understand the problem from the organisations involved – the GMC, the RCGP and the CQC have all commissioned work to get to the bottom of the differential outcomes.
However, there are clear factors that lead to non-white GPs facing different challenges. For example, BAME GPs are more likely to work in singlehanded practices, and in deprived areas4 with a high proportion of BAME patients.5
These factors need not be disadvantageous in themselves. But the metrics used to judge general practice are more often than not based on a model of larger practice sizes, in less deprived areas with a predominantly white patient population.
Smaller-scale general practice
Roger Kline, an expert on race issues in the NHS, says BAME GPs are more likely to work in smaller practices because of historical recruitment drives attracting overseas GPs: 'They landed with little practices at a time when these were more common… and they felt it was extraordinarily difficult to join larger practices that had a majority of white partners. So they kept going in little practices.'
But in recent years, there has been an increase in the shift towards large-scale practice. NHS England has been upfront about this aim, which has culminated in the formation of primary care networks.
Dr Vijay Kumar, co-clinical director of North Doncaster PCN, says: 'Smaller practices do fare worse within PCNs. They lose out because these days there is so much non-clinical work, and many are merging with medium-sized practices.'
Smaller practices are also likely to see worse outcomes from CQC inspections. Dr Kumar says: 'Many are unable to have training contracts because the buildings are small, it is difficult to recruit staff and funding is less than adequate because of the [relatively] poor health of the people there.'
But, although small practices might struggle to meet the criteria used by the CQC, they are likely to be stronger in other respects – which are less emphasised during inspections.
'[Singlehanded GPs] have been harassed and penalised for simple tickbox problems, mainly about appearance and other minor issues, without ensuring access to proper resources.
'This ignores the areas where smaller practices excel – such as providing personalised care and continuity,' says Dr Ramesh Mehta, president of the British Association of Physicians of Indian Origin (BAPIO).  
Deprived areas
A disproportionate number of BAME GPs work in deprived areas.4 The historical recruitment drive cited by Roger Kline could also explain why overseas-trained GPs ended up in hard-to-recruit regions around 30 years ago, but UK-trained BAME GPs were often also brought up in those communities, and tended to be more likely to settle and practise there than GPs from elsewhere.
But the various regulatory approaches tend not to give enough weight to the challenges associated with deprivation.
Practices in deprived areas contend with the inverse care law: in regions of greater healthcare need, there are fewer resources. There has been ongoing controversy over inadequate weighting for deprivation in the Carr Hill Formula, which determines GP practice funding in England. It also fails to consider the number of languages spoken in a practice.
Bristol GP and Pulse columnist Dr Shaba Nabi says: 'There's a triple whammy in practices like mine: one, deprivation; two, language access; and three, cultural differences in health-seeking behaviour. I explained all this to the then PCT but we got no extra funding, resulting in the partnership handing back its contract.'
Dr Kumar says the CQC also 'fails to take into consideration the deprivation index of BAME-led practices… It's comparing apples with pears.'
Non-white populations
The more deprived areas tend to have higher rates of BAME population5, meaning their patients are more likely to face different societal and health problems. Cultural norms and different health issues mean this job will differ from that of a GP in, say, rural Oxfordshire. While this is to be expected, the yardsticks used for general practice are often white populations.
Take, for example, the RCGP's clinical skills assessment. One controversy behind its uneven scores was that the actors tended to be from a white, middle-class background with presentations that trainees working predominantly with BAME patients might be less comfortable with.
Any doubts about the differences of working in predominantly non-white areas have been swept away as the pandemic has thrown differential health outcomes into stark focus.
The government response has been criticised by many BAME GPs. Despite their worse outcomes, BAME people were not prioritised for vaccination until the QCovid tool was introduced in February, says Dr Kasaraneni.
'Race is almost an afterthought every single time – whether it's an impact on the profession or the wider population.'
Grassroots lead the response
Dr Ikpoh says: 'We now need to try to move beyond questioning whether systemic racism exists – it exists – and start questioning how we all intend to address it.' She points to the RCGP's 'listening exercises' for GPs from ethnically diverse communities, instigated by past presidents.
In January, the BMA set up its first dedicated BAME forum, while BAPIO is midway through a year-long project looking at tackling differential attainment in healthcare professions – from education and career progression to human resources matters.
Meanwhile, BAME doctors within the RCGP put forward a successful motion to council in March.
It must also not be forgotten that general practice is ahead of the curve in terms of BAME people in leadership positions, while a third of GPs are from BAME backgrounds. That said, more can always be done. There is a notable lack of black leaders in general practice.
Essex GP Dr Adwoa Danso, who is an executive at the Ghanaian Doctors and Dentists Association UK, wants more tangible changes: 'We could look at the Rooney Rule in the US, where American NFL teams have to interview an ethnic minority person for any [senior] role.'
She adds: 'I want to see someone who looks like me, who has the same experiences as me.'
Systemic racism is a fixture in general practice. But any successful efforts to start correcting this will undoubtedly come from the grassroots up.
References
1 Report of the Commission on Race and Ethnic Disparities, 2020. tinyurl.com/Report-CRED.
2 Office for National Statistics, 2020. Ethnic contrasts in deaths involving the coronavirus. tinyurl.com/ONS-ethnic-covid
3 NHS Race & Health Observatory, 2020. Response to the report of the Commission on Race and Ethnic Disparities. tinyurl.com/NHRO-CRED
4 GMC, 2019. Fair to Refer? tinyurl.com/GMC-fair2refer
5 People living in deprived neighbourhoods, June 2020. tinyurl.com/uk-deprived