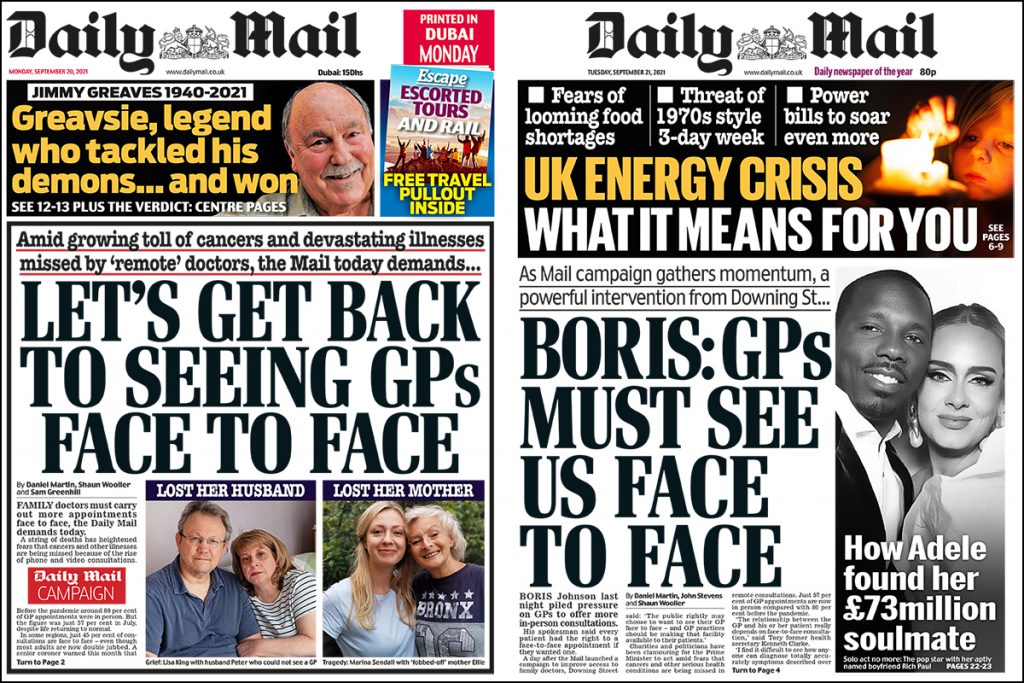 While the media write that general practice is 'closed', a Pulse survey on access finds otherwise. Caitlin Tilley reports
'It is high time GPs started operating in the way that they did before the pandemic and offering face-to-face appointments to everyone who would like one.' These are not the words of a reactionary Telegraph columnist, but of the health secretary, Sajid Javid, spoken in Parliament last month.
September was a particularly brutal month for GPs, as face-to-face access dominated the news agenda. The Daily Mail kicked off a campaign to assert the 'right' for patients to have face-to-face appointments, claiming the support of the Prime Minister (conveniently ignoring that no such right exists, at least not in the GP contract).
What the GP contract actually says
'Contractor must provide [essential] services… within core hours, as are appropriate
to meet the reasonable  needs of its patients'
Source: Standard General Medical Services Contract
Meanwhile a spate of articles have been proclaiming that GP practices are closed, GPs are not working hard enough and are refusing to see patients. Allison Pearson in the Telegraph went as far as to say she was 'not surprised' GPs had received a torrent of abuse.
Alongside this abuse, there have been shocking casualties. Four staff at one practice in Manchester were hospitalised after a patient attack. The BMA said if coverage continued in the same vein there would be more abuse and attacks.
But amid this, the truth seems to have been lost. And the truth is face-to-face appointments are continuing and waits are coming down, and the fact face-to-face appointments are no longer the default should not be lamented.
An exclusive Pulse survey of 1,000 GPs found 50% think a return to pre-pandemic levels of face-to-face appointments is not possible, citing problems around infection control and increased demand throughout the pandemic. Eight in 10 think a return to those levels is unnecessary, with just 9% saying it is desirable.
Our survey respondents point out that many patients won't be willing to accept the removal of the online access they have become accustomed to, but also that the flexibility afforded by a mixed model has benefited care and resulted in waiting times decreasing for face-to-face and remote consultations.
A new way of working
As one GP partner in Lanarkshire puts it: 'The myth that people are waiting days and days for a telephone appointment is unhelpful and demoralising as we are working our arses off… all patient requests are dealt with on the day they contact the surgery unless it becomes unmanageable.'
The latest publicly available data for England show an estimated 27.9 million appointments took place in July. In June it was 31.1 million. Go back a year, before the Covid vaccine campaign got under way, and the appointment figures for July 2020 were 22.7 million.
And the idea that general practice is closed doesn't stand up to scrutiny. Just over 15 million patients were seen face to face in June, while 10.6 million had telephone appointments. The figures also show that 45.6% of appointments took place on the day they were booked.
Dr John Thompson, a GP partner in Greenock in Scotland, says that while a return to pre-pandemic levels of in-person appointments will be possible in future, 'we may still wish to triage all face-to-face requests as many can be safely and effectively handled by video, phone or email. This also stops appointments being booked for things that do not need a GP's expertise or for more minor self-limiting illness.'
There are also fears that patient expectations won't be met if GPs return to more face-to-face appointments. Many patients have become used to the easy access afforded by remote access.
Dr Thompson says the flexibility of a mixed model has helped care but adds: 'We can be reached by so many methods now that it's hard to close the floodgates.'
A Gloucestershire GP, who asked not to be named, says: 'Because of the increase in demand, phone triage is required to ensure there is capacity to see those who clinically do require a face-to-face assessment. Undifferentiated face-to-face booking will overwhelm capacity and waits will be extremely long, leading to potentially unsafe care.'
There are fears about GPs' own health: around six in 10 respondents say they are concerned about their physical health with the return to face-to-face appointments, with 21% 'very concerned'.
The mixed model is showing benefits for patients. The average wait is nine days for a face-to-face appointment, and about a week for remote consultations. In August 2019, the average wait for a routine appointment was 15 days.
Merseyside GP partner Dr Eithne MacRae says any delays in face-to-face appointment times are 'usually down to [the] patient's schedule'.
Media attacks fuel abuse
But the pressure to deliver consultations in such a variety of forms is taking its toll on GPs. One GP partner said: 'I regularly do a 13-hour day now and am struggling with the physical and mental pressure. We cannot keep up with the demand.'
This is not unusual. A GP from Leeds added: 'We're working 12 hours and more without a break, with 40-50 consultations a day, as well as results and paperwork.'
Media attacks on general practice have caused real harm. Nearly three-quarters of GPs are experiencing increased abuse compared with before the pandemic.
Dr Paul Richardson, a locum GP in Huddersfield, believes the abuse is 'most likely associated with the frustrations of patients who perceive they need an appointment and we consider they do not.'
The toxic debate has had an impact on relations between the BMA and the NHS. In May, the BMA GP Committee (GPC) voted to cease all negotiations with NHS England as a result of its letter in May telling practices to 'respect patients' preference for face-to-face care', which fuelled adverse coverage. On 3 September, the GPC voted to resume talks, although some members resigned in protest at this.
But in response to the Mail's campaign, BMA council chair Dr Chaand Nagpaul wrote to Mr Javid demanding an 'urgent' meeting about 'what support GPs could be offered to manage the unprecedented rise in workload to meet the needs of all patients'. The letter took the Government to task for siding with media outlets who are 'scapegoating' GP practices over patient access.
The meeting was granted, and BMA GP committee chair Dr Richard Vautrey used it to call for 'clear public backing for GPs' acknowledging 'the huge pressure they are under', urgent investment in primary care to 'remove unnecessary bureaucracy' and a Government commitment to work with the BMA on 'a national campaign to stop the abuse of NHS staff'.
In perhaps the most major development however, the BMA has launched a survey into general practice's response to the current abuse and workload crises, asking whether GPs would consider leaving the NHS or handing in undated resignations among other actions.
How the health secretary responds could be one of the defining factors of his time in office.
Pulse is currently sending letters to the four UK health secretaries, and heads of the NHS with results from our 'Building a Better General Practice' campaign, and from this survey. We will feature their responses in future issues of Pulse.