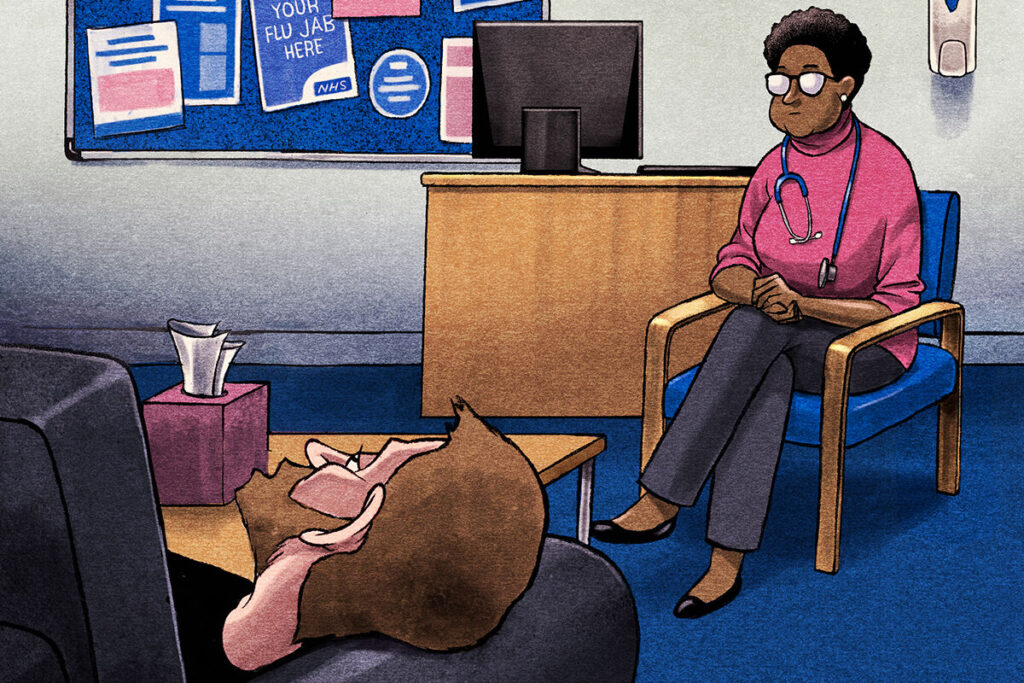 As mental health services struggle to cope with rising demand, heightened by the pandemic, GPs are having to work beyond their competence. Rachel Carter reports
'Secondary care mental health is now largely an emergency service,' says Dr Dave Triska,a GP in Surrey. 'It would be like cardiology seeing heart attacks or complete heart blocks and nothing else.'
Dr Triska recalls a situation earlier this year where he struggled to get a patient with florid psychosis seen by one of the emergency teams: 'The end of their journey was being sectioned for something that was preventable, but the service wasn't there.'
GPs struggling to get patients the mental health support they need is not a new problem – mental health services in England have suffered years of underfunding.
Covid, and the restrictions that came with it, have exacerbated the pressures on a system that was already bursting at the seams, with the added stress of lockdowns and closure of services, not to mention the emerging effects of long Covid.
But little has been said about the effect of this new epidemic on primary care. And the effect is huge; a new Pulse survey of 569 GPs has revealed a three-stage impact. First, there has been an increase in the proportion of consultations involving mental health problems. Second, there are higher thresholds – mainly unofficial ones – for referral to specialist services.
Third, as a result of these thresholds, is the growing phenomenon of GPs having to provide care they are simply not qualified for. The vast majority of GPs say they are practising mental health care beyond their competence. This is helping fuel a mental health crisis within general practice itself. We explore how GPs are dealing with this all.
The growing demand
This mental health epidemic is not unexpected. Gateshead and South Tyneside LMC chair Dr Paul Evans says: 'The world has become a harder place for many patients – particularly for patients who were maybe just about coping with significant mental health problems with the aid of third-party and voluntary services. But a lot of that disappeared with the pandemic and they became more isolated.'
This is noticeable across the board: 'I think we're seeing a shift that's pushing people who weren't having problems before into mild to moderate problems, those with mild to moderate problems to more severe problems, and those with severe problems towards tipping point.'
Dr Evans' contention is shared by NHS England. An update at its November 2021 board meeting said Covid had led to 'higher prevalence and increased complexity' of mental health problems across a range of services. This is backed up by the figures.
Deputy CEO of Londonwide LMCs and north London GP Dr Lisa Harrod-Rothwell says: 'It's not straightforward, in terms of what people are coming to us and describing, what has caused their mental health to deteriorate, but we're seeing an increased number of presentations.'
She adds that a lot of people have been struggling with anxiety and depression and it's 'even more common' now for a consultation to have a mental health component.
There is also the effect of long Covid on mental health. Around 1.7 million people in the UK were living with the condition as of March 2022, ONS data show,2 while a study of 236,379 patients published in The Lancet found a 34% overall incidence for a neurological or psychiatric diagnosis six months after having Covid.4
Problems with referring on
At the same time as the increase in mental health patients in primary care, there has been – perhaps unsurprisingly – an increase in demand on secondary care.
A number of GPs told us waiting times are exceeding 18 months for specialist services such as ADHD and autism assessments for adults and children, and numbers are growing – Dr Triska says he has seen significant numbers of children presenting with ADHD and autistic spectrum disorders following the lockdown restrictions
It is a similar case for eating disorders, with a major spike among young people during the pandemic. Urgent cases should start treatment within one week, and routine cases within four, yet waits are closer to a year.
However, the true picture may be even worse, as many GPs say trusts are employing official and unofficial policy to increase thresholds for referrals. One GP based in south-east London said: 'I have not had a CAMHS referral accepted for at least the past two years – all rejected as "not actively suicidal, discharged to GP".'
Another said: 'CAMHS reject every single referral, even in children presenting to hospital with overdose', while another commented: 'Crisis teams usually unhelpful… only respond post failed self-harm attempt. This has become the main route of entry into mental health services – via A&E Psych liaison.'
Dr Hussain Gandhi, a GP partner and clinical director of Nottingham City East PCN, says there has always been a 'grey area' in adult services of patients too severe for psychological therapies but not severe enough for the crisis team. But in the pandemic he has seen this increase significantly while the numbers being taken on by services has shrunk 'considerably' due to capacity.
He says: 'Almost every referral has been returned to me saying this person is not unwell enough, despite the fact that in those letters I often state very clearly that I am unsure how I can progress further. I don't have any other options and still the referral is sent back.
It seems that the one option available in many cases is to advise the patient go private. Dr Richard Van Mellaerts, a GP in Kingston upon Thames and BMA GPC executive officer, says: 'The wait time for CAMHS is so long now that it becomes almost useless for all but the most significant and serious of mental ill health. And if patients lack the resources to go private, they are left in limbo.'
GPs left to practise beyond their competence
It is falling to GPs to take on care that is beyond their training. Dr Evans says his practice is currently managing six or seven patients with eating disorders while they wait for specialist treatment: 'We have an incredibly limited eating disorder service… in the pandemic, we've seen people with eating disorders deteriorate.'
One GP responding to the survey said: 'Very high percentage of referrals being bounced back to primary care, often with little supplementary advice or support…Various official and unofficial drives to encourage people to seek advice regarding their mental health but we have nowhere to send them.'
One in 10 respondents said they have to initiate antidepressants for children and young people at least once a month due to a lack of options. A Wiltshire-based GP cited 'reports of local GPs asked by CAMHS to initiate medication in under-18s' and 'requests from adult MH service for GPs to prescribe medication with no shared care agreement and drugs we have no experience of'. The GP said they rejected these as 'outside of my competence… but patients are often caught in the middle'.
Dr Evans says he has seen requests to take on the prescribing of antipsychotics before a patient has been stabilised, to initiate patients on ADHD medication, perform weekly ECGs and bloods for eating disorders, and prescribe for and monitor patients with gender dysphoria.
He says he has pushed back and the trust has been understanding but its capacity is stretched too: 'But in the same way we wouldn't start doing knee replacements just because orthopaedics is understaffed, we are no more safe to start taking on specialist psychiatric care.'
Dr Harrod-Rothwell says her LMC has pushed back against similar proposals around antipsychotic prescribing.
Options available for GPs
The situation does seem bleak, but there are potential green shoots. GP and Somerset CCG's mental health and dementia lead Dr Peter Bagshaw says that while things are bad, especially in CAMHS, they have been part of a pilot to use the additional roles reimbursement scheme to hire mental health workers, and the new Network DES has expanded the resources available.
They have always been working with the voluntary sector, he adds: 'At the beginning of the pandemic, we set up a 24-hour telephone line for anyone with any sort of mental health problem. It's run by Mind… that's been incredibly useful.'
He adds that patients can self-refer for talking therapies. 'In most areas there will be new services and a lot of GPs aren't aware of them… there is increased money, and the mental health investment standard means CCGs have to increase funding, so speak to your CCG mental health lead, who is usually a clinician, and say these are the problems in our area, can you get things to work?'
Essex GP and practice lead for mental health Dr James Booth says once patients are in the system, they can get clinician follow-up: 'Once you're over that massive access hurdle and you're an established patient in the system it's much easier. But getting to that point is very difficult.'
'Enormous increase in GPs presenting with mental health problems'
The pandemic has also taken a toll on the mental health of GPs. GP partner and Liverpool LMC secretary Dr Rob Barnett says the fact that GPs ended up dealing with a workload 'nobody believed we were dealing with' has been particularly difficult. He adds that some of his patients are medics, and we 'must not underestimate the effect this has had on the medical profession'. 
In March, NHS Practitioner Health's former medical director Professor Dame Clare Gerada told ministers that the support service saw 5,000 people in the first year of the pandemic – of which 60% to 70% were GPs. This was as many as in the 10 years since its launch. A report by the organisation says the impact of the pandemic on healthcare staff was 'overwhelming'. 
Professor Gerada, a GP in south London and RCGP president, tells Pulse: 'We saw an enormous increase in presentations across the pandemic, particularly among GPs… overwhelmingly with anxiety. 
'I am on record as saying GPs are collectively suffering from moral injury – the form of emotional distress you get when you can't deliver the care you want to deliver.' 
Dr Harrod-Rothwell says she has also faced this 'moral injury' as a parent: 'My daughter has an eating disorder and we had to wait for her to be borderline for admission before she was accepted by the eating disorders clinic.
'That is not a reflection of the service – it has been phenomenal and she is doing brilliantly. But I know it was really difficult for the community mental health trust and my daughter's GP, and certainly for us, to have to basically sit and wait for things to deteriorate.'
Dr Triska adds: 'I think having a patient system and a care-giving system that is currently in large amounts of psychological distress on both sides is going to cause lots of problems – that's obvious.
'We need to be in a safe place to provide care for patients. Currently, we are not in a safe position.'
References