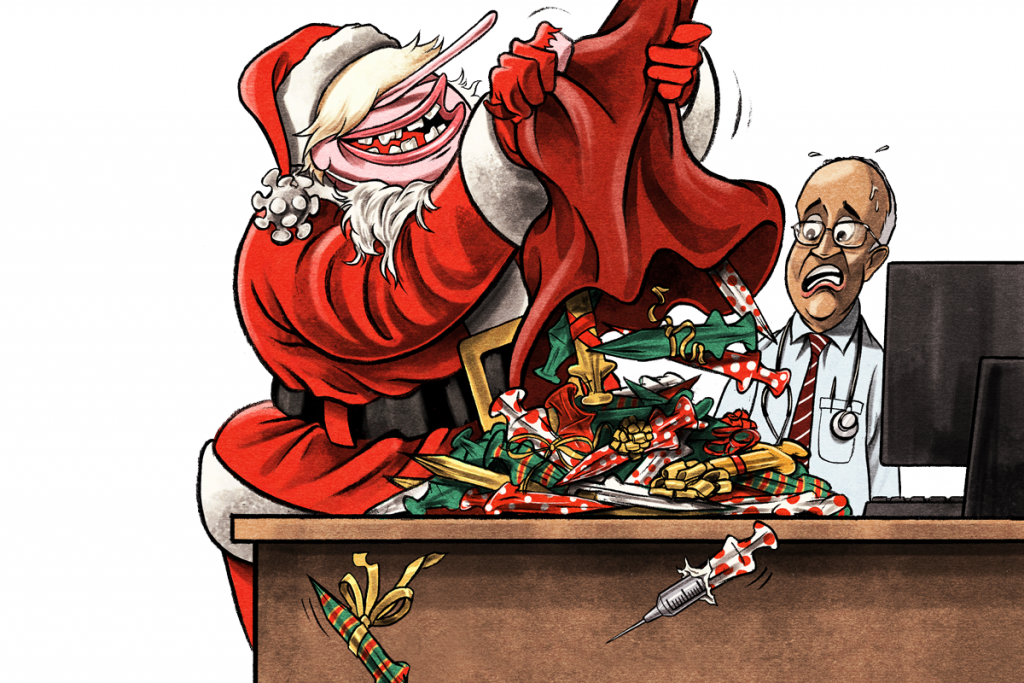 GPs have been given a bittersweet present in the form of the 'impossible' Covid vaccination programme. Jaimie Kaffash and Eleanor Philpotts ask whether they should re-gift it to the Government
'If the Pfizer vaccine passes all the rigorous safety checks and is proved to be effective, then we will begin a UK-wide NHS-led programme of vaccine distribution,' said Boris Johnson on 9 November, in perhaps the most welcome news of the year.
Pulse readers, of course, knew about this first after we exclusively broke the news the week before. And they already knew that 'NHS-led' was a euphemism for 'GP-led', with an enhanced service being introduced for practices in England to administer a vaccine.
However, as more details emerged, the reality began to dawn on GPs: they would be tasked to deliver an unprecedented vaccination programme, with little of the support needed for such an undertaking.
As the 1,000 or so sites across England – broadly based on primary care network areas – are preparing to start vaccinating patients, there are real fears about how they can possibly administer two doses to what could eventually be every person in the country, especially as the leading vaccine candidates have complicating factors.
The rewards for GPs effectively putting the country back on track are minimal. They will receive £12.58 per dose – which PCN leaders say is not enough to cover costs – plus a fund of £150m, or just under £3 per patient, to be given to CCGs to support practices during the campaign.
But GPs' biggest concern is how they could fit a vaccination campaign the like of which the country has never seen into an already unbearable workload. When Pulse put this to the health secretary at the Downing Street coronavirus briefing, the answer was unsatisfactory. And it seems little work will be removed from GPs to make way for the programme. Indeed, even the £150m pot of funding comes with added work attached.
Some LMCs warned their practices against signing up to the 'impossible' enhanced service, even citing issues around patient safety.
In a briefing letter, Berkshire, Buckinghamshire and Oxfordshire LMCs said: 'The overwhelming consensus amongst reps of this LMC is that this proposed DES poses deep concerns regarding deliverability, practicality, logistics and patient safety, due to the instability and compromise of other primary care service provision…[practices] should neither be penalised nor held in breach if they fail to meet the onerous and arguably impossible requirements.'
A Pulse survey of more than 200 PCN clinical directors – who will be mainly responsible for coordinating the programme – found a lack of enthusiasm for taking part in the enhanced service. According to the respondents, there is a strong chance general practice will not be carrying out vaccines at all in two areas. Crucially, at least a quarter were unsure whether they would be taking part, right up to the day of the deadline for nominating a site to carry out vaccinations in their area.
The main problems keep coming up: the workload, and what it means for GPs' other duties; the prospect of carrying out the campaign at a loss; the logistics involved; and the lack of certainty about what the whole vaccination programme would entail.
The workload
For all GPs, workload is the most pressing concern by quite a distance and around three-quarters of the PCN respondents cited this issue or the lack of staff as their number one concern.
This is hardly surprising. Even since last year, the number of fully qualified full-time-equivalent GP numbers has gone down. GPs are currently doing more consultations than this time last year and they are now carrying out the biggest-ever flu vaccination programme.
The only concessions so far seem to be a pause on appraisals, a relaxation of structured medication reviews and local enhanced services, and a vague promise to protect some QOF income. To access the £150m designed to support workload, GPs must increase coverage of the learning disabilities DES and 'make inroads' into the backlog of appointments patients avoided in the first lockdown.
Devolved nations
All the UK nations would be receiving approximate population share of all vaccines that have been procured by the UK Government. England is the first country to have negotiated an enhanced service, but the other UK nations are looking at how they will deliver the vaccines.
Scotland
In Scotland, there will be an enhanced service for GPs run by health boards, who will identify locations for mass vaccination and local access. Any GP involvement will be discussed with LMC. The item of service fee is similar to that in England. Scottish GPC chair Dr Andrew Buist said: 'Given the shortages of GPs… it was obviously not possible for GPs to run this programme single-handedly so I welcome the agreement we have reached that GPs will play a key role, while health boards will have overall responsibility for planning and delivery in their areas.'
Wales
As Pulse went to press, there was no agreement between the BMA and the Welsh Government. A Government spokesperson said: 'Health and social care workers, care home residents and staff have been prioritised to receive a vaccine first, with rollout to older people in age bands from next year. It will be a while before a vaccine is available for everyone. In the meantime, we all need to continue doing everything we can to continue to prevent the spread of coronavirus: observe social distancing, limit meeting in indoor spaces, wear face coverings where appropriate and practise good hand and cough hygiene.'
Northern Ireland
Again, there was no agreement at time of going to press. But Pulse understands groups of practices will work together covered by an enhanced service. A Department of Health spokesperson said: 'The vaccine still needs to officially pass the phase 3 trials and then receive authorisation from MHRA before it can be used in the UK. Rollout details will follow once a vaccine has been approved and the Department of Health will be working with colleagues across health and social care in preparation for that.'
When Pulse questioned Matt Hancock on the live televised briefing about what non-urgent work he would remove from GPs to make time for the Covid vaccine, his answer was an object lesson in avoidance.
He thanked GPs in advance for conducting the flu and Covid vaccination campaigns, going on to say: 'I'm really glad a much bigger proportion of appointments in primary care are now either over the phone or by video, because that makes life easier for GPs and for patients, and there's been a really positive response to that.'
He added 'that doesn't, of course, lift the whole burden', but failed to expand on that point.
NHS England has put the onus on GPs to prioritise, saying they are 'used to managing' changing priorities. But two-thirds of PCN respondents to Pulse's survey said member practices would have to suspend other work, with only 11% saying they could absorb the programme and maintain the same levels of work.
The clinical areas cited as most likely to suffer were long-term condition reviews/chronic disease management, smear tests, the QOF, minor surgery and enhanced services.
Clinical director of Belper PCN in Derbyshire Dr Heather Kinsella says the network is concerned it will have to stop some QOF and LTC reviews, with worries around staff exhaustion and the risk of catching Covid. Most pertinently she says: 'There will be less time for usual consultations, which we know can knock on to reduced pick-up of cancer.'
Dr Paul Bowen, clinical director of the Middlewood Partnership in Eastern Cheshire, says: 'Asking us to postpone other core clinical work is like asking the fire brigade to not bother putting out the little fires, just the big ones.
'It's difficult to justify further pausing long-term conditions and medication reviews as it'll only need doing later and increases risk and workload downstream. Most of our work is essential for long-term patient wellbeing and safety.'
By saddling GPs with the responsibility to reduce work, ministers appear to be setting them up for a fall. Since the infamous NHS England press release in September told the press it would penalise practices for a purported lack of face-to-face appointments, GPs have faced abuse; the case of the graffiti at the Charlotte Keel Medical Practice in Bristol is a painful reminder of the potential consequences of such misleading messages.
Logistics and costs
The logistics of a Covid vaccine campaign also present a major challenge. This year's huge flu vaccination effort has given general practice a taste of what such a task entails at a time of social distancing. GPs have adapted with aplomb, using leisure centres, car parks, airport hangers and sports stadiums. The success is clear: vaccination rates are ahead of last year's in every cohort.
But a Covid programme will have logistical complications well beyond the flu campaign. First, as the vaccine is expected to be delivered at a single site per PCN, each of these sites will see a far greater number of patients – although practices outside PCNs will be allowed to work with neighbours to take part, and some PCNs may use two sites or share one with other PCNs. NHS England says there will be 1,000 to 1,500 sites at first, with possible additions later.
Second, all the likely vaccines require two doses. And each comes with its own problems. The Pfizer vaccine comes in batches of 975 that must be used within five days of arriving at the vaccination site. The AstraZeneca vaccine – another frontrunner, which will now also move forward to be assessed by the regulator – has caused side-effects on triallists, including fever and symptoms likened to a severe hangover – leading to questions around whether patients will want to take the second dose and whether NHS staff will need to self-isolate after having it.
Clinical director of Cannock North PCN Dr Manu Agrawal says: 'I don't think making one practice the vaccination site is doable. Practices struggle with their own capacity.'
As a result, GPs are considering other venues, as with the flu programme. But this brings problems. Dr John Allingham, medical director of Kent LMC, says: 'We're looking at sports or school halls, but most of those are in operation.' And whereas the flu programme could be done over the course of a few days, the Covid vaccine will be need longer. 'You can't have a building like that for two or three months, which is what we'll need.' There are also potential problems with the venues being CQC-compliant.
With all these problems, the money on offer is unlikely even to cover costs. Around 35% of PCN leaders expect to make a loss taking part, with a further 22% saying they would break even and that would not be satisfactory. Only 25% were satisfied with the funding.
A letter from the GP Survival group to Matt Hancock says: 'We don't regard the proposed remuneration as adequate to fund such an ambitious mass vaccination programme. It is likely to require two members of skilled staff paid a premium to work antisocial hours. We were short staffed prior to the pandemic, as you well know. Covid-related absences have further reduced capacity. Seven-day working is not feasible.'
The unknowns
But perhaps the biggest problem will be the unknowns. GPs, through their PCN groupings, opted in by nominating a vaccination centre on 17 November, without knowing what vaccines will be available when, and with no details of cohorts, side-effects or storage, among many other uncertainties.
Some uncertainty may be expected: such an important vaccine will need to be administered as soon as it is safe and effective and it is only sensible to have flexible infrastructure in place. But this doesn't make planning any easier for GPs.
Dr Allingham says: 'Kent LMC can't make recommendations until we know the exact detail – there are too many details missing. Generally speaking, we'd advise practices to look at what they think they can do it before they commit.'
And then there are the unknown unknowns. Dr Allingham adds: 'Brexit, especially in Kent, could wreak havoc. Queues at Dover can [hit] the M20, making it incredibly hard to get around the county. If we're trialling mass vaccination clinics that rely on moving frozen vaccine or staff around in January, a no-deal Brexit may make it very difficult.'
But despite the many problems, the overriding message from GPs, including PCN leaders, is that this has to be done. Dr Allingham says: 'I think we have a moral obligation to make this work.'
Liverpool LMC secretary Dr Rob Barnett agrees, noting the issue of public perception: 'I don't think the population will thank us for putting obstacles in the way of people being vaccinated.
'There is a general feeling that mass vaccination will help us out of this mess – quite frankly, that's what we have to do. In my area people have lost their jobs, businesses are closing, and that in itself having terrible strain on health. We've got to get back to normal.'
It was Pulse what broke it