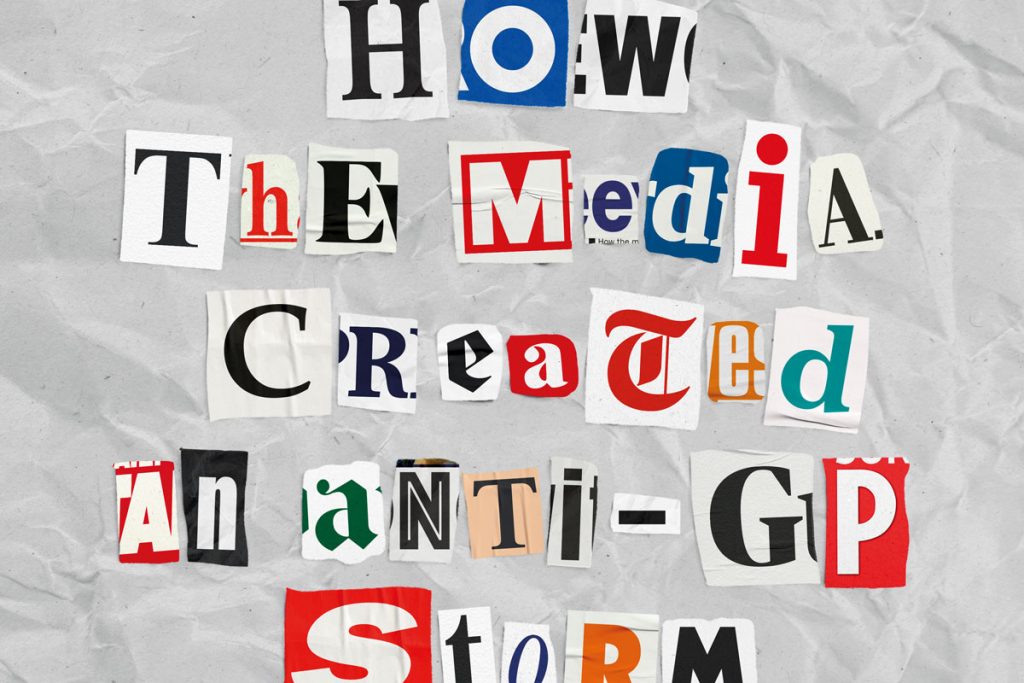 A Pulse investigation reveals GPs really did take a bashing in the press in 2020 for apparently 'being closed'. Emma Wilkinson looks at the potential harm to GPs and patients
'I had a patient approach me in a supermarket four months into the pandemic, explaining her symptoms in public and asking when we'd be open. She genuinely thought we were closed,' says Hertfordshire GP Dr Neena Jha.
Last month, as the nation went back into lockdown, some suggested resurrecting the weekly applause for NHS staff. But GPs would settle for a bit of understanding around their hard work.
Because Dr Jha is not alone. GPs across the country have encountered frustrated patients who believe primary care services have been shut during the crisis, despite consistently working 12-hour days and putting themselves at risk of infection to keep services running.
This is partly down to GP surgeries having to change the way they operate to curb the spread of Covid-19. In March, NHS England mandated a move to 'total triage' and, where possible, to remote instead of face-to-face consultations. For some patients, this has caused confusion.
But the problem goes beyond this. The national media have also been spreading harmful messaging.
GPs have often accused sections of the media of having an agenda against them. And now, exclusive analysis by Pulse has supported these charges. The analysis found at least 164 articles in 2020 relating to access to general practice. Almost half suggested practices were shut or providing poor access to appointments, claiming GPs were 'refusing' to work, or that they should be 'back at work'.
Of course, stories about struggles to get an appointment are not new, given ongoing GP shortages and the huge workload pressures in primary care: the same analysis for 2018 and 2019 identified similar numbers of articles on GP access. But in previous years, there were far fewer headlines criticising GPs directly or giving an overall negative impression of general practice. More commonly, stories were framed in the context of workforce or funding crises.
Of increasing significance, perhaps, is the fact that much of this discourse is magnified across social media, fuelling patients' resentment.
Inevitably, there is an effect on GPs and their staff, especially on morale. The perception even led to disturbing graffiti being sprayed on a surgery wall.
Penarth GP and Vale of Glamorgan lead at Bro Taf LMC Dr Fran Ferner says the reporting has felt more like 'a personal attack' during the pandemic.
'We know access has always been an issue, but in previous years, people have been more understanding. This year it's felt very personal, like you're hiding from patients and not answering phones.'
She adds: 'It is starting to have quite a big effect on staff morale.'
Negative headlines
Pulse's trawl of national news stories, features, opinion pieces and editorials about GP access in 2020 found 73 (45%) had an overall negative tone towards general practice, of which 32 (20%) directly blamed general practice for lack of access.
Examples focused on GPs 'refusing' to see patients, and even being blamed for excess cancer deaths.
There are numerous reasons why the media focus on GPs. Dr Ferner says GPs' familiarity with patients sets them up for failure: 'There is a closer relationship, which makes it easier for people to have a go. We are more local but also not seen as important.'
Former RCGP chair Professor Dame Clare Gerada agrees: 'It's always personalised with GPs. It's very deep rooted. People see their GP as so much closer to them than their consultant.'
For Cambridgeshire LMC chief executive Dr Katie Bramall-Stainer, it comes down to the unique nature of general practice: 'GPs don't fit into "command and control" thinking. We are the last bastion of autonomy. A patient's genuine advocate. Of course, were we a multinational we'd be "efficient". Because we are small businesses, we are "greedy".'
Berkshire, Buckinghamshire and Oxfordshire LMCs chief executive Dr Matt Mayer says the Government fuels this with promoting access at the same time as reducing funding: 'So expectations run incredibly high, and the media talks about the failures of GPs.'
Hospitals are easier for the media to showcase too, says Wessex LMCs chief executive Dr Nigel Watson.
He says: 'It's more tangible to go into a hospital and see a shiny building with lots of equipment, to take pictures and write about that [in a positive light] than to focus on community-based services.'
Sadly, some of this negativity has also been inflamed by health authorities. In September, NHS England put out a press release saying GPs were being sent a letter to 'remind' them to offer face-to-face appointments.
That led to headlines, flagged up by our analysis, such as 'GPs warned they must see patients face to face' (The Daily Telegraph) and 'GPs are ordered to see patients face-to-face amid fears vulnerable people are "having difficulty accessing doctors" during the pandemic' (Mail Online).
Amid the fallout from the NHS England press release, the BMA's GP Committee said it was 'hearing large number of reports from practices receiving complaints and many staff members being verbally abused by the public'. It demanded an apology.
While most articles in our analysis did include a comment from GP or NHS representatives, this right of reply did little to reverse the damage.
Social media
The problem is compounded by the rapid spread of misinformation on social media, especially when a high-profile account stokes the fire. Telegraph columnist Allison Pearson shared the paper's story based on NHS England's press release on Twitter, saying: 'About time. After six months of hiding in Fort Knox… GPs told to give patients face-to-face appointments or be investigated.'
This followed posts over the summer in which Ms Pearson claimed practices were shut, such as one in August saying: 'I heard a rumour that GP surgeries not reopening till March! Anyone else?'
The day after that claim she posted: 'I find doctors saying "general practice has been open during the pandemic" extremely disingenuous. Hundreds of @Telegraph readers have struggled to be seen for worrying symptoms/ongoing problems. Supermarket staff can see customers in person. Why not GPs?'
Prominent media medic Dr Sarah Jarvis, who works as a locum GP and is clinical director of patientaccess.com, says direct attacks over the past year have been particularly hard to deal with.
'I have been absolutely harangued on social media for comments I've made in support of GPs,' she says.
Hertfordshire's Dr Jha has also noticed a social media backlash when she has tried to counteract news stories about GPs not seeing patients.
She says: 'I have been vocal on social media trying to correct this false rhetoric because I am concerned about patients.'
A Medical Protection survey last autumn bore these experiences out. It found 35% of doctors had faced verbal or physical abuse from patients or their relatives during the pandemic.
In October, GP and Pulse columnist Dr Shaba Nabi posted a photo of abusive graffiti on the wall of her Bristol practice. Around the same time, a Suffolk GP had a note posted through the door saying 'where are the f*cking doctors?'
Inevitably, such abuse only worsens the overall effect on staff morale.
GP and medical secretary at Walsall LMC Dr Uzma Ahmad says: 'I've experienced a couple of otherwise reasonable patients saying "you're all sitting and hiding at home".
'It is disappointing and demoralising, especially when you hear it from patients to your face when you've been working really hard throughout the pandemic.'
The doctor-patient relationship can also be harmed, Dr Jha says: 'There is a disconnect. It does long-lasting damage and completely erodes patient trust.'
Dr Ferner agrees: 'I've had patients who have had 15-20 phone contacts and then complain they've not been able to see a doctor. That's hugely frustrating when they've had all that medical input.'
'We've had a tirade of negative reviews'
We've had a tirade of negative reviews on Google during the pandemic period. Most recently this week, a patient alleged we were closed as the car park was empty and he couldn't get a face-to-face appointment.
Before the pandemic our online reviews in various places were overwhelmingly positive.
Verbal complaints and often abuse to our hardworking reception staff is all-too frequent. We doubled our phone line capacity but patients often have long waits in a queuing system. When they get through they are frustrated. We have also received email complaints about not being able to book face-to-face appointments.
There is a perception we are not open. Our patient participation group has tried to counter false and negative opinions and has been helpful in this regard. Our practice manager has written articles for the local paper to update patients about the telephone-first standard operating procedure we've been told to adopt.
Receptionists have been reduced to tears on occasion by verbal abuse.
NHS England's reminder to GPs to offer face-to-face appointments was like a knife in the back.
How can we be expected to participate in a resource-intensive Covid vaccination campaign while also being expected to run a business-as-usual service from our surgeries?
Dr Eric Wilkinson is a GP in West Sussex
More worrying are potential safety issues, if patients believe they have no way to report symptoms to their GP.
Dr Ferner adds: 'The damage is done. I had a patient today who I saw face to face within an hour. When I said they really should have come to see me sooner, the reply was: "You haven't been open".'
Dr Jha is worried patients will suffer: 'Those who believe this false rhetoric may not seek help for worrying symptoms.'
Dr Paula Bradley, a trainee GP in north-east England, says patients aren't alone in believing what they hear; hospital staff are being misinformed too.
'Lots of patients tell secondary care colleagues we're shut or not seeing patients face to face, and I have one secondary care friend who believed them. It makes the gulf between primary and secondary care wider,' she says.
The fight back
For many grassroots GPs, the graffiti incident was the last straw, leading them to demand public support from NHS England to counter negative coverage.
West Sussex GP Dr Richard Cook says the negative press has been harder than usual to brush off.
'The communication strategy of NHS England and the Government has been very poor. The way we have to work, and the standard operating procedures don't allow us to open the door to all and sundry. That's not the same as being shut but that message is not getting across.'
An open letter to NHS England in October, signed by more than 400 GPs, said: 'We are concerned that patients may falsely think that they are unable to see their NHS GP due to Covid-19, or may be unaware how to access care.'
There are signs this has hit home. In November, NHS England director of primary care Dr Nikki Kanani told delegates at Pulse Live that NHSE 'can and will do more' to tell the public GP practices are open. She added: 'We need to get the balance right between the innovation we've rightly had to offer out of necessity and the ability to retain the public's confidence.'
Some GP leaders have gone as far as to call for a dedicated unit to respond to false publicity. Professor Gerada believes it should not be left to GPs to counter negative press and wants NHS England to set up a 'rapid response unit'. She is worried about the impact of abuse on GPs' mental health.
But she can see 'some light at the end of the tunnel', with GPs becoming saviours by delivering the Covid vaccine.
'I do think there's been a change, with media focus on how hard GPs are working to get vaccination done.'
However, many GPs feel they should not need to become the saviours of the nation to get a fair press.
Dr Jha adds: 'General practice has been pushed to its limits and is working harder than ever, as has the whole NHS.
'The only thing we ask for is accurate reporting. It is a patient safety issue.'
How GPs can counter negative press
None of us likes to be criticised and it seems especially unfair when we are working so hard to manage new ways of consulting and ensure we remain open despite staff sickness and self-isolation. Our patients are grateful to us but media focus is always on the negative. To change this, try the following:
If a patient praises the practice or staff member, ask them to write a review on NHS Choices.
Put up a board for patients' comments – people are keen to say thank you and it will lift staff morale.
Ask your patient participation group for any ideas about promoting the practice locally.
Have a communications lead who can put your practice on social media, including setting up a Twitter account. Use this to promote what you're doing – praise the receptionist who phoned over-80s who were hesitant about their Covid-19 jab. Ensure someone is in charge of updating your website.
Liaise with the local press. Now is a great time to say what you are doing to promote the Covid-19 vaccination programme. Contact your local radio – their health programmes would love to feature local GPs or practice nurses, particularly to give health messages in local languages.
Write a letter to a national paper to set the story straight, and get colleagues to support your position with signatures. Use a Google document; you won't have time to collate the signatures, and there are likely to be many as lots of colleagues will want to support you.
Dr Naureen Bhatti is a GP in east London and a member of Tower Hamlets LMC